First, if you live in the US, hope you had a great Thanksgiving last week! Hubby and I had a lovely time, and got back from visiting our family on Saturday night. On Sunday and again later last night, we finished the last of our Christmas decorations. Here is our tree as proof. Yes, I know the angel is askew on top. After seeing hubby almost crash into the tree while precariously perching on the stepladder to place the angel on top, I decided an askew angel would be better than a smashed tree and an injured hubby. Also, if you're like me and you can't decide if you like multi-colored lights or white lights – and that decision changes according to your mood – then you will really appreciate the lights below. They slowly change from white to multi-colored and back again: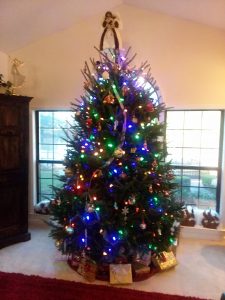 Lights 1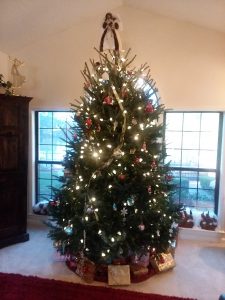 Lights 2.
A quick disclaimer about the presents under the tree: No, I am not so efficient that I'm already caught up on my Christmas shopping (hardly!) Those boxes are as empty as the resolve behind most New Year's resolutions. The reason why is that most of my family is no longer local, so I don't do in-person gift exchanges much anymore. But, I still love the look of presents under the tree. Must be in the inner child in me. So, I took a bunch of old boxes and wrapped them. Hey, at least I can get some extended use out of my wrapping paper this way 🙂
Now, if after reading two blogs straight where I only talk about decorations, you're thinking "For the love of glitter, can you PLEASE talk about books again?!" well, first, I don't blame you. Second, book talk commencing right now! A question I got asked a lot from readers after SHADES OF WICKED was "Wait, when was it revealed that Bones and Ian were cousins?!" In this Cat & Bones Xmas novella! It originally came out in 2013, but hey, if you haven't read it yet, then it's new to you ;).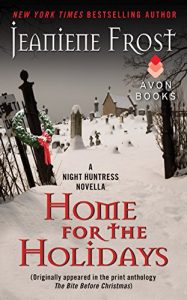 Originally appeared in the print anthology The Bite Before Christmas.
'Tis the season to join Cat and Bones for some holiday cheer in this Night Huntress novella by USA Today and New York Times bestselling author Jeaniene Frost.
They were looking forward to a normal holiday—at least as "normal" as it gets for vampires Cat and Bones and their otherworldly friends and family. But their yuletide plans are shattered when a mysterious stranger shows up and reveals long-buried secrets that threaten to take a bite out of their holiday cheer … and lives.
Order ebook at: Amazon: https://amzn.to/2KBcAm9 B&N: https://tinyurl.com/ya9c7pk8 Apple: https://tinyurl.com/yc332ufq
Order Audio at: Downpour, Audible.com , iTunes or your favorite retailer.
Also, head's up! Next week, not only will I be talking about books again, I'll start the first contest in my upcoming Frosts Holiday Favs Giveaways. Prizes will include signed books, ebooks, gift cards and chocolate, so be sure to keep checking my blog this month so you don't miss out on your chance to win!
That's it from me for now. Back to writing about Ian and Veritas in Wicked Bite. No surprise, they're in trouble…