Got back from AlienCon Tuesday night. Yes, the convention ended on Sunday, but it was a two-day drive to get home. Flying would've been much faster, but (1) I hate to fly and (2) we brought our dogs so flying was out of the question. No, Gypsy and Loki didn't attend AlienCon, too *snickers*. They spent their time in our hotel room being (what they would consider) neglected since we spent several hours each day away from them. My dogs' paws-down rating aside, we all had a good time. I haven't been to a convention just for fun in over a decade, so this was an especially nice treat.
At one point during the long drive back, my husband said "You know, Thanksgiving is next week" and I replied "Nuh uh!" Well, UH huh, because yes it is! I don't know how a holiday marked on the calendar for the whole year managed to sneak up on me, but it did. I feel so unprepared. Thank God I'm not hosting it or I'd really be in trouble. Still, I'll be rushing to put up my Christmas decorations this weekend. Yes, I put them up before Thanksgiving. Why? It's a pain in the ass to do all that decorating, so I am going to get FULL value out of it by having those decorations up for at least six weeks. *grins* That might not be sentimental, but it's true.
While I was away, BFF Ilona Andrews had a new release. DIAMOND FIRE, a Hidden Legacy novella, came out the November 6th. This novella bridges the culmination of Rogan and Nevada's main storyline plus rolls out the red carpet for Catalina's turn as a heroine. It's a fun, fabulous story, but don't take my word for it. Look at all the glowing, 5-star reviews from readers who've already gotten their copy, so be sure to grab yours, too!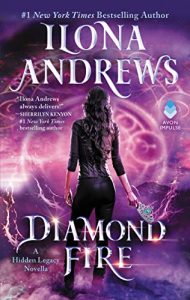 Nevada Frida Baylor and Connor Ander Rogan cordially invite you to join their wedding celebration. Summoning, weather manipulation, and other magical activities strictly forbidden.
Catalina Baylor is looking forward to wearing her maid of honor dress and watching her older sister walk down the aisle. Then the wedding planner gets escorted off the premises, the bride's priceless tiara disappears, and Rogan's extensive family overruns his mother's home. Someone is cheating, someone is lying, and someone is plotting murder.
To make this wedding happen, Catalina will have to do the thing she fears most: use her magic. But she's a Baylor and there's nothing she wouldn't do for her sister's happiness. Nevada will have her fairy tale wedding, even if Catalina has to tear the mansion apart brick by brick to get it done.
Order: Amazon | BN | Kobo | Apple Books
That's it from me for now. I must get back to my keyboard, where WICKED BITE , the second Night Rebel novel, awaits. Oh, Veritas. You didn't think you'd really get away with *censored* when it came to Ian, did you? 😉