Let me start off by saying that I'm coming off a three-day migraine, so if I sound more scattered than usual, don't worry – it's just the meds. (And no, the extended migraine is nothing to be concerned about. I've been to several doctors just to have them tell me what I already knew, which is that my migraines are hereditary. All the women in my maternal family line had them. In fact, my great-grandmother once scandalized her peers by chopping off ALL her long hair as a young woman because its slight weight made her migraine feel worse.)
But I digress. Hey, I warned you about being scattered! Anyway, despite the migraine, I resolved that I'd put up Christmas decorations this past weekend because I didn't want to take time off during the work week, and despite the migraine, I also didn't want to wait until next weekend because already felt like I was behind on decorating (see my previous post for my lazy explanation behind this.) Granted, I don't have a tree yet – I don't put that up until after Thanksgiving – but there was still a LOT of other decorating to do.
I won't bore you with all the decorating details, but one of the things was placing garland on the tops of my kitchen cabinets. Now, for reference, my kitchen is shaped kind of like a square horseshoe, and the garland is decked out with with pine cones, ornaments, fake fruit, bows, little starbursts and of course, lots of glitter. Also, since the garland had been in a bag for almost a year, it came out flattened and misshapen. So, in addition to moving a step ladder all around the kitchen because I'm too short to place the garland above the cabinets otherwise, I then had to crawl onto the counters to "fluff" it so that the garland looked bushy and pretty again.
*grins* My subject line is starting to make more sense now, isn't it? Yes, you guessed it – by the time I was done positioning and fluffing all the garland above me, I was covered in so much glitter, strippers would've told me to tone it down. Also, inadvertently huffing glitter while crawling all over my counters probably – in hindsight – wasn't the best, err, holistic approach to treating my migraine. But whatever, doesn't the garland look nice up there? (Lie to me say it does, please!)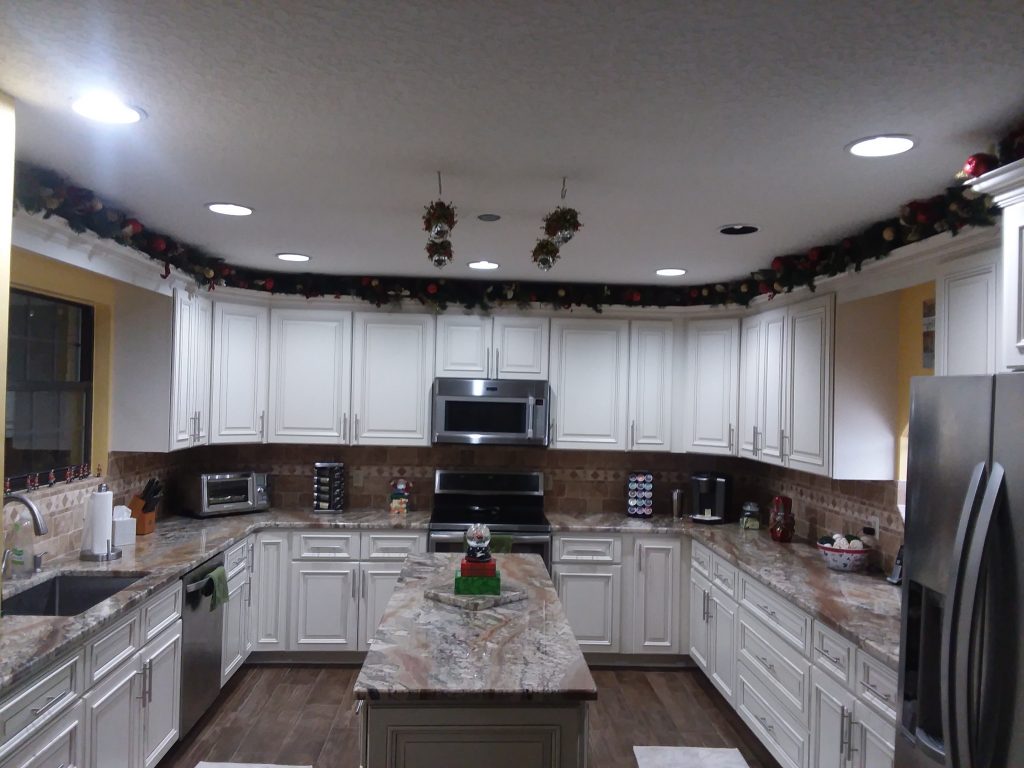 In any event, between the garland there, the garland in other places, and the many other decorations I put up, I'm now all done with decorating except for the tree, which will be this weekend's project. Thankfully, I don't have to factor in cooking for Thanksgiving in addition to my other tasks before that since my sister-in-law is hosting it this year. Me and my husband are just tasked with bringing desserts, and we know a local bakery that does the most amazing apple pie ever.
Whether you're staying home, going to relatives, going to friends, or going out to eat, I hope that you and yours have a wonderful Thanksgiving! But be sure to watch out for stray glitter clouds. That stuff apparently isn't healthy if you breathe lots of it in ;).