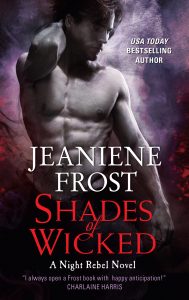 Although I said I was only giving away 5 Arcs (advanced reading copies) of SHADES OF WICKED, Night Rebel book one, so many hundreds of you entered the contest that I chose a bonus 6th winner, too. The winners were picked at random because of course I can't choose between any of you – I love all of you! Also, due to prior winners' request, I am only listing first names and the initial of last names. If you see your first name and initial below, check your email! Your instructions on how to get your book are enclosed.
Without any further ado, the winners are…
Diana M, Kristiana S, Lazelle C, Monet W, Roseann C, and bonus winner Michelle B.
Congrats to all of you! I hope you love the book.
As for everyone else, I am so sorry you didn't get good news this round, but as a reminder, I still have a contest giving away another 5 signed Arcs running on Goodreads until October 5th. Go HERE to enter (once on Goodreads, scroll down until you see "Win a copy of this book"), or copy/paste this link into your browser: https://www.goodreads.com/book/show/38388574-shades-of-wicked