It's finally here! The Sweetest Burn, book two in the Broken Destiny series, is now available. Once again, here is the back cover copy: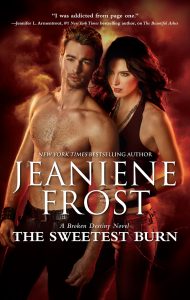 Conquering a supernatural realm turned out to be easier than getting over a broken heart. But her initial victory has made Ivy a target for revenge, forcing her to reunite with the dangerous – and dangerously sexy – Adrian. Ivy isn't sure which will be harder: finding the hallowed weapon that will repair the crumbling walls between demon and human realms, or resisting Adrian, who's decided that come hell or high water, he will make Ivy his.
At first, Adrian tried to resist his feelings for Ivy. Now, determined to break the curse that dooms their love, he's vowed to
save
her and to
have
her. If only he can persuade her to forgive his past sins. But defying destiny—and surrendering to the smoldering desire between them —will bring consequences and sacrifices they never imagined…
Here are some early reviews:
"Frost scores another win with the mesmerizing second Broken Destiny super-natural contemporary… The novel thrums with energy, its pacing breakneck from the very start, and piles on the sexual tension." Publishers Weekly.
"
THE SWEETEST BURN is a compelling story of good versus evil and a sensual romance all wrapped up in one. …
like a cross between THE DA VINCI CODE and the paranormal TV show ANGEL!" Fresh Fiction
"A delicious slow burn of a romance that leaves you craving more of everything in the book. Expect to start counting down the days to book three as soon as you finish" Heroes and Heartbreakers
"The heat between the main characters only continues to escalate, and one can't help but root for them…fans of sexy and determined folks involved in a massive struggle between good and evil will enjoy this story." The Romance Reviews
And of course, if you haven't seen it already, here is the book trailer:
I am so excited to share the continuation of Ivy and Adrian's story with you. I hope it becomes one of your favorites! As a reminder, book one,
The Beautiful Ashes
, is
on sale in ebook for only $1.99
from now until Friday, June 30th! Get yours
here
or at your favorite retailer.
Finally, I will at the following places next month, so please come out if you're in the area!
Thursday, July 27, 2017, 7:00 PM
Joint Book Event & Signing with Jeaniene Frost and Ilona Andrews
BARNES AND NOBLE
2418 E Colonial Drive
Orlando, FL 32803

Friday, July 28, 2017, 7:00 PM EDT
Joint Book Event & Signing with Jeaniene Frost and Ilona Andrews
BOOKMARK
220 First ST
Neptune Beach, FL 32266