Good news for two-for-one deal lovers: FORBIDDEN CRAVING, the combo collection of both my first Broken Destiny novel, The Beautiful Ashes AND fabulous author Gena Showalter's revamped novel, The Nymph King, is now available! From the back cover copy: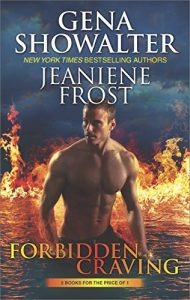 Two unforgettable fan-favorite novels from the biggest stars of paranormal romance!
The Nymph King by Gena Showalter
Females young and old, beautiful and plain crave Valerian's touch. None can resist his blatant sensuality and potent allure—until he steals Shaye Holling from a Florida beach and holds her prisoner in his underwater kingdom. Now Valerian must fight for the privilege of claiming her as his own. Because there's one thing Shaye doesn't know…when a nymph discovers his true mate, she's his for life. Includes all-new scenes!
The Beautiful Ashes by Jeaniene Frost
With her sister missing, Ivy discovers a startling truth—the disturbing, otherworldly hallucinations she's always had are real, and her sister is trapped in a demon realm. The one person who can help her is the dangerously attractive rebel who's bound by an ancient legacy to betray her. Adrian and Ivy must battle their desires if they're to save her sister, but Adrian knows the truth about Ivy's destiny, and sooner or later, it will be Ivy on one side, Adrian on the other and nothing but ashes in between…
I have been a longtime fan of Gena's, so I am thrilled to be in this special, two-for-one collection with her. If you haven't yet read either of these novels, get both for the price of one here or at your favorite book store.
Happy reading, everyone!