Before I go into detail about the wonderful time I had at the Southern Magic luncheon, a reminder that Home For The Holidays, Cat and Bones 6.5 (calling it that because it takes place after the events in One Grave At A Time), is out today. This novella previously appeared in The Bite Before Christmas anthology, so if you already read that, then it's not new to you :). If you didn't read that, however, now's your chance to catch up with Cat, Bones, Ian (yes, Ian fans, he has a large role in this!), and the rest of the gang while discovering some big secrets that will rock the characters' lives. As a special sneak peek, you can also read the prologue and first two chapters of Up From The Grave at the end. Order at:  Amazon, B&N, Kobo, Sony, iTunes, or your favorite ebook retailer. To celebrate Home For The Holidays' re-release, I'll be on the Avon Romance blog this Thursday, answering your questions from 3-4pm EST. If you can't make it, but you still want to ask me a question, go to the Avon Romance blog and post your question there. I'll get to it, time permitting.
And now, on to the Southern Magic Romance Readers luncheon that took place this past Saturday. This was one of the most well-run events I've attended, which means the coordinators probably hadn't slept for a month leading up to it. Publishers Weekly romance blogger Barbara Vey was one of the special guests, and before the luncheon, I had a chance to chat with her. As always, she was funny and gracious. Look for her write-up about the weekend here. Once the events started, the lovely Amanda Kin took me everywhere I needed to go (who told her I'd get lost if left to my own devices?? *wink*). SM President Mary Freeman was so kind, I told her I was going to be her future stalker (she think I'm kidding *cue evil laughter*).
I could go on about the countless other people who made this event so special, but let's get to the event itself. It's more than a simple lunch, for those of you not familiar. It's about a five-hour event with food, giveaways, signings, speeches, and videos. To start, each attendee received a gift bag filled with books, and then dozens of additional gift bags/baskets were given away during the festivities.  I don't know exactly how many were handed out because I lost count. To give you an idea, here's a picture* of Tavia Gilbert at the podium, surrounded by what might have been only a third of the giveaway bags: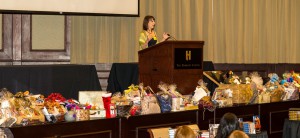 Speaking of Tavia, I finally got to meet the audio narrator of all my books!  Tavia is as sweet as she is talented. About a hundred lucky readers got to take a free digital download of the audio version of Once Burned, courtesy of Harper Audio. For those who didn't get a free audio book, they were treated to Tavia's narration live when she read aloud from four different scenes in the Night Huntress series, wowing people with her ability to do various accents and to make small snippets come alive. Avon Books also provided several free copies of One Grave At A Time for every table at the luncheon. Thanks so much to Avon and Harper Audio for the freebies!
Author Christy Reece (a.k.a. Ella Grace) was the Welcome speaker for the luncheon. She started her speech off  by asking everyone to bear with her because she wasn't funny. I think those present would agree this was a total lie because she was absolutely hilarious. I hope I can find a video of her speaking about her "process" when she writes a book, first because I want to see it again, and second, when anyone asks me what my process is, I can then just direct them to that. It pretty much sums up the emotional roller-coaster I feel while writing a book. I laughed so much during Christy's illustrated speech that I forgot to be nervous about my own, and believe me, that took some doing.
I'm always a little anxious about speaking in public. I'm not the most outgoing person to begin with, and most of my job basically entails me to be a paid shut-in :). On panels, it's easier because there are other authors speaking, we usually have a topic to adhere to, and reader questions move the conversation along. This was more nerve-wracking because I was the only one talking, attendees couldn't participate, and while I had written an outline, I deviated from it at some point (now everyone at the luncheon knows what my editors have to put up with!) The result was probably more rambling than I'd wished for, but I hope that I conveyed how much I appreciate the sense of community that happens when readers come together. Book lovers, you rule!
After my speech, there were more giveaways, more readings by Tavia, and a couple great videos. The first was set to Bonnie Tyler's "I Need A Hero" and showed a lot of swoon-worthy examples. Next was a hilarious video of author Naima Simone  dancing to Salt 'N' Pepa's "Whatta Man" against a backdrop of more male hotties (and I swear, if I had moves like Naima, I'd dance every night!) Also, congrats to Naima on being Southern Magic's 2014 president. And speaking of Southern Magic 2014, author Sylvia Day was announced as the keynote speaker, with Naima Simone as the Welcome Speaker. Sounds like a blast!
Finally, there was the author signing. Dozens of authors were present, so readers had a great selection to choose from. I got a chance to see some familiar faces, meet some people I know from online, and meet a bunch more "new" people. Tavia was also signing next to me, so readers who wanted got their books autographed from both the author and the narrator. Thanks to everyone who came by our table! We had such a good tome chatting with you.
In case you can't tell – heh – I highly recommend the Southern Magic Romance Readers' Luncheon. If you're in the Alabama area, check it out if you can. I think you'll really love it.
*Photos posted with permission from Steve Knight of Dark Knight Photography. To see more convention photos from Steve, go here.