I'm going to blame the extensive travel lately (I've only been home one week out of the past six, and that was to recover from surgery) for the fact that it took me a couple hours after I woke up to remember that it was my release day. Thank you to everyone who's wished me a happy release day! Yes, it's finally out, and whatever format you choose to read Twice Tempted in (print, audio, ebook), I hope you enjoy it.
Speaking of travel, last weekend I was at the Virginia Festival of Books and in Richmond, VA for a signing. My first event was the Falling Headphones Over Heels panel about audio books with narrators Shannon Parks, Elizabeth Wiley and Anne Flosnik. It was fascinating to learn about the process of creating an audio book and all of the preparation the narrators go through to bring characters to life with their voices. Way to go, ladies!
After that, I was thrilled to share a panel and a signing with fellow paranormal authors Kim Harrison, Vicki Pettersson, and Pamela Palmer. Below is a picture of all of us at the Strange Brew panel, where we swapped books just for a laugh: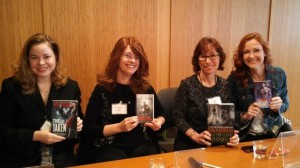 To those of you who came to the panel expecting to get an early copy of Twice Tempted, I'm so sorry. There was a snafu and the book seller didn't have it. The next day at the Sam Miller's Restaurant signing, though, it was on hand and I also signed some of the leftover stock. So if you're interested in ordering a signed copy of Twice Tempted, you can get it from Fountain Book Store here while supplies last.
After that, Monday morning I had a live interview on WTVR Virginia This Morning. Do live TV interviews make me nervous? Of course! I always flash to that scene in Bruce Almighty where Steve Carell's character begins to uncontrollably spew gibberish in fear that it will happen to me. It didn't, though I may have giggled a little too much (hey, beats uncontrollable gibberish! :))
If you want to catch the interview, it's now up on WTVR's website here.
Finally, if you're in the Asheville, NC area tonight, then please come out to Malaprops Book Store for the official "launch" of Twice Tempted. I'll be there from 7pm to 9pm, rain or snow, so hope to see some of you there!