I'm excited to announce that my novella from the Haunted By Your Touch anthology, called Night's Darkest Embrace, is now out as an individual ebook for $1.99. Night's Darkest Embrace is a long story (almost half a book) and here is a brief description: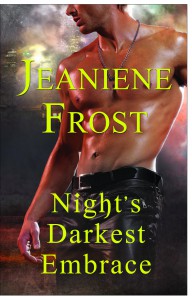 Enter the dark realm of Nocturna, where blisteringly sexy Raphael dominates the demons of a lawless dimension and tries to help a beautiful young woman avenge her cousin's disappearance.
In addition to Night's Darkest Embrace, you also get a sneak peek at an upcoming paranormal novel from Lindsey Piper. Again, Night's Darkest Embrace originally appeared in the Haunted By Your Touch anthology, so if you read that, head's up: this is not a new story. If you didn't read the HBYT anthology, however, then Night's Darkest Embrace is a new release for you :). Also, this story is not related to the Night Huntress universe. Instead of vampires, ghouls, and ghosts existing in secret alongside humans, it has fallen angels, demons, and partial demons living among us. Since I'm a fan of try-before-you-buy, you can read the first 20% here to see if this is your cup of tea. Go ahead, check it out. I'll wait :).
*waits*
Okay, if you're done reading and you liked it, here are some handy ordering links: Amazon, Barnes & Noble, iTunes, Kobo, or your favorite digital retailer.
If you're interested in buying the ebook but you don't have an e-reader, you can read it off your phone, computer, or other device. Instructions are here.
If you only read in paper format and you want the story, it's only available in print in the Haunted By Your Touch anthology. Yes, it costs more than $1.99 but you also get great stories from Shayla Black and Sharie Kohler, too.
Happy reading, everyone!