Wow, it's been over two weeks since my last post! Here's what I've been up to since then. On the evening of September 7th, I turned in Twice Tempted (Night Prince book two) to my editor. Then I spent the next nine days pretty much glued to my couch in Decompress Mode. Here are some new-to-me shows I really enjoyed, if you haven't already seen them.
THE FADES. A British supernatural drama with zombie-ish ghosts. Yes, you read that right: zombie-ish ghosts, and I curse BBC for giving this stellar show only one season.
POLITICAL ANIMALS. I've been a fan of Sigourney Weaver ever since she uttered that famous line of "Get away from her, you bitch!" In this series, which I hope will get a second season, she's just as badass but in a different way. What surprised me was that I also loved her thoroughly unlovable husband in this show, and of course, Carla Gugino puts in another strong role as an ambitious reporter who still fights to have a conscience.
FRINGE. This series took me several episodes to get into. It wasn't until the latter part of season one that I was hooked, but the twist in those latter episodes that tied in previous plot points really took me by surprise. I don't get surprised a lot, so that was a huge bonus for me. Great characters in this show.
COPPER: A darker drama with overlying social and racial issues set in 1860's New York. The main character is an Irish policeman, or "copper," who's searching for his presumed-dead wife and his daughter's murderer, all while frequently butting heads with his superiors over the relativity of justice depending on a person's wealth, skin color, or nationality. Annie, a plucky young girl coming out of truly horrifying circumstances, is another character I'm really rooting for.  Copper airs on BBC America and is newly into the first season.
WHITECHAPEL. This was recommended to me after I bought Copper from Amazon Instant Video. It's another British show, a cop drama, really, and the first season revolved a modern-day copycat of Jack the Ripper. I really enjoyed Whitechapel, which made me want to scream with frustration when I found out that seasons 2 and 3 are NOT available to American viewers, at least not that I can see. Please no one recommend that I download the episodes online. Since I don't like it when people violate my copyright with illegal file sharing, I don't violate others' copyright. I'll have to hope seasons 2 and 3 turn up on Netflix, Amazon Instant, or perhaps BBC America one day.
Since my editor is extremely fast, more TV watching is put on hold because I just received my revision letter for Twice Tempted. I'm glad to say that it doesn't look like a huge revision, more of "Cut here, add there, revise this, trim that" variety. I've also seen the cover for TT, though I can't reveal it yet.  Until then,Paul Marron fans, you'll be glad to know that he is again sans shirt, this time showing off some back muscles in addition to those impressive pecs. Twice Tempted releases the end of March, only six months away.
After I'm done with revisions on TT, next up is continuing Cat and Bones's story with Night Huntress book seven, tentatively titled Up From the Grave. I don't have a release date for that yet, but in the meantime, the mass market paperback edition of The Bite Before Christmas anthology comes out October 30th. So if you didn't already read my contribution, Home for the Holidays, then you can catch up Cat, Bones, Ian, and the gang in about a month.
Oh, and I now know that I shouldn't quit my day job writing for a career in dog grooming. When my dog Gypsy's winter coat started coming in, leaving tufts of strawberry blonde fur all over the house and sending my allergies into overdrive, I decided to shave her. Here are the results (Gypsy will never forgive me for making these public! :))
Gypsy before: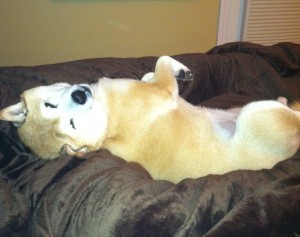 Gypsy after: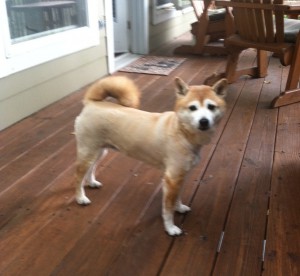 Thankfully, I did NOT try to shave Loki so he doesn't look like he was attacked by Edward Scissorhands: