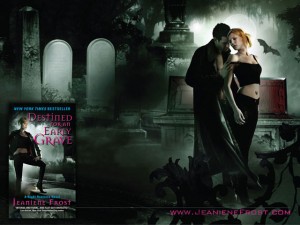 It's time for Part 4, the final edition of the alternate "middle" version of Destined For An Early Grave. If you've already read Parts 1 , 2 and 3, you can skip to the ***'s to read the final part. If you have no idea what I'm talking about, here is the short recap:
I have a lot of deleted scenes from my first four novels, and in some cases, alternate versions. Many of you have said that you miss Cat and Bones now that their story came to an end in Up From The Grave, so I decided to post a never-before-seen, deleted alternate version of the "middle" of Destined For An Early Grave. Because it's so long (over 30K words!) I have posted it in four parts on my blog. For a full recap, please go here to read Part 1.
Adult content warning: This part contains explicit language and sexual situations. As mentioned before, is also unedited, so my apologies in advance for any spelling or grammar errors. If you want to point those errors out, do so in the comments and I will correct the posted version.
And now, Part 4, the conclusion to the alternate "middle version, with a note from me at the end:
***
Bones was gone when I woke up. I must have really conked out. For a little while, I stayed in bed, breathing in the scent of him on the sheets while I wondered what he was doing. Zen forms of meditation, or all-out brawling to test his skills? Probably both. Speaking of skills…
His gauntlet from last night shook me from my indolence. If Bones set about to do something, he accomplished it. Add my flagging willpower to the picture and I may as well be waiting spread-eagled for him. The thought of making love to him inspired mixed emotions. Sure, it had always been great, but as I'd told him, we'd been in love. I didn't want sex with me to be one huge yawn to him, and he'd never admit it if he was disappointed. If only he didn't have so many other women to compare me with.
There were a couple of ways I could handle this. First, worry myself into permanent abstinence. No nookie, no fears about whether it was good for him. This didn't seem feasible, so I discarded it. Second, wait until any sex was great sex. Nothing like a long drought to make the first rain very appreciated. Again, however, that didn't appear to be in the cards. A few more nights of sleeping with Bones while he was naked and I'd be spread-eagling him. Plus, it didn't lend to a closer relationship, and that was the goal.
Okay, that left the third option. This was going to hurt.
I returned to my room, showered, dressed, and then marched downstairs. Taps played in my mind because I felt like I was headed for the firing squad.
"Annette."
My too-jovial voice made her pick up her heard warily. She'd been sipping tea in the parlor with Spade and Denise.
"Cat," she replied.
"You and I never get to chat," I continued with a bright smile. "How about I get some wine and we have a little picnic in the yard, just the two of us, hmm?"
Now she was more than wary. Her gaze darted to Spade in a way that clearly spelled out, help. However, Annette was anything except a coward.
"I'm sure that would be lovely…if you insist."
"Done!" I flashed another broad, false smile. "Red wine or white?"
A dry laugh escaped her. "Really, dear, what do you think?"
"Red it is. See you in twenty minutes? There's a nice, shady tree behind the pool. I'll set up there."
Again, she flicked her eyes to Spade, but he just shrugged as if to say, I don't have a bloody clue what she's up to.
Denise watched this exchange with her forehead wrinkled in disbelief. When I headed to the computer in the other room to punch in my beverage and food requests, she followed me.
"Is everything okay?" she asked.
"You know the first thing you do before planning a mission?" I replied, a brisk mentality setting in. "Field research."
Her hazel gaze widened with comprehension. Then she laughed.
"I was going to offer to go with you, but I think I'll stay out of this. My field research days are over."
"Yeah, well. I thought mine were, too."
###
Annette reclined on the quilt like it was a velvet dais. Even the outdoor setting didn't diminish her sophisticated air. She could have been at the poshest restaurant waiting for her next glass of Crystal. Not on the ground with only a blanket between her and the dirt.
"All right, Cat. You've gotten me out in this dreadful heat, what is it that you want?" she said after finishing her first glass.
I took a healthy gulp of my wine before replying. "I'm going to have sex with Bones tonight, and I want to make sure I've got all my bases covered."
Her wineglass almost fell from her hand. "Indeed?"
"You're not invited to join in," I continued pleasantly. "I'd like you to make a magnanimous gesture, Annette. One you get no personal gratification out of."
Both her perfectly shaped brows rose. "You're not making sense, dear."
"Fine, I'll cut to the point. No one knows more about fucking Bones than you do, and I want him happy. Since he doesn't have love to fall back on if sex with me is mundane, I want to make sure I'm pushing the right buttons with him. So, are you going to help me or not?"
Annette was speechless for a few moments before she laughed, loud and merry.
"Oh, Cat! What you don't realize is that right now you are exactly like Crispin. This is just what he would do, given similar circumstances."
"Is that a yes?"
She stifled her laughter, but that gleam was still in her eyes. "The most effective method of instruction is demonstration."
"The day I grow balls," I said sweetly. "Verbal only. Yea or nay?"
"Yes." Her lips kept twitching. "You start. Tell me what the two of you normally do, and then I'll tell you what you've been neglecting."
And that's how I ended up detailing my sexual history to Bones' ex-girlfriend, using concise descriptions and leaving nothing out. After fifteen minutes, the amusement had left her and her eyes had started to fleck with emerald.
"Well? What am I missing?" I finished with.
Annette finishing her wine before pouring herself another. She kept giving me sideways glances as she drank, until finally, she just stared.
"Do you know I've been under the impression that you were strait-laced? You act that way, and while I knew you were passionate – blimey, I have ears – I didn't realize you were such a dirty little vixen!"
She said it accusingly, like I'd been holding out on her. I took another gulp of my own wine and shrugged.
"You know Bones. I used to be strait-laced. He got around that."
"So it seems." She shook her head. "Faith, this won't take long. You've no interest in ways to pleasure him with another woman, so I can only suggest three things…"
The items she rattled off almost made me blush. The first I hadn't considered since he was a vampire and I didn't think it pertained, the second was flat-out embarrassing, and the third…well. We'd see.
"Hmmm," was all I said.
She gave me an arch look. "Even so."
We didn't say anything for another minute, both of us drinking our wine. All of a sudden, I started to laugh.
"Can you imagine what he'd say if Bones had his memory back and he came upon the two of us discussing the best ways to have sex with him?"
Annette laughed as well. "He'd swear I drugged your wine. He's so bloody protective of you."
Just as quickly, my eyes filled with tears. Yeah, he'd loved me so much that he used to be crazy protective. It had been annoying at times. Now, I'd kill to have it again.
She set down her glass and slid across the small blanket. Even as I waved her away, she put her arms around me.
"You poor girl," she said softly. "Despite our differences, I know how much you love him. And somewhere deep inside him, past this blockage, he knows it, too. There's no spell that can erase that."
Then I did the second most unusual thing I'd ever done with Annette. I let her comfort me as I cried.
###
This time, when Bones came home, I wasn't hiding away upstairs. I was in a chair by the foyer, a half-full glass of gin and tonic next to me. I'd been sipping conservatively, which wasn't what I wanted to do. I'd have downed two bottles of straight gin, left to my own devices, but reeking of liquor didn't lend to a romantic mood.
He saw me as he took off his coat, coming closer with it draped over his arm instead of putting it in the closet. He wore a royal blue shirt, the deep color setting off his creamy skin. His pants were black, but that was his norm. Years ago, he'd told me he had better things to do than mix and match his tops with trousers.
"Catherine."
Just the way he said my name made my heartbeat speed up. When he leaned down, brushing his lips across my cheek, it sped up even more.
Wherever he and Mencheres went during the day, it had shower facilities. He was freshly washed and smelled like soap, male and his own natural scent. The combination was better than cologne.
Behind him, Mencheres gave me a quick, approving nod. He'd probably just filched from my mind what my intentions were. Then the Egyptian vampire melted up the stairs without saying a word. Spade and Denise were on the other side of the house, and Annette was out seeing a movie. Who said she couldn't be gracious once in a while?
"I, ah, wanted to talk to you," I said as I stood up and indicated the nearby den.
"Of course."
He laced his fingers in mine as we walked. If only this didn't feel so awkward. Or if I were rip-roaring drunk.
"It's nice to see you," Bones went on. "I've thought of you all day, as usual."
"Stop." I pulled my hand free as I shut the den's door behind us.
"Stop what?"
"You don't have to say that. What I mean is, you don't have to try and seduce me. I've decided to, um, let you out of the doghouse."
Part of me had thought he'd hear that, throw me over his shoulder, and run for the nearest bed. Or, as had happened before, just get busy right where we were. Bones didn't do either. Instead, a smile tugged at his mouth.
"Waving the white flag, are you?"
I threw up my hands. "It just seems fair. You could die for sticking it out with me and you're very well aware of that. Hell, I'd be demanding some recompense, if I were you. And I know you're not celibate out of preference, so…bar's open."
That drew outright laughter. By the time he reined it in, my foot was tapping in irritation.
"I apologize, luv, but that was priceless. Bar's open? I'll bear that in mind. Are you hungry?"
My foot quit tapping. "Are you being sleazy and metaphorical?"
He didn't burst out laughing again, but from his twitching mouth, it was close.
"No, I meant literally. Have you eaten supper yet?"
"Well, no."
In all of my apprehension, I'd skipped that. He gave me an appraising look, his tongue tracing inside his bottom lip.
"Right, then, let's be off."
He grasped my hand and led me out of the den. When we reached the front door, I stopped.
"What are you doing?"
He gave me a tolerant look. "Can't even remember the last time we went out for fun, can you? No wonder you look so confused. I'm taking you to dinner, Catherine. Alone."
That last word was practically a dare for anyone in the house to try and stop him. So I played the part of Spade and Mencheres.
"We can't, it's not safe. Someone could spot us and tell Gregor, not to mention I can't know where we are. Jeez, if you're not in the mood, just tell me! You don't have to go all crazy."
He laughed again, but this time, it was filled with more than humor. Green pinpointed in his eyes and he moved closer until my retreat was blocked by the door.
"My dear, sweet wife, I want you terribly. As to the dangers of going out, you've gotten good at keeping your eyes closed. If there's immediate trouble, I have my mobile and we won't be going far. Besides," his smile turned wicked, "we haven't even had a proper date yet. What bloke puts out without that? Blimey, I don't know what sort you think I am."
###
Bones took me to a chain restaurant. Smart, since it would have locations nationwide. Since it was dinner hour, a long line of people waited to get in, but Bones just flashed his eyes at the hostess and we were given the next table.
I didn't look at the menu. Or the cars in the parking lot, license plates having too much information. I kept my concentration on him, and he made that easy. He sat next to me instead of across from me, touching my arm, back or hand in casual ways that made me barely able to chew, and never once let the conversation pause. I'd almost forgotten how charming he could be. It didn't escape the notice of several females in the vicinity, either, who kept throwing him interested glances. I reminded myself that there was nothing wrong with looking. Flinging my fork into some chick's forehead for checking him out was undeserved. And too flashy. We'd definitely have to cut our evening short.
Bones didn't eat since solid food wasn't his preference, so he drank whiskey and encouraged me to eat everything on my plate. Over my objections, he also ordered dessert and goaded me into eating that, too. Since it was a brownie with ice cream and chocolate sauce, I didn't require much persuading. When I finally put my fork down, he let out an amused snort.
"Heavy-lidded eyes and a sated smile. Not the way I'd imagined seeing it, but lovely nonetheless. There's one bite left."
I was too stuffed to do more than look at it. "It's good, you should have it."
"All right," he said at once.
Maybe I didn't guess his intention because I was in the mildly dazed state of overeating. Or perhaps I was lulled by his easy charm. What I should have remembered was this was Bones. There was only so long his chasteness would last.
His mouth came down on mine, his hand on the back of my neck keeping me from jerking away in surprise. I gasped at the contact, and he took my parted lips as an invitation. His tongue swept past my lips, deepening the kiss with a skillful sensuality that had me gasping for a different reason this time. My head tilted back as he explored my mouth with unhurried thoroughness, and when I slid my tongue along his, he sucked on it with erotic hunger.
Sensations hijacked my sensibilities. The taste of whiskey on his tongue. His hand on my neck, pulling me closer. My nipples hardening when our bodies met. The race of my pulse, increasing with every second. And his throaty moan when my hand moved further up his thigh –
I yelped, snatching my hand away as color rushed to my face. I'd been about three inches from feeling him up in a crowded restaurant. What was the matter with me?
Bones's eyes snapped open when I broke away, revealing that they'd changed from dark brown to bright green. "What's wrong?"
"What's wrong?" I repeated. "I'm a dirty tramp, that's what's wrong!"
Several heads turned. Oops, said that too loud. I sank lower in my seat, wishing the ground would swallow me.
Bones laughed, low and throaty. "I'm breaking your rule, Catherine, because I'm going to compliment you again. You're even more beautiful when you blush. You'll have me wracking my brain thinking up ways to make you do it again."
"Believe me, you already have," I muttered, cursing my heated cheeks.
The waitress stopped by with the check, casting disapproving looks at both of us before hurrying away. First making out at the table, then me howling out my lack of morality. I hoped Bones left her a big tip.
"Let's go, okay? I think I've done enough damage," I said.
His eyes had been marbling back to brown, but at that, they flashed green.
"Feeling your response means more to me than anyone in this place, so sod them. I've been afraid that my actions had killed any real desire you had for me. Oh, I knew you fancied the look of me, but that's not the same. I can't decide if I'm more switched on or relieved, and believe me, luv, I have never been so aroused."
He almost whispered the last sentence. Not for propriety, since as stated, he didn't care about that, but because they were more emphatic softer. All the while, his gaze drilled into mine until I felt stripped both physically and emotionally, and I scrambled to get control of myself.
"Okay, well, we can leave. If you're, ah, ready to go to bed."
Bones leaned back, eying me now with calculation.
"Think you'll keep me at bay by shagging me? Wrong. I want you, not just your flesh, though I confess a strong desire for that, too. I'll wait to have you until it is you. You won't make me settle for anything less."
"Are you sure you don't have your memory back?" I snapped. "Because you sound just like you did the day you left me!"
As soon as the words left me, I clapped a hand over my mouth. I'd just ripped open a wound that had barely scabbed, and from his immediate pounce, he knew it.
"It wasn't only Gregor between us, was it? Did you do this before? Shield yourself away from me?"
"People are waiting for this table," I stalled, looking around to avoid his gaze.
It didn't work. "You don't want to have this conversation back at the house with a dozen eavesdroppers any more than I do. Here and now, Catherine, let's sort this out."
He'd never let it go. Not Bones, king of seeing things through to the end.
"I'll need a gallon of gin for this," I grumbled while trying to away from him. At least I could get a little physical distance if he was about to rip apart my emotional barriers.
Bones eyed me before slapping money on the table. Then he grasped my hand.
"Gallon of gin, you say? I know just the place."
He led me out of the restaurant and I shut my eyes once we reached the parking lot, following the tug on my hand to the car. Once in it, I concentrated on the song playing instead of noises from nearby places. It was an old one, "Under Pressure" by Queen, and I could relate to the lyrics. I was under pressure, too, and it was about to get worse.
Bones didn't drive long before we stopped. He opened my door and took my hand again. Even these small touches affected me, bringing out a stinging longing. It was so weird to miss someone when they were right next to you.
"Open your eyes," he said after he led me inside.
The neon Budweiser sign was the first thing I saw. We were at a noisy, boisterous bar. At least I didn't feel underdressed, as I had at dinner. My button-down shirt and jeans fit right in here.
Bones took us over to the bar. "Gin, top shelf, the entire bottle."
Money changing hands cleared up the bartender's objection. I was too nervous over our upcoming discussion to be embarrassed by that little scene. When Bones led me to a table at the far end of the bar, I took the bottle from him and began to drink. Bones waited until my third deep swallow before he spoke.
"Did you hold yourself back from me the entire time we were together?"
My hands trembled on the bottle that I gripped like a lifeline. Still, I refused to lie. "Yeah, pretty much."
"Why?"
Such a simple question. So impossible to answer.
I sighed. "Different reasons for different circumstances. When we first met, it was because I hated vampires and you were one of them. Years later, after you found me, I had fears about my job, my mother, and you wanting me to change over. Then finding out that I was, like, the thirty-thousandth woman you'd slept with. Always running into your exes was a little hard to swallow, and –"
"Who told you that number?" he interrupted, astonished.
I took a few more gulps before answering. "You did."
Both his brows went up. I nodded in confirmation. "I asked, and you said about three to four women a week was your average before me. Multiply that by your age, and there you have it."
"Bugger," he swore. "Don't know what I was thinking, revealing such a thing to my wife."
He gave me another appraising sweep of his eyes, as if measuring what had made him tell me that. I was glad for the switch in topics and plowed ahead.
"You also said you considered your virginity lost in stages of four."
His brows went higher. "I told you that, too? Did you pump me full of truth serum one night? Is that how you got me gabbing like a teenage girl?"
"Some of the things you told me weren't to be believed, but you swore they were true. Like the time you were a whore and after a particularly busy night, you faked a hard-on with a new client by using your fingers to keep your cock straight. Now that, I couldn't imagine, but you said the woman never knew –"
"Clearly I opened up to you in a very personal way," he cut me off, resolve replacing the disbelief in his expression. "Everyone tells me I was deeply in love with you. The things you know, like my mother's perfume and other stories I've never shared, only solidify that. Yet you admit to holding me at arm's length, and you still haven't said why."
I almost choked on my gin. The spotlight was back on me, with reinforcements.
Bones stared at me, waiting. Around us, people drank and danced and fought and had their own problems. In the grand scheme of things, one wobbly marriage didn't matter except to the two people in it.
"I don't know why," I said at last, very softly. "It seemed like every time I opened up, something bad happened and I'd need my shields to get me through it. I almost jumped off a cliff when I thought you were dead and Vlad had to talk me down. That's what happens when I let myself go. I can't stand to need you so much, so…I hold back. Just enough. Then, if you're gone, I can still function, no matter the reason why you're not there."
A small, twisting smile pulled at his mouth.
"Never value something with more than you can afford to lose. Yes, I understand that very well. It's what I've lived by all these years, so it appears I married someone just like me. I suppose it's fitting."
We didn't say anything for a few minutes. I drank while those brown orbs bored into mine whenever I met them, which wasn't often. Finally, he slid his hand across the table, palm up.
"Let's agree to stop, both of us. Take my hand, Catherine. No more safety net, no shields. We'll let each other in, though it will mean living as dangerously as it gets. Are you with me?"
My first impulse was to run as far as my legs could take me. Bones's stare promised to hold me to any vow I made, and I didn't think I could handle losing all of my defenses. He wasn't offering guarantees, either. He couldn't. In life, there were none.
I looked at his pale skin, broad palm, tapered fingers and short nails. I knew a lot of the history behind that hand, and most of it wasn't pretty. The violence in his past was only exceeded by the licentiousness, and maybe more. Maybe I didn't really want to discover everything about Bones.
And yet, in the end, none of my concerns mattered. This was Bones, and I'd never been able to help myself when it came to him.
My hand covered his like steel to a magnet. Even if it destroyed me – and hell, it probably would – I still couldn't do anything else.
Bones drew a knife out with his other hand. I gave him a questioning look as he pressed it to my palm.
"I don't remember doing this before, and until I have my other memories back, I want something of my own."
The knife scored my palm, welling blood up in the cut. He released me and then cut his hand the same way.
"Claim me as yours, Catherine."
An offer and a demand. I met his eyes while taking his hand with mine, feeling his blood start to heal me on contact.
"By my blood, you are my husband," I said softly.
His hand tightened on mine. "By my blood, you are my wife. Forever."
I gave him a small, almost shy smile. "You want to kiss the bride?"
He didn't smile back. Instead, his expression was very serious.
"Yes."
This time, his kiss was restrained. I was the one who flicked my tongue inside his mouth, craving his taste. Then I was the one who wrapped my arms around him and pulled him closer.
His restraint vanished. He tangled his hand in my hair, tipping my head back and opening my mouth further while he ravished the inside. I clutched him, suddenly feeling dizzy. His other hand ran down my back, shifting me until our hips lined up. Then he kissed me deeper while the bulge in his pants hit my most sensitive spot.
At the feel of him there, that denied, starved part of me reared up and said, now. Not later, not back at the house. Right. Now.
My hands raced down his back, his chest, his stomach – I couldn't stop touching him. Bones let out a harsh moan and lifted me up. My feet made contact with several people as he pushed through the crowd to the exit, but he made it there so fast, they probably didn't know what had hit them.
He moved just as swiftly through the parking lot, still kissing me with a hunger that made me oblivious to anything else. Once we reached the car, Bones deposited me into the front seat, but I didn't let go. I pulled him on top of me, barely registering the sound of the car door slamming shut.
He wrestled out of his jacket without breaking contact with his mouth. All the while, that bulge continued to rub me in the most inflaming, erotic way. The intimate friction ripped away the last of my control, making me insane with need. He made a rough noise when I wrapped my legs around him, then I felt the seat go all the way back.
His shirt came off with a single, impatient tug, then with a jerk, he split apart my blouse and bra. When my breasts touched him, skin on skin, the contact drove me out of my mind. I twisted against him in mute demand, not caring that I could barely breathe from his ceaseless, devouring kisses. His hands went to my jeans, and after a rip, he pulled them down my legs.
"Don't stop touching me," I gasped, burning to feel his hands on me again. Even the seconds he'd spent taking off my jeans was too long.
"I can't stop," he growled. Then he tore at the front of his pants. I writhed under him, digging my nails into his back, my whole body thrumming with expectation.
"Bones-!"
His name ended in a cry as he thrust inside me. My loins clenched at the excruciating pleasure as he moved deeper, stretching me with his length and thickness. I latched my mouth onto his neck, straining toward him while my nails raked down his back.
Words spilled out of me, but I didn't know what they were. My heart beat so loudly, it deafened me. Those deep, hard thrusts had me sobbing with ecstasy. Every nerve ending sizzled and my muscles tensed as he increased his pace, until I heard myself crying out for more in a voice that broke from passionate sobs.
Bones yanked my hips up, tilting me as he pushed so deeply inside me that I screamed. He leaned forward, increasing the ecstatic pressure, and rocked hard and rhythmically. Blasts of pleasure shot through me. That boiling tension ruptured all at once, shaking me with the orgasm. He didn't pause, and his continued movements kept me shouting with passion. After a few minutes, his hands clamped on my hips while his whole body tensed. A hoarse cry was followed by a throb deep within as his climax vibrated through me, and I reveled in the feel of it.
After several moments, he shifted to rest his weight on his arms, waiting until I stopped hyperventilating before he kissed me.
"Bloody hell, luv, I'm trembling."
I gasped out a laugh at the surprise in his voice. "You always do."
"No," he whispered. "I don't." Then concern skipped across his features. "Did I hurt you? Didn't mean to lose control like that –"
"Do I feel hurt to you?" I interrupted with another breathless laugh.
He smiled and it melted me to see it. He was still inside me, still hard, and it felt so right that I thought I'd cry.
I didn't because in the next instant, red and blue lights flashed behind him. Bones let out a vile curse just a voice boomed out, "Police! Come out with your hands up!"
"Are you out of your bloody mind?" he thundered back.
"What's going on?" I managed to say before he lifted me out from under him, pushing me into the back seat.
"Stay down, stupid sods just cocked their guns," he muttered.
Guns? "Wait –"
"They're only human, I'll tidy this right up," he cut me off. "There's a bit of a crowd out there, Catherine. Put this shirt on."
I was half sitting on his shirt in the back seat, but my clothes were nowhere in sight, so I grabbed it.
"Coming out, lads, nice and easy," Bones called out.
"With your hands up," the bullish cop reminded him.
Bones opened the door and stretched out his hands. Meanwhile, I scrambled to put on his shirt.
"Nobody move in the car!" came the next bellow.
"It's just my wife, mate, no harm. Come and see for yourself."
Bones was using his vampire voice, raising the hairs on the back of my neck with its timbre. Since I was no longer mindless from lust, I could now hear and see the small crowd hanging out behind the police.  Well, what did I expect? Noisy sex in a parking lot was bound to get noticed.
One of the two policemen approached, and I blushed when I saw Bones get out of the car wearing nothing but his shoes. Thank God the other cars blocked most of him from the bar patrons view.
"Obviously I'm not armed, so let me explain," he said in the same reasonable, echoing tone.
Once the officer was close enough, Bones hit him with his gaze. His eyes gleamed only for an instant, but it was enough.
"Tell your partner that all's well and to over here," he instructed him quietly.
"Jack, come on over," the cop intoned, lowering his gun. "It's okay, there's no assault in progress."
Inwardly, I ground. People had called the police because they thought there was an assault going on? That's what I got for being a screamer!
"Ed?"
The other cop hadn't lowered his gun. He was still cautious, good for him. But he did come closer. Bones waited until the officer's back was to the crowd before his gaze lit up again.
"Nothing's going on. False alarm, right, mate? We're leaving and you won't even report this."
"Sure," the cop said with the same glazed look as his partner, Ed. He even smiled. "You folks take care now, you hear?"
"Thanks ever so," Bones replied with less graciousness. "Now, tell those bloody people to mind their own business and go back inside."
"Folks, there's nothin' going on here," Officer Ed rang out, waving at the onlookers. "Go on back inside before I start checking licenses and insurance!"
That got results. With grumbles, the people dispersed. There were a few whistles and some lewd comments, but soon, only a couple of gawkers remained.
"Right, then, gents, off you go."
Bones waited until the police got back in their car before he walked around to the driver's side, totally nonchalant about his nudity. In the interim, I'd gotten his shirt on, grateful that it hung to my thighs since my panties were in tatters and my jeans were ruined. Almost getting arrested post-coitus was a definitely a mood kill.
"Here." I handed him his pants when he opened the door. "Zipper's ripped, but they'll cover you."
Bones stepped into them and then got in the car. I crawled back into the front seat and adjusted the lever until it was upright once more. We drove off with a spin of tires, me closing my eyes at the whole scene.
"This was my fault, Catherine, I'm sorry," Bones said.
I kept my eyes shut even though it was pointless. "You weren't the one who screamed so loud that someone called the police."
"Perhaps not, but I should have controlled myself until we were back at the house. Even worse, I lost complete awareness of my surroundings. It's a damn good thing only coppers stumbled on us, or I could have gotten you killed."
I let out a watery laugh. "I'm just as much to blame as you are, and if you'd have tried to put the brakes on before, there would have been an assault in progress."
He chuckled. "This isn't the way I intended things to go tonight, but I'll make it up to you as soon as we get back."
I sighed. "I've got two words that'll make you forget all about that plan."
"Indeed?" He sounded highly skeptical.
"Omaha, Nebraska," I said, and opened my eyes.
"Bugger," Bones said with feeling.
I nodded. "Yup."
While I'd watched the drama with Bones and the police, additional things had caught my attention. License plates. The city's name painted on the cop's car. The radio dispatcher in the background, giving street addresses and codes. In short, my exact location.
Bones pulled his cell out, dialing. The other end picked up on the first ring.
"Hallo, Charles…no, we're fine. We're on our way back, but we ran into a spot of trouble. Catherine knows where we are…yes…right…see you within the hour."
He hung up. "They'll start preparations. I'll ask you to settle back and close your eyes. You know the city, but there's no need to make it easy for Gregor to find the house. We're going to drive about for a bit to throw you off from the exact distance."
"Can we stop at a gas station?"
"Why? We have petrol…oh, right." He caught on. "Of course."
I did have to pee, but that wasn't my only reason for wanting to visit a bathroom. The inside of my thighs were wet, and trotting into a house full of vampires like that didn't appeal. Add me wearing only his shirt and Bones may as well write 'Got Laid!' on his forehead.
Bones went to the nearest service station and got the restroom key for me. I stayed in the car, watching with dark amusement at the looks the counter clear gave him. He was still shirtless and there was a nice big tear along the inseam of his pants. It was a damn good thing Bones also healed so fast, or the various scratch marks and hickeys would have been even more incriminating.
After I answered nature's call, I freshened up as best I could with paper towels, water and liquid soap. A hot shower would have been preferable, but that wasn't in the cards. We'd probably be leaving right after we got back to the house.
Bones materialized next to me when I came out of the bathroom, making me jump. I thought he was still waiting in the car.
"You scared me," I said with a little laugh.
He cast a look down the front of me. "Do you regret making love to me?"
I hadn't expected that. "Why would you…what…?"
"Simple yes or no, Catherine," he said, gripping my shoulders and giving me that unblinking gaze.
"No! I mean, I regret what happened afterward with the cops, but…why, do you?"
"Of course not." He let go. "Then why did you wash as though I'd fouled you?"
He was offended that I'd cleaned up? Okay, that was new.
"Because it's tacky to walk around like that! I know how well vampires can smell, and there's a bunch of them waiting back at the house. Grant me a little dignity, will you?"
"Tacky?" Bones appeared to mull the word. "We have a difference of opinion. I'm in no hurry to wash your scent from me. In fact, I can't wait until it's all over every inch of me."
Whoa. Guess Annette had been right about Suggestion Number Two!
A low laugh escaped him. "You're blushing again. I'm finished holding back – you are absolutely stunning. Do you know why I laughed the first time I saw you? Because I still half-thought that it was a prank. Charles tells me a lurid tale about an arch enemy, a forgotten marriage and a spell to induce amnesia, then in walks this exquisite girl who's supposed to be my wife. It didn't even seem possible."
He kissed me then, quick and fervent. I didn't even have a chance to respond before he ended it.
"Let's go. It seems I don't have any willpower when I kiss you. Later, I'll kiss and taste every inch of you. I won't be able to think about anything else until then."
With far more unsteadiness then before, I got into the car. No, it wasn't a good idea for him to kiss me. I wanted more when he did that, too, and there were only so many gas stations between here and the house.
###
Thankfully, no one batted an eye when we arrived in our different attire. Bones gave me his coat to wear, so I was decently covered, at least. He only wore his torn pants and shoes, but there wasn't time for winks and nudges. Mencheres drew him aside as soon as we crossed the threshold, and I went straight to my bedroom to change. Denise and Spade were loading up the car, from what I overheard, and Annette was chatting with Fabian so someone else must be collecting her bags. From the bustle of activity, we'd be leaving soon.
I threw some things into a suitcase that had been laid out on the bed. Already, most of my other things were packed, judging from the empty drawers and the suitcases by the door. A glance in Bones's room showed a freckle-faced teenager hefting some bags toward the door. He smiled at me and told me he'd be back to get mine. Okay, so we were leaving very soon.
Spade came to get me ten minutes later. "Come with me, Cat, I'll show you to your car."
"Where's Bones?"
He gave me a jaded smile. "Still with Mencheres, I expect."
That sounded faintly ominous. "It's not his fault," I said at once. "I'm the one who didn't shut my eyes in the parking lot –"
"Quite," Spade interrupted with a laugh. "Crispin knew when he took you out that you might discover your location. He choose to do it anyway, and now he's held to task for it. Don't fret. Mencheres is just giving him the rough edge of his opinion."
Spade's demeanor was far friendlier. Ever since had Vlad had torched his house, he'd been a little prickly around me.
"Why are you in such a good mood? Happy about a change of scenery?"
"My best friend is happier," he responded instantly. "Come now, Cat. If Denise was the one who'd unwittingly cheated on me and I treated her with cool judgment, how would you respond? Especially if she were truly regretful? You'd be skinning off pieces of my arse and we both know it, so can you blame me for wanting to do likewise?"
Well, that was honest. Put in those terms, he also had a point. I'd julienne him if he hurt Denise. Guess he'd fought similar compulsions.
"If I didn't love him so much, I'd be more logical," I said at last.
Spade smiled. "I know." Then he chuckled and gave my ass a quick smack. "That's why this is still intact, without my boot stuffed up there."
I slapped at his hand, but he'd already moved it away. Then he took my suitcases, using one to gesture with.
"Come along, Reaper. Let's get lost again."
###
An unknown human was at the wheel of the car Spade let me to. He hadn't bothered to introduce us. That no-name policy, I guessed. As soon as Bones got in, we left. A whole caravan of vehicles was going also, from the sound of it. I had my eyes closed. No need to give Gregor a mental image of things. Wait until he peeked into my mind and found out that I'd had sex with Bones. The thought almost made me smile.
Cool arms settled around me as Bones repositioned me until my head was on his chest. Then something light was placed over me.
"Go on, luv. Open your eyes."
I did and saw a dark sheet covering both of us. It felt like we were kids paying tent, and I bit back the urge to ask if he'd brought a flashlight.
Bones smiled. "Now at least we can look at each other while we speak. We'll be driving 'round two hours before we switch transportation modes. I know you're tired, but don't sleep until after that."
"I'm not that tired. I usually don't sleep until dawn, anyway."
A dark brow rose. "You've been abed before midnight all week. That's not your normal routine?"
I decided on an honest answer. "I was avoiding you. First it was because I was mad, and then when I was around you, I'd either babble or do something completely embarrassing. Hiding in my room felt like the lesser of two evils."
Bones caught my hand in his. "You're not hiding any longer, right?"
It didn't escape my notice that he held the same hand he'd used for our blood oath.
"No," I said quietly. "Not anymore."
It also didn't escape my notice that the last time we'd been reclined in a car, it had been under very different circumstances. I shifted, finding a more comfortable position, and the movement caused a twinge of soreness down below. Good thing we weren't going over unpaved roads.
Bones stared at me while his other hand slid down until it rested below my navel.
"I was too rough before. Let me to heal you."
His voice was soft and with the radio blaring, the human driving the car couldn't overhear us. It made our conversation feel private even if our circumstances weren't.
"No," I whispered. "I like feeling you there. You said my scent was comforting? Well, this is to me, and you weren't too rough. I loved it. This is what I usually feel afterward, but it isn't pain, believe me."
I was telling the truth. This was a pleasant sort of ache, and it increased when his eyes began turning green.
"You deserve so much better than a back seat, but I couldn't help myself. I felt so much touching you that it broke my will. Gregor might have stolen you from my mind, but it's clear you went deeper than that. You're beneath my skin, Catherine, and now I know that no person or spell can take you away from me."
Happiness coursed through me. "Well, if it helps your progress…I guess we'll have to do it every night."
He let out an amused snort. "Believe me, you're not keeping me from your bed any longer. You only succeeded before because I didn't know any better. I'd have been howling outside your door like a mangy dog if I had."
"That would have been the last straw for Spade. He'd have slugged me."
His arms curled around me. The feel of him was like therapy, soothing away my prior hurts.
"Tell me how we met. I want to know everything about it."
I settled back with a contented sigh. "You were on a job, and you'd tracked your mark to a bar in Ohio. I was there, too, just itching to kill any vampire I could get alone. I saw you, came over and asked if you wanted to fuck…"
###
The new house didn't have a barn, horses, or a large, pasture-like backyard. It was in the woods, with nothing but trees all around. The interior also wasn't as upscale as the last few places. In fact, it was kind of rustic. Spade wrinkled his nose in mild distaste. I loved it.
We'd flown the past few hours, then switched back to cars for the last forty minutes. It was well after dawn and I just wanted to shower, brush my teeth, and go to bed wrapped up in Bones's arms. Mencheres, however, had other ideas.
"No, because he's coming with me," was Mencheres's immediate response when I asked Bones if he'd be right up.
"Huh?" I stopped on the stairs, my suitcase still in hand.
"I'm afraid I won't see you until tonight," Bones nearly sighed the words. "Training. We're already a bit late."
"But you haven't slept," I protested, starting back down.
"That does not excuse him," Mencheres stated.
Now I was mad. "Aren't you a little too old for spitefulness by, oh, a few thousand years?"
Bones came forward to rest a soothing hand on my arm. "I already knew this was my penalty. Think I'd change my actions because of lost sleep? You just get plenty of rest yourself. After all," he brushed his lips next to my ear, "you'll need it."
Short of throwing a fit, there didn't seem to be much I could do. I contented myself with mentally informing Mencheres that he was a cold-hearted, nasty shit, and turned back around. Guess it was just shower, brush my teeth and go to bed alone for me.
"I'll be waiting for you," I said as I headed back up the stairs.
Bones gave a short laugh. "You'd better be."
I picked the bedroom on the farthest corner of the second floor. Not the largest, but it was further away from the others. The privacy was an illusion, but it was the best I could do. It would be so nice to have actual privacy again and not just its counterfeit.
After my bath, I slept for a few hours. Not as many as I should have, but I kept waking up and reaching across the empty space. Eventually I gave up and went downstairs. Annette was watching TV, giving instructions to the actress on the screen.
"Don't run up the stairs, fool, the killer's right there!"
Ah, a horror movie. Then I sniffed in confusion. "Are you wearing perfume?"
Annette glanced up and laughed. "Are you blind? Look around, Cat."
At that, I finally took in the rest of my surroundings. Jeez, she was right. If these had been enemy forces, I'd be dead. Roses were on almost every available table top. Long-stemmed, gorgeous, crimson roses.
"Bones had these delivered?"
"No, the Juice Boxes picked them up," she replied, turning her attention back to the movie. "They're in a house up the road."
I wanted to tell her that calling the live-in blood donors Juice Boxes wasn't polite, but I didn't bother. All I muttered was, "You'll never be normal," and headed back upstairs.
"Neither will you, darling!" Annette sang out.
Uppity English tart. And yet, when she was right, she was right.
###
Denise set down her cards after Spade nudged her.
"No fair," I protested. "Each player for themselves."
The three of us had been playing poker. Denise was better at bluffing, but her other skills hadn't matured as fast. She and Spade partnered up shamelessly.
"It's not that. We're going out," Spade said, setting down his hand.
"Oh." I dropped my cards. "Well, don't get freaky in a parking lot. Cops don't like that."
Denise burst out laughing. "Is that what happened last night?"
"Let's just say we disturbed the peace and leave it at that."
Spade didn't laugh, but his lips twitched. "It's a wonder Crispin didn't kill them."
I wasn't about to explain more. Should have just zipped it to begin with. "He might have wanted to. I didn't ask."
"Indeed." His mouth quirked again. "Appears he's taking precautions this time. We're going out, Mencheres is leaving, Annette will be staying overnight in the other residence, and Fabian will be floating elsewhere. You'll have the house to yourselves."
A slow flush crept its way up my face. "Bones arranged that?"
Now Spade did laugh. "What do you think?"
Well, what indeed? No fewer than six dozen roses were around the house, plus I'd also gotten a box of new lingerie. That had cracked me up, though, because of the note inside.
Now you needn't fret about wearing someone else's knickers.
Whatever Mencheres had Bones doing, he'd clearly allowed him some time to make arrangements. It shouldn't come as a surprise that Bones had intentions about tonight, lack of sleep or no lack of sleep.
"Um, have a nice time," I said, trying to play it cool.
Spade didn't say, 'You too!' with a knowing wink. He only smiled and took Denise by the hand.
"We'll be back before dawn."
They left and soon after, Annette followed suit. Since it was after dark, Bones would be here soon. I cleaned up the poker debris and then went in my room.
A lot of women have a ritual for a planned sexual encounter. In a way, it was the pre-foreplay foreplay. I took a quick shower and brushed my teeth. I'd already shaved from my earlier bath, so that was done. Then I applied unscented lotion, further smoothing my skin. After a quick blow-dry, I put a few curls into my hair to make it messily full. Finally, I applied a hint of makeup with matte lipstick.
I'd just finished when I heard the car pull up. I went downstairs, wanting to be semi-posed. As the car stopped, I positioned myself on the couch, then thought, what if he wasn't alone? I jumped up, starting back up the stairs, but relaxed a second later. I'd only heard one car door shut, so Mencheres must not have returned with Bones.
The key turned in the lock, making it too late for me to repeat my former pose. I only had time to turn around as Bones came in. Instead of the sultry hello I'd prepared, all that came out was a breathy, "Hi."
Bones didn't say anything as his eyes moved over me. I was wearing the long, tonally dyed slip that had come with the new bras and panties. At the top, it was the palest pink, with whisper-thin straps and a deep neckline. As it went past my hips, it darkened in color until the bottom was a deep rose. I wasn't wearing anything under it, and since it revealed far more than it hid, his gaze didn't miss an inch.
"Catherine."
His voice, thicker with desire, made warmth course through me.
"Take me to bed." Not very original, but I couldn't seem to say anything else. Really, the last two words were redundant, anyway.
In a blink, he was in front of me, his hands on my hips. They massaged me with slow circles as his mouth went to my neck. His tongue at my pulse shivered me, as did the brush of his fangs, then he went past my collarbone, dragging his lips down further. Finally he settled on my breast, licking the peak before sucking it through the material.
The chafe of silk and his mouth grew while his hands explored my curves. He didn't raise the slip, but used the fabric to his advantage as he dragged it along my body. I gripped his head, feeling dangerously weak when his mouth descended on my other breast.
"Take me to bed now," I managed to say, glad it hadn't come out as another, more explicit demand.
A strong suction had me arching my back to press closer to him. My nipples throbbed when he lifted his head. His eyes met mine, and they were scalding green.
His arms coiled around me, lifting me though his head stayed near my breasts, kissing the valley in between them. The staircase didn't even creak with his quick steps, and he went straight to my bedroom. He could probably smell which one I'd slept in.
Bones set me on the bed, but I pushed him back when he began to stretch out next to me.
"Take off your clothes."
He stopped me when I began to undo his buttons. "Not yet."
"Yes. I want to touch you."
A groan came out of him. "Later, luv. I'm barely clinging to my control as it is, and I have plans for you."
That wasn't what I wanted, no matter how great it would feel.
"Forget your control. I want you, not your willpower."
"Willpower?" He chuckled, smoothing the nightgown up my leg. "You're very wrong. I don't have any with you."
I stopped his hand. "If your clothes stay on, so do mine."
He began unbuttoning his shirt. I slid my palms along his chest when it was revealed. His skin felt incredible, so sleek and tight. When his shirt came off, he started on his pants. I slid closer to him, kissing his neck. His other hand climbed higher up my thigh.
My breath caught at the intimate stroke of his fingers. His touch was gentle, finding and then teasing the most sensitive parts of me. I opened my legs, gasping, and he began to suck on my throat. Not breaking the skin, just capturing my pulse in his mouth and tonguing it.
I pushed his pants down his legs. Two small thuds on the floor were his shoes, then finally, he was naked. I couldn't stop touching him, reveling in the hum of power under his skin, his muscles, and all the familiar ridges and valleys of his body. Feeling them again aroused me almost as much as his seeking fingers.
When I reached down to close my hand around him, he caught it. "Let me look at you."
Lust deepened his voice. His fangs were also out and his eyes were green fire. He dragged my nightgown up and over my head before letting it fall to the side. When he spoke again, his voice was throatier.
"Sometimes I think I've dreamt you. Or that I've died and you're my heaven."
I stroked his cheek. "Or your hell, but I don't want to debate. I want you inside me."
"Yes." It was a hiss.
His body covered mine, pressing me back. My legs cradled his hips as he took my hands, stretching them over my head. Then the hard, thick feel of him grazed me. I strained against him, impatient, wanting to grab him and feel him cleave into me.
"Now, Bones."
His eyes glowed brighter at my panted words. "Not…yet."
He slid down, his mouth settling between my legs. A long, slow lick tore a cry from me, then additional, sensual delves left me burning with need.
"So sweet," he growled. "You taste like crushed flowers, and I must have more."
His tongue went deeper, almost convulsing me. Bands of pleasure yanked together in my belly, my heart thumped, and every inch of me felt on fire.
"Bones, now!"
A high-pitched demand he responded to by pulling my thighs over his shoulders, continuing his erotic assault. I clutched his head, all my words replaced by moans. He tasted every millimeter of me, until I rocked against him in ecstasy. Everything inside me tensed when he began to suck on my clitoris, his fangs rubbing instead of piercing. Those strong pulls detonated the fireball in me, that inner throb erupting so fast, I didn't even have time to scream.
Bones moaned, caressing my thighs as I shuddered from my climax. Then languorous warmth filled me, making me sound drowsy though I was far, far from sleepy.
"Your mouth is deadly, you know that?"
A laugh tickled me and he gave a last lick before answering. "I enjoyed that so much, I almost came with you."
I kissed him when he slid up, winding my arms around his neck. "Not yet," I breathed as he grasped my hips and moved between them.
"No?" he asked, stilling. "Too soon afterward?"
I pushed him away enough to maneuver. "No, but first…"
My head was at his stomach when he stopped me with a steel grip.
"Don't."
The flat refusal in his voice surprised me. "Why not?"
Something lurked in his eyes, gone in an instant, but I still caught it. If I hadn't known him so well, I wouldn't have.
"Not now." He moved me up and smiled. "My control is thin, and I want to take my time. Not be disgracefully quick like in the car."
"Bones." I held his gaze. "I'm not asking, and don't stop me again."
I slid lower on the bed and he held himself absolutely still. It pierced me, because I'd seen in that glimpse what the real problem was. Raw, guilty shame had flashed in his eyes. The memory of what I'd overheard with Cannelle bothered him as much as it did me, it seemed.
I rubbed my cheek on his stomach while handling him with soft touches. "I love your skin. It's like a drug. I have to feel you when I'm near you, and when I'm near you, I want to taste you…"
I flicked my tongue into the crease of his thigh and his tenseness eased a notch. He couldn't see it, but I smiled. In this, I was confident. Long ago, he had taught me all his weaknesses.
I licked along both creases of his thighs, only letting my breath fall on the hard length that throbbed against my cheek. Then my tongue grazed the sensitive skin of his sack, and he shuddered.
He sat up, reaching for me. "Catherine, let me –"
"No." I batted his hands away. "Just you."
He laughed somewhat unsteadily. "Why do I feel as though I'm in trouble?"
I met his eyes, giving a single, long lick along the length of his shaft. "Because you are."
Several minutes later, he came with a shout that would have caused someone to call the police, if we'd been back in that bar parking lot.
"You think that my mouth is deadly?" His voice was strained as he pulled me up to him. "You've shown me to be a rank amateur."
My laugh was throaty. "If you're just being polite, you have only yourself to blame. You taught me what to do."
"Then well done to me." Bones captured my mouth with a long, deep kiss that excited me almost as much as hearing his shout of pleasure. I slid on top of him, straddling him.
"Too soon afterward?" I teased.
Hard flesh pierced me, replacing my laughter with an extended moan. Oh, the feel of him! Moving slowly but powerfully, swaying me to his pace. I balanced on his shoulders until he sat up, gripping me close. Then his mouth went to my breast, sucking with erotic intensity before his fangs penetrated the tip.
It wasn't a deep bite. Just enough to send throbs of pleasure through me from the juice in his fangs. My nipple felt seared, and when he sucked and bit the other one, all my defenses fell away.
"I love you."
It was a gasp I couldn't hold back even though logic said it was too soon. My reason had just flatlined, however, leaving only my emotions in control. Bones's mouth left my breasts and he froze like I'd flipped a switch.
Suddenly, I was nervous. "I meant, I love this -"
"Don't you dare." His hands left my body to hold my face. "Say that again."
"I don't want you to, to feel obligated –"
"Never say that to me again."
He was still inside me, but not moving anymore. Back at the compound, I'd admitted to Bones that I loved him, but hadn't said it since. Now, however, the intimacy of our joined bodies was too powerful, forcing out the words that fear wanted to hold back.
"I love you, Bones. I love you so much, God, so very, very much."
"Do you know how that makes me feel?" he whispered. "I've been many things these past two centuries, but I haven't known real happiness until this moment. I don't know if these are old emotions or new ones, and I don't care anymore. Please, Catherine. Please. Say that again."
He kissed me with the longing of someone starved, then began making love to me with an intensity that had tears coursing down my cheeks. I forgot that he was running on no sleep. Forgot Annette's advice on what tricks to try. I forgot everything except his last request, and I told him that I loved him with almost every gasping breath.
***
Author's note: This is the end of the deleted alternate "middle" of Destined For An Early Grave. The rest of the story would have gone on pretty much as the published version, with Cat turning into a vampire and Gregor kidnapping then forcibly changing over her mother. I had planned to have Bones regain his memory during the climactic fight scene with Gregor at the end. In that, Gregor would have used a knife secretly filled with his blood, intending to kill Bones in those vulnerable moments when his memories came crashing back. Cat's reaction would have been the same: blowing Gregor's head off when she realized that Bones was about to die. Cat would have gotten away with interfering in their duel the same way she did in the published version: after Veritas examined the knife and found the secret device on it, confirming that Gregor had cheated. Cat's confirmation that Bones's memory had returned would have come right afterward, the first time he called her Kitten again.
I hope you enjoyed this alternate version. Since many of you have asked, I intend to keep all four parts on my website for the next 30 days, and then I'm taking it down. Some of you have also asked if I have any more alternate versions from the Night Huntress series, and the answer is yes. I have a very long, alternate version of the beginning of At Grave's End. I was debating posting it in parts on my blog like I did with this one, so if you liked reading a different version of Cat and Bones's story, let me know. If you didn't like it, let me know that, too. I don't want to post more of these alternate versions if they tarnish most readers' memories of the series, so let your opinion be heard because it matters to me.
Thank you.