Many of you probably know that I am friends with author Ilona Andrews. Burn For Me, the first book in her new Hidden Legacy series, comes out tomorrow (October 28th). Because Ilona and I often critique read for each other, I was lucky enough to get an early look at this. Now, I am a rabid Kate Daniels fan, but in all honesty, I think I might like this new series more *ducks to avoid heavy objects that Kate and Curran fans throw at me*. I know, I know, that's borderline blasphemy, but seriously, this new world is great and the characters rock!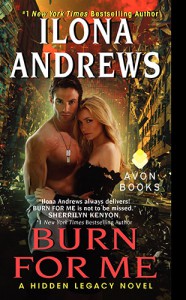 Here is the back cover description.
#1 New York Times bestselling author Ilona Andrews launches a brand-new Hidden Legacy series, in which one woman must place her trust in a seductive, dangerous man who sets off an even more dangerous desire . . .
Nevada Baylor is faced with the most challenging case of her detective career—a suicide mission to bring in a suspect in a volatile situation. Nevada isn't sure she has the chops. Her quarry is a Prime, the highest rank of magic user, who can set anyone and anything on fire.
Then she's kidnapped by Connor "Mad" Rogan—a darkly tempting billionaire with equally devastating powers. Torn between wanting to run and wanting to surrender to their overwhelming attraction, Nevada must join forces with Rogan to stay alive.
Rogan's after the same target, so he needs Nevada. But she's getting under his skin, making him care about someone other than himself for a change. And, as Rogan has learned, love can be as perilous as death, especially in the magic world.
***
To celebrate the release of Burn For Me,  Ilona has a joint signing tomorrow (October 28th) with Kim Harrison at 6:30 at Murder By The Books, so if you're in the Houston, TX area, you get to meet two great authors at the same time.
As mentioned, I loved Burn For Me, but since Ilona is a dear friend, it could be argued that my opinion is biased. Therefore, in the interest of objectivity, I'm linking some reviews from bloggers who aren't BFF's with Ilona, so their opinions are impartial:
"So I mentioned the great characters, the phenomenal world-building, and the scorching sexual tension.  But I also have to give a shout-out to the awesome pacing and funny, funny one liners." Red Hot Books .
 .
.
.
 .
 .
.
.
As for me, my edit letter for Bound By Flames is due to land in my inbox today, so soon I will be revising. Did I mention that writing "The End" really just means "Take One"? ;).