As if the mass market release last week wasn't enough, now for a very limited time, you can discover The Beautiful Ashes, book one in the Broken Destiny series, for only $1.99 in ebook.*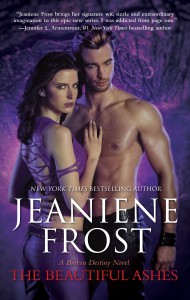 Sometimes, falling in love really is the end of the world… 
Ivy has always seen things that she cannot explain. Strange things. Otherworldly things. But when her sister goes missing, Ivy discovers the truth is far worse—her hallucinations are real, and her sister is imprisoned in a realm beyond Ivy's reach. The one person who can help her is the dangerously attractive rebel who's bound by an ancient legacy to betray her.
The fate Adrian has fought to escape is here – but he never expected the burning need he feels for Ivy. With destiny on one side and desire on the other, Adrian must help Ivy search for the powerful relic that can save her sister. Yet he knows what Ivy doesn't: the truth about her own destiny, and a war that could destroy the world. Sooner or later, it will be Ivy on one side, Adrian on the other, and nothing but ashes in between…
Get your copy here: The Beautiful Ashes (A Broken Destiny Novel Book 1)
*Discount price guaranteed during sale period for U.S. residents only.
Next up is Nola StoryCon, which we announced just last Wednesday, and WOW, have readers responded! In less than a week, our website crashed multiple times from too many hits, readers reserved more than triple of our original room block at the convention hotel, and you sold out all the author tours. Tickets for the event itself go on sale 10/15/15 and with this incredible response, you might not want to wait to reserve yours. Go here for all the details.
 Host Authors
Special Guests
Our fabulous lineup of Guest Authors
(Listed alphabetically, click on their pictures to be directed to their website)