Please excuse the recent blog silence. From September 17th through the 26th, I was touring to celebrate the release of The Beautiful Ashes, book one in the new Broken Destiny series. My travels took me (gasp, shudder) on not one but two plane flights, so readers, never doubt my devotion to you, heh. I hate to fly and can only endure it with prayer and a Xanax, in that order :).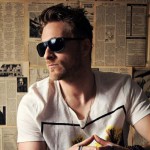 On my flight to Texas, I was lucky enough to be seated next to indie musician Justin C. Cross. After meeting him, I looked up his songs on iTunes. To me, his music is what you'd get if Kings of Leon and Mumford & Sons had a love child, so if you're into alternative like I am, check out his songs. My favorites are Better, Let Me In (not the remix, which is more dance than alternative) and Habit. You can listen to those songs and others here or on Justin's website.
Once on the ground in Texas, my first stop was a joint signing with me and Ilona Andrews at Book People in Austin. As many of you know, "Ilona Andrews" is the wife-and-husband writing duo Ilona and Gordon Andrews. In addition to being stellar writers, Ilona and Gordon are also hilarious people, and Ilona has been my friend and regular critique reader since before both our books were published. I had a wonderful time catching up with them and chatting with everyone who came out to the signing. Since readers had to brave flash flood warnings, we had an enthusiastic bunch of people!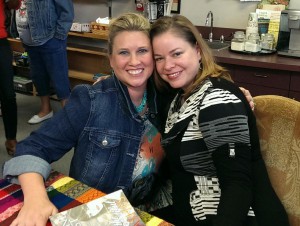 Next up was Katy Budget Books in Houston, where I finally got to meet my longtime-online friend Carol in person! I'd post the pic of both of us if I didn't think she'd smack me for it. We had another great crowd at Katy Budget and – so cool! – a  lovely lady named Dana took the time to repeat everything I said in sign language for her friend. With how fast I talk and how often I repeat myself, that was a challenge, so major kudos to her!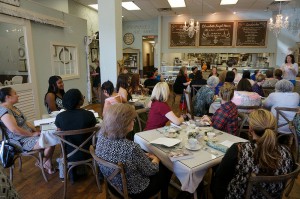 After that was the Fresh Fiction "tea," which meant that me and a few dozens other FF members got to hang out at The Chocolate Angel and eat a delicious lunch of tiny, varied sandwiches (I am a klutz even sitting down and spilled one on myself, to the amusement of everyone at my table). This was such a fun, casual setting that it felt like catching up with friends I'd never met before, plus saying hi to acquaintances I don't see enough of.
TX stops complete, I then flew to Virginia to do joint signings with my other dear friend and longtime critique partner, Melissa Marr, who was celebrating the release of her YA romantic thriller, Made For You. Imagine the movie Scream if it had a great romantic subplot, so no wonder a recent CNN blog named Made For You as one of their Top 40 Must-Reads for  fall. My first stop with Melissa was at Barnes & Noble in McLean, where we had a great time chatting with readers about our processes, characters, and writing what you love. I also got a chance to meet debut author Kim Liggett, whose upcoming YA novel Blood and Sand sounds amazing.
After that was the Barnes and Noble in Charlottesville, which has been in the news after the recent disappearance of college student Hannah Graham. Since at the time of our visit, people weren't sure if this was related to the disappearances of several other female college students over the past few years, so the mood was understandably subdued. The subject matter in our books didn't help: Made For You features a young girl dealing with a homicidal stalker, and The Beautiful Ashes opens with the heroine's sister disappearing. As of writing this post, Hannah Graham is still missing, though a suspect is now in custody. Our thoughts and prayers are with Hannah's family and we hope she is found and returned to them safe and sound.
Our last stop was in Richmond for the Fountain Book Store signing. Rain seemed to follow me wherever I went, so we arrived at the signing wet and looking for caffeine (okay, that last part was just me.) Once caffeinated, we got a chance to talk about our books with a lovely group with several writers among them. Not surprisingly, the talk turned to craft and the industry, although I did soapbox a bit on why many of my novels feature married protagonists. Short version of my explanation: I want to show that the action, adventure and romance doesn't end after the couple says "I do." I enjoy reading about the first blush of love as much as the next romance reader, but I also believe that married couples can be just as passionate, kick-ass and exciting as their single counterparts.  That's why I will continue to write about couples before, during and after the first "I love you's" and "I do's." Blame it on me approaching my twenty-second wedding anniversary :).
Thanks so much to the fabulous people who hosted the signings, the volunteers/employees who made everything run smoothly and of course, to the wonderful readers who showed up and reminded me why I love to share the stories in my head. Gather close for a big group hug from me to you! :). I'm done with signings for the year, but if you missed seeing me and you'd like a signed copy of one of my books for your shelves, here are the stores that I left signed stock at. They ship anywhere in the US, so please click the link or call them for ordering details.
Book People (The Beautiful Ashes). Phone: 512-472-5050
Katy Budget Books (The Beautiful Ashes) Phone: 281-578-7770
Barnes & Noble in McLean, VA. (The Beautiful Ashes) Phone: 703-506-2937
Fountain Book Store (Various Night Huntress titles as well as The Beautiful Ashes). Phone: 415-927-0960
If you missed one of my events because you didn't know I'd be in your city, never miss an event again by signing up for my newsletter, hosted by CoffeeTime Romance.
That's it from me for the moment. Must finish Bound By Flames, Night Prince book three, and look for some news about Vlad and Leila in the near future (hint, hint :)).