This Side of the Grave
Night Huntress, Book 5
Available now
.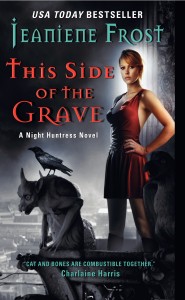 Danger waits on both sides of the grave… 
Half-vampire Cat Crawfield and her vampire husband Bones have fought for their lives, as well as for their relationship. But just when they've triumphed over the latest battle, Cat's new and unexpected abilities threaten to upset a long-standing balance… 
With the mysterious disappearance of vampires, rumors abound that a species war is brewing.  A zealot is inciting tensions between the vampires and ghouls, and if these two powerful groups clash, innocent mortals could become collateral damage. Now Cat and Bones are forced to seek help from a dangerous "ally"—the ghoul queen of New Orleans herself. But the price of her assistance may prove more treacherous than even the threat of a supernatural war. …to say nothing of the repercussions Cat never imagined.
**Huge thanks to readers! THIS SIDE OF THE GRAVE debuted at # 2 on the New York Times, # 16 on the USA Today, # 1 on the Barnes & Noble mass market, # 1 on the Publishers Weekly list, and # 1 on the Borders Romance bestseller lists**.
Read the first 20% here.
*Please note: You may still see the old title of "The Other Side of the Grave" in some places for Cat and Bones #5, but the new, correct title is "This Side of the Grave." 
Order at:
Amazon, Borders,  Barnes & Noble, BooksAMillion ,  Powells , or your favorite book store.
.
Reviews
"Cat and Bones are combustible together."
- #1 New York Times bestselling author Charlaine Harris.
"The list of reasons I enjoy reading Frost's writing is long and spans from her stellar world-building to her defined and endearing characters to her ability to pepper in humor amid death and darkness. "
-Vampire Book Club (full review here)
"New and returning readers alike will enjoy this warmhearted and often hot-blooded adventure."
- Publishers Weekly
"While this series follows the course of Cat's evolution and destiny, what makes these books so unforgettable is the sizzling and complex relationship between Cat and Bones.  The Frost name guarantees quality!"
- Romantic Times, Top pick!
"Another thrilling offering in the Night Huntress series, THIS SIDE OF THE GRAVE earns it's Perfect 10 rating in witty banter, an engaging mystery, intriguing mystical powers, compelling characters, and drama to spare."
- Kathy, Romance Reviews Today (full review available soon) 
"This Side of the Grave is an exhilarating fast-paced adventure guaranteed to leave you quaking in your boots with excitement and begging for more of Cat and Bones!"
- Joyfully Reviewed, Recommended Read! (full review here)
"I can say without a doubt that this author is not losing her touch, and blows most others out of the water…This fifth installment only adds fuel to my desire to spread the word about this excellent series."
- The Book Whisperer (full review here)
"After four great novels, readers may wonder – where can Frost take Cat and Bones? The answer – to the next level!"
- Dren's B Spot (full review here)
"From the fiery chapter of Cat and Bones's smoldering scene to the sorrowful turn of events that will have you sniffling, This Side of the Grave delivers everything fans have been waiting for!"
-  Brandi, Nocturne Reads (full review here) 
"I love the chemistry between these two [Cat and Bones].  I always have.  Their dialogue and banter is amazing.  And there are a couple of scenes in this book that took my breath away."
- Yummy Men and Kick Ass Chicks (full review here)
"Jeaniene Frost has created a fabulous cast of characters, and I don't think I will ever tire of them."
- Mandi, Smexy Books  (full review here)
"…filled with plenty of passion between Cat and Bones…"
-Monsters and Critics