Halfway To The Grave
Night Huntress, Book One
Halfway To The Grave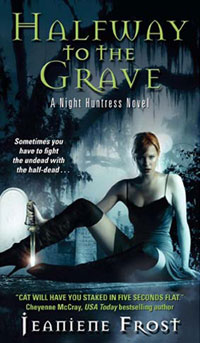 Flirting With The Grave…
Half-vampire Catherine Crawfield is going after the undead with a vengeance, hoping that one of these deadbeats is her father – the one responsible for ruining her mother's life. Then she's captured by Bones, a vampire bounty hunter, and is forced into an unlikely partnership.
In exchange for help finding her father, Cat agrees to train with the sexy night stalker until her battle reflexes are as sharp as his fangs. She's amazed she doesn't end up as his dinner – are there actually good vampires? Pretty soon Bones will have her convinced that being half-dead doesn't have to be all bad. But before she can enjoy her status as kick-ass demon hunter, Cat and Bones are pursued by a group of killers. Now Cat will have to choose a side … and Bones is turning out to be as tempting as any man with a heartbeat.
» Click here to read up to the first 20% of the book!
Teaser
Read the one-page teaser scene that appears in the front of the book:
"Playing with fire, Kitten?"
His mouth grazed my cheek. His lips were cool against my skin. My head spun, my senses reeled, and my tongue crept out and licked his neck.
The shudder went all through him. Bones pressed me so close that his body ground into mine, jerking my head back with a thick handful of hair until our eyes locked. What had started out as a game was now an open challenge, as well as a direct threat.
All of this should have frightened me, but it was as if my mind were incapable of rational thought. He was a vampire, a hit man, and had almost killed me … and nothing mattered more than the feel of him.
I licked my lips and didn't pull away.
It was all the invitation he needed.
Audio version of HALFWAY TO THE GRAVE available from Blackstone Audio. You can purchase it from Audible.com, iTunes, or your favorite audio retailer.
Reviews
"Jeaniene Frost is dynamite. HALFWAY TO THE GRAVE is dark, sexy, and supernatural, blended with a touch of humor. I dare you to disagree – Cat will have you staked in five seconds flat."
– Cheyenne McCray, USA Today & New York Times bestselling author
"Resuscitating the vampire genre with a daring, bold voice and sophisticated suspense, HALFWAY TO THE GRAVE signals a clear changing of the guard; armed with a barbed wit, sizzling romance and supernatural intrigue, Jeaniene Frost has clearly arrived."
– Vicki Pettersson, USA Today & New York Times Bestselling Author
"With compelling writing and a new twist on the classic vampire mythos, HALFWAY TO THE GRAVE swept me in from the first page. Sympathetic characters, a foreboding and moody world, kick-butt action, and deliciously dark and forbidden romance abound. HALFWAY TO THE GRAVE is sure to please fans of Kim Harrison and Kelly Armstrong. Jeaniene Frost has a winner on her hands. I loved it!"
– Yasmine Galenorn, USA Today & New York Times Bestselling Author
"HALFWAY TO THE GRAVE has breathless action, a roller-coaster plot, flashes of dark humor, and a love story that will leave you screaming for more. I devoured it in a single sitting and I can't wait for the sequel. Sign me up for Jeaniene Frost's fan list!"
– Ilona Andrews, New York Times Bestselling Author
"HALFWAY TO THE GRAVE is a fast-paced, sexy thrill of a book that takes the black and white struggle of good vs evil, and blends it to get every possible shade of gray. Jeaniene Frost takes Urban Fantasy head on and makes the genre her own with a winning blend of humor, sex, and real emotion that will leave readers eager for more."
– Kathryn Smith, USA Today Bestselling Author
"An eclectic blend of urban fantasy and romance, HALFWAY TO THE GRAVE takes you on a high octane thrill ride that leaves you gasping for breath and panting for more."
– Jordan Summers, author of ATLANTEAN'S QUEST and RED (2008)
"HALFWAY TO THE GRAVE is an outstanding example of urban fantasy romance."
– Robin Snodgrass, Romance Junkies; 5 Blue Ribbon review
"Sharp sexual tension, taut adventure, and a hero that's fangs and shoulders above the rest – this is a series I will continue to watch."
– Sarah, Smart Bitches Who Love Trashy Books (Read Full Review)
"…it has also become increasingly difficult to find something unique enough to stand apart from the pack. With it's edginess, humor, and engaging characters, HALFWAY TO THE GRAVE does it in spades, earning it the Romance Reviews Today's coveted Perfect 10."
– Kathy Samuels, Romance Reviews Today
"Halfway To The Grave is an action packed, fast paced read with vampires and vampire slaying that will certainly appeal to Buffy fans – and should win some fans of its own, too!"
"Pairing-up a sassy half-vampire out for blood, with a sexy vampire on a mission of his own, Ms. Frost builds a strong and captivating world full of paranormal twists, a touch of humor, and a romance that quickly heats up the pages."
– Kimberly Swan, Darque Reviews (Read Full Review)
"Take one half-human/half-vampire female with serious anger and parental issues, add in a sexy ancient vampire with his own agenda, and you have the makings for a truly combustible series. Sign me up for the sequel!"
– Jill M. Smith, Romantic Times, 4.5 stars RT Top Pick
"I just loved this new take on the vampire slayer novel… This is an excellent start to what I hope will be a long running series."
"Jeaniene Frost has put a new spin on the vampire hunter theme with this spectacular urban fantasy."
– Debbie, CK2S Kwips and Kritiques (Read Full Review)
"HALFWAY TO THE GRAVE by newcomer Jeaniene Frost is an outstanding debut paranormal that grabs the reader by the throat and doesn't let go."