As the subject line states, I have no central theme for today's post. Just different items. First up, I've added one more appearance to my 2015 schedule. I will now be attending the Romance Writers of America (RWA) convention in New York, NY from July 22nd through July 25th, at the New York Marriott Marquis. I don't have a specific schedule yet, but once I do, I'll post it. Right now, all I know is that I'll be at the mass signing (open to the public) on July 22nd. If you're attending RWA, hope to see you there.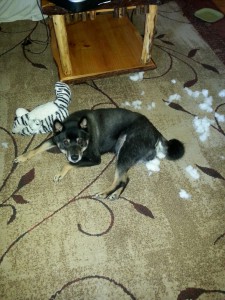 Yesterday, I found out that my youngest dog, Loki, will need to get double-knee surgery on his hind legs to repair his knees. How does a dog who's just turning 3 end up with bad knees, you wonder? Apparently it's a birth defect where the "grooves" that are supposed to hold his knee caps in place are smooth instead of grooved, so his kneecaps have a tendency to slip out of their socket. I feel guilty because we had no idea that there was a problem until a few days ago, when we saw Loki periodically hold up his back right leg when he walked. On the plus side, Loki is so young that his runaway kneecaps haven't caused any arthritis or tendon shredding, so there's no permanent damage. I, as a worried dog mommy, will be a bundle of nerves as we await confirmation from a specialist and then go about scheduling the first of his two surgeries. Poor little guy, he has no idea that he has some rough roads ahead until this can get fixed. Here he is in January, guarding the stuffing from the toy he'd just de-fluffed.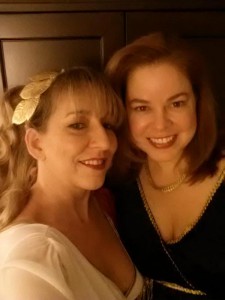 In totally random news, I need to get a new, "official" author photo. The one I had been using was from 2011, when my hair was longer and I'd gone with blond highlights. Now, my hair is shorter and auburn, as evidenced from the photo to the left from last month, when my sister and I dressed up in our Greek-themed costumes for ApollyCon. I think I'll stick with shorter and auburn for a while, or until I grow bored, whichever comes first. I've bounced back and forth between light brown (my natural color), red, auburn and blondish for the past twenty years and I see no reason to stop now. I might be too chicken by the permanence of a tattoo to get one of those, but I can play with my hair color when I want to change things up a bit. The only color I haven't tried is black. I'm so pale, people would think I was going for a goth look to match my vampire novels, and I already get that from all the black clothes I wear when in reality, that's just laziness. Black goes with everything, so that's why it's a main staple in my wardrobe.
Finally, if you didn't see my post last week, I announced that the next character in my vampire series to get his own novel with be Ian. I also opened the floor to guessing who the heroine would be. If you more details, including hints as to the heroine's identity, then go here.
That's it for me :). Hope you're having a nice weekend, and hope you have good week next week!