Note: This recap is spoiler-free for the ending of Justified.
Back in 2010, my husband and I heard about a new show that was described as a sort of modern-day Western, with a dash of cops-versus-robbers. We hadn't heard of most of the cast before, but we liked the lead actor, Timothy Olyphant, so we decided to check out the first episode.
That was all it took to get hooked on Justified.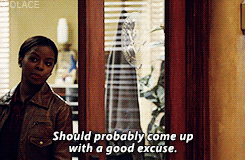 In the interest of space, I'm not going to do a season-by-season recap or even a broad highlight of the storyline. Instead, I'm going to take about what was the driving force behind my love of this series: the characters. Walton Groggins, who played Boyd, quickly became my second-favorite character after Timothy Olyphant's Raylan. In fact, during some seasons, I might have been rooting for Boyd a wee bit more than Raylan even though Boyd was the show's mostly-unapologetic villain.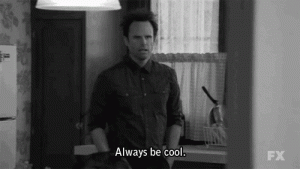 In my humble opinion, Groggins' multi-layered, finely-nuanced performance of Boyd should be a lesson in how to craft a villain who truly sees himself as the hero of his own story (as writers know, that's the starting point for crafting a believable villain, but it's rarely done so well as here.)
Raylan, on the other hand, is the epitome of an anti-hero. I remember reading a study a few years back that claimed to find similarities in the "function" of cops' brains and criminals' brains. Raylan's character certainly seemed to support the theory that the thought patterns of law enforcers and law breakers can be surprisingly similar, even if their actions are distinctly (or usually) opposite. Olyphant's portrayal of Raylan, a modern Federal Marshall who has more than a touch of Old West mentality, blurred the line on cop versus criminal more than a few times, but in a way that left me cheering him when he crossed into what was distinctly un-lawman-like territory. Why? Raylan's motivation. He didn't cross those lines without a reason that I, as the viewer, could sympathize with. Take, for example, a mob guy telling Raylan that he was going to kill Raylan's pregnant girlfriend the first chance he got. What happens next was illegal, but for me, it was understandable.
.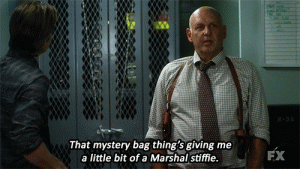 I also loved the side characters. There were many, so I'm only going to list my favorites, such as Art, Raylan's gruff-but-fair boss who is also a father figure to him; Tim, a Federal Marshall coworker who's a former decorated veteran sharpshooter; Ellen May, an endearing prostitute who humanizes a profession that's very easy to look down upon; Bob, a seemingly inept deputy who turns out to have surprising grit; Limehouse, a criminal with his own finely-honed since of justice, and Wynn, a shifty criminal who is, above all, a survivor. Lest anyone think that Justified was light on strong female characters, it wasn't. I just wanted to reserve them for their own paragraphs :).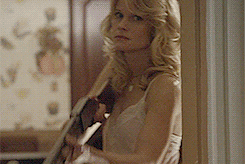 When we first meet Ava, she comes off as a beautiful, flirty, ditsy blonde… if you don't count her almost casually describing how she shot and killed her abusive husband over his favorite meal of fried chicken. Joelle Carter did a fantastic job of portraying Ava as person who let her physical abuse harden her into someone you did not f—k with, while at the same time, showing a woman who longed for a stable, loving relationship and a family. Ava was also honest with herself over her unfortunate tendency to fall for men who would ultimately disappoint her, and the way she grimly soldiered on in a world where she was often dismissed as arm candy had me rooting for her. Ava was frequently underestimated, and she used that to her advantage in ways that ended up shocking the people who thought they knew her best.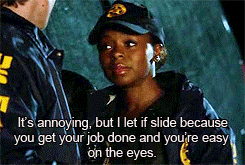 Rachel, played beautifully by Erika Tazel, is another Federal Marshall coworker. Being a petite, lovely African American woman in a male-oriented (and frequently racist) world, Rachel quickly shows that she is a force to be reckoned with, both for her guts and her intelligence. She goes toe-to-toe with the bad guys almost as much as she does with Raylan, and is one of the few people who seems able to get Raylan to do what he should do instead of what he wants to do…some of the time, anyway. Rachel has many, many great scenes in Justified, but if I had a complaint, it would be that I wished her character would have been more deeply explored. I thought that Rachel had the potential for a lot more storylines (spinoff, anyone?), and was I the only one rooting for her and Tim to get together?
Kaitlyn Dever plays Loretta, a teenage girl who's first introduced to the storyline as a victim of an older man's very-unwanted attentions. Despite being on the fence about her at first, Loretta grew into one of my favorite characters. To say she's had an unconventional upbringing is putting it mildly; Loretta cut her teeth on the crime business at an appallingly young age, as a scene where she sells "herbal relief" in school highlights. But, growing up in the middle of the illegal weed industry meant that it was all Loretta knew. From her recollections, you can almost image her playing as a child among the drying marijuana plants in the hollers of Harlan, and how she manages to rise above the many, many, many adults who try to use her was simply badass. I might not agree with a lot of Loretta's choices, but I applauded her for her fierce inner strength.
Honorable mention goes to Mags, played brilliantly by Margo Martindale. Mags only appeared for season 2, but her portrayal as the matriarch of the Bennett crime family was so memorable, hubby and I bought a jar of apple pie flavored moonshine in honor of Mags (if you've seen season 2, you'll get the inner joke ;)). On the turn of a dime, Mags could go from motherly and folksy to ruthless and terrifying, all with the same sweet smile. I would never want to meet someone like Mags in real life (come to think, the same could be said for quite a few of my favorite characters on this show) but it was a true pleasure to watch her on TV.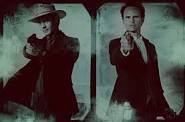 Why am I talking about Justified, some of you might wonder? Because the series finale was last night. As mentioned earlier, you won't find any spoilers here – and DON'T leave any in the comments, it's awful to spoil people who aren't looking to know what happens in advance! – but I will say that I was satisfied with the ending. Not everything went the way I would have preferred, but enough of it did that I was left with a good feeling. After being so upset over how Dexter, another favorite show, ended, I was nervous about the finale of Justified, but my concerns turned out to be unfounded. Let me tell you, that was a relief. I hate when I invest years of time and emotion in something that ends in a way that makes me regret going along for the ride in the first place. Justified didn't do that, so if you're in the market for a character-driven show that sometimes blurs the lines between the peacekeepers and the outlaws, I highly recommend it. And hey, lucky you who haven't seen it yet – you can now watch all the episodes at your preferred pace, whereas I had to wait years to see how it would all turn out :).
And now for a brief, off-topic reminder: The second part of Pack, a free werewolf short story, will be posted this Saturday the 18th. If you haven't read Part 1 of Pack, you can find it here.