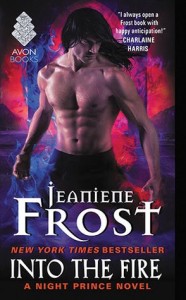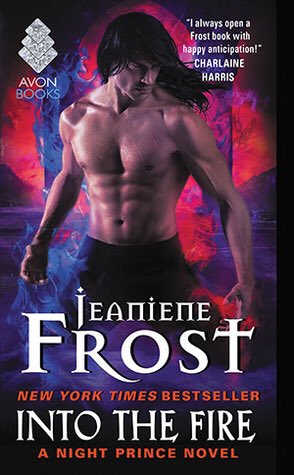 Hi folks! My publisher is running a contest on Goodreads where they're giving away 10 Arcs (advance reading copies) of INTO THE FIRE, the final Night Prince novel. Contest is open now and ends on 1/24/17. Open to US residents only (sorry, not my decision!) I WILL be featuring an Arc giveaway on my blog soon that will be open to international readers, so hang in there. However, if you are a US resident and you're interested in getting an early look at INTO THE FIRE, go HERE to enter for your chance to win.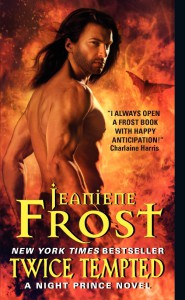 Also, deal alert! This week, my publisher has the ebook price for TWICE TEMPTED, book two in the Night Prince series, at only $1.99. Once again, this is for US residents only, so if that applies to you, grab it while you can HERE or at your favorite retailer.
Finally, here is another snippet from INTO THE FIRE. Well, actually, it's a deleted scene, so it won't appear in the published version. Since the scene ended up getting cut, it's also pre-edits, so it will probably contain spelling and/or grammar errors that I'm blind to because I know what it's supposed to say. By popular demand, it features Ian, who will be the next character to get his own book(s) after the Night Prince series concludes. Hope you enjoy!
***
"Ian!" someone shouted. Then a tall, twenty-something man with long, snow-white hair strode over, almost kicking aside a tree bench on his way. "How dare you show your face here?"
Vlad gave the man a calculated glance. "Is this Ashael?"
Ian's brows came together. "No. This is someone else, and I have no idea what he's in a lather about-"
That's all he got out before the tall man grabbed him and hauled him out of his chair. I backed away because I'd need more room to manifest my whip, if things took a more dangerous turn.
"Marco, why all the fuss?" Ian asked in a cajoling tone.
"You dare to play coy?" Marco said with a snarl. "I know it was you who despoiled my daughter!"
Ian's brow furrowed even more. "Which one was she?"
"Marlene," Marco spat.
Ian grunted. "Need to be more specific, mate."
We were now attracting attention, and that was the last thing we wanted. Under other circumstances, I'd let Ian deal with this himself, but maybe a woman's touch was needed to calm things down.
I pushed myself between the angry stranger and Ian. "Look, I get why you're upset," I said in a soothing tone. "Ian's a pig, but no girl is 'spoiled' by having sex-"
"She was an eighth-generation sorceress whose abilities were tied to her purity!" Marco roared. "And he knew it!"
Ian began to chuckle. "Oh, that Marlene."
Marco's face turned purplish from rage. Ian only laughed harder. "It's all coming back to me now. Dear Lord, she wanted that shag more than a new vampire wants blood-"
"Shut up, you're making things worse," I hissed.
Ian shot me an exasperated look. "What Marco's leaving out is that he wanted Marlene to remain a virgin in order to control her power. I was the only one with enough stones to free her by taking away the source of her power. Where is your sense of feminism? You should be thanking me!"
"Enough," Vlad said, and the single word held such command that Marco stopped shaking Ian and looked at him. "If you were really going kill him, you already would have," Vlad went on. "So these theatrics, while understandable, are useless, which means you're wasting my time."
Marco glanced back and forth between Vlad and Ian. He clearly wanted to dole out more punishment, yet it was also clear that Marco didn't want to find out what Vlad was made of. Even without manifesting his fire, Vlad practically oozed lethalness, and Marco must not have much power of his own or he wouldn't have tried so hard to hold onto his daughter's for his own purposes.
"For pity's sake, are you about to break your promise?" Ian asked Vlad in an exasperated tone. "How many times must I tell you not to kill someone tonight?" To Marco, he added, "Bloke can barely go a day without committing murder. It's like a sickness with him."
Marco started to look a lot less mad and a lot more alarmed. He let Ian go with a muttered, "Another time." Then he walked away, casting several dirty looks over his shoulder at Ian as he went.
"Good thing that didn't go pear-shaped," Ian remarked.
"Come again?" I said.
He gave me a tolerant look. "Americans. If you didn't make up the slang, you don't bother attempting to understand it."
***