The mass market edition of The Beautiful Ashes, book one in the Broken Destiny series, released yesterday. In case you haven't seen it before, here's the hot cover and the back cover description.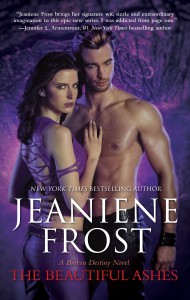 Sometimes, falling in love really is the end of the world… 
Ivy has always seen things that she cannot explain. Strange things. Otherworldly things. But when her sister goes missing, Ivy discovers the truth is far worse—her hallucinations are real, and her sister is imprisoned in a realm beyond Ivy's reach. The one person who can help her is the dangerously attractive rebel who's bound by an ancient legacy to betray her.
The fate Adrian has fought to escape is here – but he never expected the burning need he feels for Ivy. With destiny on one side and desire on the other, Adrian must help Ivy search for the powerful relic that can save her sister. Yet he knows what Ivy doesn't: the truth about her own destiny, and a war that could destroy the world. Sooner or later, it will be Ivy on one side, Adrian on the other, and nothing but ashes in between…
Order online at:  Amazon,Powells, B&N, BooksAMillion,IndieBound or go to your favorite local book store.
Changing topics, remember that Super Secret Project I've been working on with some friends? I finally get to reveal what it is, so without further ado, I give you….
Nola StoryCon, A Mardi Gras for readers featuring book lovers and the Big Easy, hosted by Jeaniene Frost, Melissa Marr, Ilona Andrews, Kelley Armstrong, and Jennifer L. Armentrout.
Check out our amazing guest author lineup for Nola StoryCon! Lara Adrian,  Jeanette Battista,  Jenna Black,  Rachel Caine,   Kresley Cole,  Zoraida Cordova,  Cora Carmack,   Jay Crownover,  Kimberly Derting,  Sonali Dev,Kami Garcia,   Molly Harper, Kevin Hearne,  Wendy Higgins,  Beverly Jenkins,  Sophie Jordan,   Laura Kaye,   Katie McGarry,  Chloe Neill,  Jana Oliver,Pamela Palmer,   Aprilynne Pike,   Kristen Proby,  Gena Showalter, Rachel Vincent,  Jaye Wells,  Sarah Wendell, and  Samantha Young .
With special guests: Charlaine Harris, Nancy Yost from NYLA, and Merrilee Heifnetz from Writers House.
Nola StoryCon has a two-day schedule filled with panels, a mass signing, a dessert social, full dinner, After Party with games, tours, and more. To find out the dates, events, hotel, and all that other stuff, go to the official website at: http://nolastorycon.com/
I'm so excited at how the convention turned out, and I hope to see many of you there in 2016!