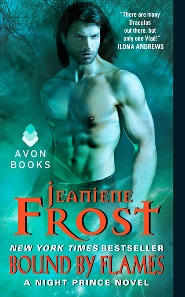 Bound By Flames is now available! Order your copy from  Amazon, Barnes&Noble,BooksAMillion, Powells, Indiebound, iBooks, Downpour, Audible.com or your favorite retailer. Learn more about Bound By Flames here.
I have lots of things to cover in this post, so let's get right to it. First up, I'm traveling this week to celebrate Bound By Flames' release, so if you're in NC or FL, I might be in your neck of the woods.
Wednesday, January 28th, 7pm
55 Haywood Street
Asheville, NC 28801
828-254-6734
Can't make it? You can still order a signed/personalized copy here until the 28th.
Saturday, January 31st, 1pm – 4pm EST
KissCon Sarasota, hosted by Avon Books
Florida Studio Theater, Court Cabaret
1265 1st Street
Sarasota, FL 34236

Description: Avon Books and Bookstore 1 Sarasota are teaming up for a multi-author event with Katharine Ashe, Maya Banks, Lena Diaz, Megan Frampton, Jeaniene Frost, Laura Lee Gurhrke, C.J. Kyle, Julia Quinn, Kerrelyn Sparks and C.L. Wilson. More info and tickets here.
Next I have the first 38 pages of Bound By Flames available online courtesy of my publisher, Harper Collins. I know; it used to be the first 20% but they changed it. To read the first three chapters, go here and then click "Read A Sample" under the cover.
Finally, here is the playlist of songs that I listened to while writing Bound By Flames. As many of you know, writing to specific music helps put me in the right frame of mind because I'm conditioning myself to write a particular story whenever I hear those songs (not saying this will work for every writer, but it works for me). That being said, there's no hidden meaning for the book in these songs. Some of these are recommendations that you, readers, have given me, so thank you again! Remember: Music tastes are as personal as reading tastes, so if you don't like some of the bands/songs, no problem. Just please don't tell me that I shouldn't like them, because if a song/band is listed, then I like do, and no arguing on your part will change my mind :).
Layout is band name: songs (if more than one from the same band). Bands are in alphabetical order for ease of listing.
Alanis Morissette:  Underneath, Madness.
Banks: Brain, Waiting Game, This Is What It Feels Like.
Bon Iver: Hinnom, TX.
Chad Valley: Now That I'm Real, Shell Suite, I Want Your Love.
Coldplay: Always In My Head, True Love, Midnight, Another's Arms, A Sky Full Of Stars.
Delta Spirit: Yamaha.
The Fray: Love Don't Die, Hurricane, Our Last Days, Break Your Plans, Same As You.
Glen Morrison (featuring Islove): Goodbye.
The Goo Goo Dolls: Come To Me.
Hardwell (featuring Matthew Komo): Dare You.
Jilette Johnson: Torpedo.
Kari Jobe: Forever.
Katie Herzig: Walk Through Walls.
Keane: Is It Any Wonder.
Lana Del Ray: Born To Die, Young And Beautiful, Ride, West Coast.
M83: I Need You, Wait, Oblivion (featuring Suzanne Sundfor).
Motorcycle: As The Rush Comes.
Muse: Madness.
The Neighborhood: Honest.
O.A.R.: Peace.
Our Lady Peace: Somewhere Out There.
P!ink: Just Like A Pill, Just Give Me A Reason (featuring Nate Reuss).
Phillip Phillips: Gone, Gone, Gone.
Phosphorescent: Song For Zulu.
Sarah McLachlan: Flesh And Blood.
The Script: Six Degrees Of Separation.
Shakira: Empire.
Sharon Van Etten: Afraid Of Nothing, Taking Chances, Your Love Is Killing Me, You Know Me Well, Break Me.
Sia: Chandelier, Big Girls Cry, Eye Of The Needle, Elastic Heart, Free The Animal, Dressed In Black, Fire Meet Gasoline*.
Taylor Swift: I Knew You Were Trouble.
Tiesto (featuring Icona Pop): Let's Go.
* After I read the lyrics to Fire Meets Gasoline, I thought that Leila could have written them about her relationship with Vlad. Hope that all of you enjoy the new book continuing their adventures!