Many of you have been asking me about the next novel in the Broken Destiny series featuring Ivy and Adrian. I've been mum on the subject because (1) Bound By Flames's recent release has taken center stage, and (2) my publisher and I were still working out some details, but now I have some news to share. First up, it has a title! The next novel in the Broken Destiny series will be called…
THE SWEETEST BURN
And there's more! I also have the back cover copy to share with you, so here it is below:
The breathtaking second novel in New York Times bestselling author Jeaniene Frost's Broken Destiny series finds Ivy and Adrian rekindling their alliance – and passion – as the struggle for the fate of the world begins . . .
Conquering a supernatural realm turned out to be easier than getting over a broken heart. But her initial victory has made Ivy a target for revenge, forcing her to reunite with the dangerous – and dangerously sexy – Adrian. Ivy isn't sure which will be harder: finding the hallowed weapon that will repair the crumbling walls between demon and human realms, or resisting Adrian, who's decided that come hell or high water, he will make Ivy his.
 .
At first, Adrian tried to resist his feelings for Ivy. Now, determined to break the curse that dooms their love, he's vowed to 
save 
her and to 
have 
her. If only he can persuade her to forgive his past sins.  But defying destiny—and surrendering to the smoldering desire between them —will bring consequences and sacrifices they never imagined…
.
The Sweetest Burn will release around the end of this year. No pre-order links yet, but once I have those and a firm date, I will let everyone know. Same deal with the cover. I already had the very difficult task of deciding between four equally hot men to determine which one of them would be on the cover. Yes, it's a dirty job, but someone had to do it *wink*.
If you haven't read The Beautiful Ashes, book one in the Broken Destiny series, it is available now in ebook, paperback, and audio. Speaking of the paperback version, it originally released in Trade (the bigger-sized version of a paperback), but the mass market paperback will release in September. To celebrate the mass market edition's release, The Beautiful Ashes is getting a hot new cover and a updated description that's more in line with the tone/content of the book. Some readers confused the NA (New Adult) designation with YA (Young Adult) and thus erroneously thought that this was a "children's" series. Um, NO. New Adult means that there is definite adult content and it is not intended for young readers, so the new cover / description will (hopefully) make that abundantly apparent. Once I'm allowed to post the updated cover and description, I will.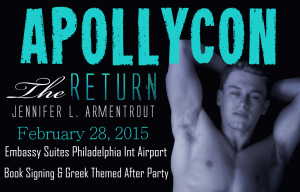 Next up is Apollycon! If you're in the Philadelphia, PA area on Saturday the 28th, come on out. Even if you missed your chance to get a ticket to the VIR or Party event, there are still a few tickets left for the signing, and the signing is free. ApollyCon is a multi-author event, and check out the lineup of authors that will be there! Jennifer L. Armentrout , Mary Ting , Tiffany King , Kristen Proby , Mary Lindsey , Susan Dennard , Sophie Jordan , Katie McGarry , Chelsea M. Cameron , Page Morgan , Cora Carmack , Jay Crownover , Kristi Cook , Amalie Howard , Rachel Harris , Wendy Higgins , Jeaniene Frost , Laura Kaye , Sarah J. Maas , Jamie McGuire , Megan Erickson , Rachel Hollis , Ann Marie Frohoff , Katee Robert ,Tessa Bailey , Jen McLaughlin , Alexandra Bracken , Tina Reber , Jamie Shaw , Riley Edgewood , Cristin Terrill and Elizabeth Briggs.
That's all for me. Hope to see some of you at ApollyCon tomorrow!