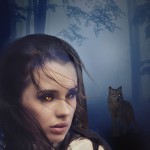 Below is Part 2 and the conclusion of my werewolf short story, Pack. If you haven't read Part 1 yet, then please go here or you'll be missing half the story :). As I mentioned in my prior post, I wrote Pack early in 2008 for an anthology. While I was re-reading it recently in preparation of posting it free on my blog for a limited time, I made some slight changes to clarify character's thoughts, motivations, and feelings. You see, the old anthology had had a word count limit that I'd already gone way over, so I'd left some of those things out in the original version. Some of you who'd read the prior version might not even notice the difference when you read this, but in case you did catch some slight additions/changes, this is why.
All of that being said, I hope that you enjoy Part 2, the conclusion of Pack! Boring repeat of prior legal disclaimer: All rights reserved and copyright to Jeaniene Frost.
***
The words were out of my mouth before I could form another thought. I had to see it. No matter what.
Daniel stood, the afghan falling to the floor. He met my eyes, and a ripple went through me. His were even wilder than before, starting to slant and gleam with amber. He undid his jeans, letting them drop to the floor.
Nothing but bare skin underneath.
I might have made a sound. Seeing a magnificently-formed, naked male body only a few feet away is worth a sharp intake of breath, no matter the circumstances. But all my feminine appreciation fell away when he crouched on the floor and rivers of silvery hair began to replace the skin on his back. Then there was a crunching sound as bones curved, popped, and formed where none had been before. It didn't look the same as in the movies. There was no screaming. No slow protracting of a muzzle replacing a face, blood spurting, or drawn-out writhing. Daniel had simply crouched on the floor and then, in about ten seconds, a wolf the size of a pony, covered in silver and charcoal fur, stared at me with bright yellow eyes.
"Marlee," it – Daniel – rumbled.
I felt light-headed. Nope, you're not crazy, and neither are they. But that's the bad news.
I had made a move toward the door without even being aware of it. Daniel sat on his haunches in front of it, those golden eyes drilling into mine.
"Sit," he said.
A rather unhinged cackle came out of me. What looked like a huge dog was telling me to sit. How backward was that?
"Woof," I replied in a shaky voice, but sat in the chair he'd recently vacated. His lips pulled back in a canine version of a grin.
"Stay," he rumbled in that distinctly animalistic voice.
I was about to say that he was pushing it, when another ripple overtook his body. As seamlessly as water flowing over rocks, skin began to cover that thick silvery coat of hair, bones elongated, reformed, and in less time than it took for me to get over the shock of seeing a wolf in the room, a naked man now knelt on the floor. The only thing left over from the unbelievable transformation was a fine sheen of sweat on his skin.
I finally found my voice again, but all I could come up with was a stupid question. "Does… does it hurt?"
Daniel sat back as casually as if he was getting ready to watch a football game. "The first few times, it hurts like hell. Then you get used to it, and it feels…freeing."
I still was having trouble grasping everything I'd just witnessed. He looked like a normal man, albeit a beautiful, mouth-watering specimen of a man. But that was an illusion. An enormous animal was inside him, and it took up God only knew how much of his mind and conscience.
Daniel smiled slightly. "You smell like fear again, Marlee, but I've already told you – you have nothing to be afraid of."
"Really? Because what you just did is the scariest thing I've ever seen," I replied, glad my voice was steady even though I was shaking inside. "How do I even know that I'm talking to you? It might just as well be the, ah, wolf."
"It's both," he said at once. "Always. And you still don't need to be afraid."
Yeah. Sure. Considering it might be me shifting into an animal in a couple weeks, from where I was sitting, I had plenty to be afraid about.
"I want to go home."
Even as I said it, I knew it was useless. But it was true—so true that the very words ached.
He let out a sigh. "I'm sorry for what brought you here. But even if you left and never told anyone about the pack, think of your family. You'd hurt one of them, Marlee. You wouldn't mean to, but you'd do it."
Ice crept up my spine. "What are you talking about? Why do you think I'd hurt my family?"
He inclined his head. "Because of your ankle."
I looked at it. It was still wrapped in a cast, same as before. What…?
Then it hit me. When I'd walked to the door from the bed a few minutes ago, I hadn't been limping. I hadn't even felt a twinge of pain. In a sudden panic, I pulled up the sleeves on my shirt and looked at my arms. All of the ugly scratches and cuts were somehow… gone.
"Your ankle isn't broken anymore," Daniel confirmed, sympathy etched on his ruggedly striking features. "And there isn't a mark on your skin, which would be impossible…unless you were one of us."
Chapter Five 
The lights from the street seemed to pale in comparison to the moon, which shone like an ominous, bright hourglass in the sky. I looked up at it and shuddered. When it reached its fullness, I would change into something not human. The thought was still as unbelievable as it was horrifying.
All the residents of the town were in the streets. I did a mental head count and came up with forty, maybe fifty people. The 'pack', Daniel called them. My new family.
I thought I might throw up.
There was a slight commotion as a dozen people came from the far end of town. I recognized one of them and flinched, but Daniel laid a light hand on my arm. Even though he was doubling as my captor, the gesture calmed me. It shouldn't, of course. Daniel was dangerous, but somehow I sensed he'd defend me against the man being led to the middle of the street.
I'd only glimpsed him right before passing out, but still, I'd know that face. When someone tries to murder you, it makes an impression. Not to mention that Gabriel was the only person here with only one eye. His dark brown hair hung in strands around his face, and he was stark naked. What was it with these people and their lack of clothes?
Joshua stepped out from the crowd. At least he was still dressed. "Gabriel Thompson, you have been found guilty of infecting a human against their will," he stated in a clear, intractable voice.
"It's not the full moon," Gabriel snarled, trying to pull free of the two men who held him. "How do you know she will turn?"
Joshua looked my way. Daniel grasped my hand and led me forward. I didn't want to get any closer to Gabriel, but thankfully, Daniel stopped after only a few feet. Then the blonde doctor stepped out of the crowd.
Gabriel faced me and shot me a look of pure hate. I'd never been on the receiving end of a stare so heavy with malevolence and barely-restrained violence, but instead of scaring me, it strengthened the momentary wobble I'd had in my knees. I'd never done anything to him, but he'd ruined my life. If anyone had a right to hatred, it was me, not him.
I put my shoulders back and matched his glare. Daniel glanced between us and then gave me a nod that I could only translate as approval.
"Diana," Joshua addressed the blonde doctor. It was the first I'd heard her name. "You examined Marlee yesterday. What did you find?"
"Her right ankle was fractured," Diana recounted in a clinical voice. "She had multiple abrasions, contusions, lacerations, and puncture wounds on both her legs, plus a deeper wound on her right arm."
Joshua swept out a hand to me. "Look at her now."
I could almost feel the eyes raking over me, taking in my skin revealed by the short sleeved shirt and rolled-up pants I was wearing. Both were too big, since they were Daniel's. My own clothes had been bloodied and ripped up in the attack, so they were no good. I didn't ask about what happened to my backpack. Seeing it again would remind me too much of everything I'd lost.
"She is completely healed. There is the proof to all that she will turn," Joshua stated, his voice now flat. "Gabriel, your sentence for turning a human against their will is death."
To my surprise, after those words, Gabriel was released. He looked around in defiance, and I saw some people bow their heads, wiping at their eyes. Were those his family? Would they be here for the pronouncement of his sentence? I wondered. Daniel's family was; I could see his mother on the opposite side of the street. How awful this sentence would be for Gabriel's family, even though I still didn't pity him.
"I might die now, but the rest of you will follow," Gabriel hissed. "I'm only giving out the same mercy our kind has been shown. I refuse to be ashamed to hunt those who kill us."
His words had barely died away when a shot rang out. I jumped, sucking in a breath as a gory crimson hole bloomed on Gabriel's chest. His eyes went wide, then he let out two harsh, labored breaths before falling to the ground.
Somebody sobbed. Joshua's face was grim as he lowered the smoking rifle. I was so shocked, I couldn't even suck in a breath, let alone scream as I was doing on the inside. I'd had no idea that the punishment would be carried out immediately, or publically. Seeing someone die from a gunshot wound was nothing like how it was in the movies. No, it was horrible in ways I couldn't even begin to describe.
"We only hunt to eat what we need to survive," Joshua stated, anger and grimness coloring his words. "We will never be like them."
"Never be like whom?" I asked Daniel, my voice strained from horror.
He didn't look away from Gabriel's twitching, bleeding form when he replied with one word. "Humans."
*** 
I didn't stay to watch the five men run the gauntlet. I'd already seen things that would be forever burned on my memory, no matter how I'd try to forget them. Daniel took me back to his cabin. He made coffee in silence and handed me a cup. It tasted like it was laced with something alcoholic, which I was grateful for.
Occasionally, I'd hear shouts coming from the direction of the town. The gauntlet was a noisy business as well as a brutal one, it seemed.
"Gabriel's wife," I said after the minutes stretched. "Joshua said a member of the pack was upset because his wife had been killed. That was Gabriel, right? Did…did hunters kill his wife?"
Daniel sat across from me, resting his elbows on the table as he drank from his own cup. The lighting in the kitchen reflected off his hair, making the russet color look richer.
"Yes."
"But why hurt me?" I wondered. "I was camping, not hunting wolves!"
A sigh rumbled out of Daniel. "Gabriel wasn't being logical. Neither were the others with him. The pack has been going through a hard time since the laws were changed."
"What laws? No one even knows about werewolves; it's not like it's open season on them."
"Gray wolves were taken off the endangered species list a few months ago," Daniel said, his expression hooded. "The government did it knowing what would happen. Before the ink was dry, scores of wolves were killed. They were hunted to near-extinction in these areas before and now, certain groups of people are trying to eliminate all wolves again. What Gabriel did was wrong, but I can empathize with what drove him to it. You can't understand what it's like, having people try to wipe out your entire race from existence."
His voice was bitter at that last part. I set my coffee cup down with a bang.
"I'm Jewish. Don't tell me I can't understand what that's like."
After a moment, Daniel inclined his head in acknowledgement. We sat in silence after that, but oddly, it wasn't tense silence anymore. Instead, it was as if we'd come to an unspoken truce.
"So," I said at last, mythology and reality competing in my mind. "Gabriel's wife was shot while in wolf form, but she was killed. How would the hunters know to use silver bullets on her? Maybe you've been found out after all."
A bleak smile creased Daniel's face.
"The bullets don't have to be silver. No, Marlee, we can be killed in a lot of normal ways. But if the wound isn't mortal, and if it's not exposed to silver, we can usually heal it."
Noises rose from the town again, sounding something like a cheer this time. Daniel nodded in its general direction. "They must be finished."
What a strange, harsh society this was. Gauntlets. Executions. Shapeshifting. And here I was, stuck right in the middle of it.
"You know, soon, my family will start a search for me," I said, trying to sound as casual as possible. "My parents will notice when I don't come back from vacation, not to mention that my employers will wonder what happened when I don't show up in the next few days."
He shook his head at that. "What were you thinking, anyway, hiking out there all by yourself?"
His tone was so scolding that I stiffened. "I didn't start out alone. My friends came with me, but then Brandy twisted her ankle, so she and Tom had to leave. I was going to leave, too, but…"
I stopped. Finishing that sentence would be too revealing. But I was sick of putting my dreams on hold, waiting for just the right, most perfect situation. 
I'd put off so many things thinking I had to have my life set up perfectly first. It's why I stayed at my job as a paralegal instead of continuing my education to be a lawyer (I wanted to decide on the perfect branch of law to practice before making that leap). It's why I'd waited so long to take this camping trip (I wanted to pay my car off before splurging on a vacation). It's also why I hadn't moved to Manhattan with Paul when he'd asked me. No, I'd wanted to be further along in my career before taking my relationship with him to the next level.
Staring at Brandy's twisted ankle that day, thinking that again I was going to have to put my plans on hold, had been the last straw. I'd decided to hell with waiting. Even if I was doing it alone, I was hiking through Yellowstone like I'd planned.
And look where that decision had gotten me.
"You wouldn't understand," was all I said.
His gaze was steady and yet penetrating at the same time. "I thought we'd just established that we're both capable of understanding a lot more than the other realizes."
I let out an impatient sigh as a burst of frustration coursed through me. "All right, then how's this? I don't want to tell you. I don't know why I'm even talking to you. You're my kidnapper."
"Not really." Softly, but the words still resonated. "You're part of the pack now. And as enforcer, I keep the pack safe. Even if it's from themselves."
This wasn't a conversation I wanted to explore. I wasn't ready emotionally or mentally. I yawned, not bothering to cover my mouth, hoping he'd take the hint.
He did. Daniel pushed his chair back and stretched. "Are you going to give me trouble if I take a shower?"
I eyed him warily. "I won't throw a radio in with you, if that's what you're talking about."
He grinned. "Good to know, but I meant, can I trust you not to run away while I'm in the shower? I don't want to have to tie you to a chair, but I also don't feel like chasing after you with soap in my eyes."
I looked away from his smile, which was charming, sexy, and dangerous all at the same time. It wasn't the dangerous part that unnerved me; it was the other things.
"I'll stay put." But only because you'd hear me if I didn't. 
Daniel went in the bathroom and I sat on the bed, debating whether to climb under the covers, since the room was chilly. Finally, I decided to wait. I'd shower once Daniel was done, then I'd borrow one of his shirts to sleep in again. At least they were long enough that modesty wasn't an issue.
I cast one longing look at the window and the freedom that lay beyond it, but then sighed. Daniel would chase after me, stark naked and soapy, then he'd probably tie me to a chair after all. The thought of sleeping sitting up while duct-taped didn't appeal to me. No, I'd wait for another chance to escape. One had to come up.
After about ten minutes, Daniel finished with his shower and appeared in the door frame. His hair looked darker wet, and drops of water still beaded his skin. All he had on was a towel slung low on his hips, the white color emphasizing his deep tan. He ran a hand through his hair, flinging more droplets away. With that simple, muscle-rippling gesture, some intensely feminine part of me reared up, forgot everything else, and just stared.
No wonder he isn't human, I found myself thinking. No normal person could be this sculpted and gorgeous. 
Far too belatedly, it occurred to me that I was still staring at him even though several seconds had ticked away. He'd have to be a regular, blind human not to notice, and he was part-animal with super heightened senses.
Look away, stupid! the sane part of me urged. So I did, finally dragging my gaze up his body to meet his face.
He wasn't smiling smugly over my obvious admiration of his looks. He wasn't scowling in offense over my rudely objectifying him, either. No, he was just staring at me with such an open hunger that an almost painful clench of desire grabbed me right below the waist. All at once, I wasn't chilled anymore. Instead, I was so warm that I was bordering on sweating.
This is wrong. All wrong. Don't you dare. You need to snap out of this right now, I mentally berated myself. 
"Stockholm syndrome," I whispered. It could only be that. Who in their right mind got turned on by their kidnapper, no matter what he looked like?
"Or something else." Daniel's voice was equally soft, but it contained an undertone that sent a reckless shiver through me. "Wolves can tell their intended mate by scent, sometimes before they've even sighted them. Once the two meet… things are inevitable from there."
That wildness was lurking in his eyes again, as if the animal in him was reaching through his guise of humanity to make itself known. Seeing it was nerve-racking, but the man himself was so dangerously enticing; I found myself twisting the bed sheets with my fingers just to keep myself from reaching out to him.
"I'm not a wolf," I said in a shaking voice.
Daniel just smiled, dark and sensual and promising.
"You will be soon." 
Chapter Six
A tentative knock sounded at the door. "Can I come in?"
The voice was feminine. I would have said no, but there was no lock and my wishes were pretty much ignored by everyone, so what was the point?
"Fine."
A girl with auburn hair came in. It took a moment, but then I recognized her from the other night. Daniel's cousin. Damned if I remembered her name.
"I brought you some clothes," she said. "Hope they fit, but if they don't, you can take them back. The store's right down the street."
The girl set a couple bags on the bed. I'd barely left this room for two days since the night of the gauntlet. Confusion and uncertainty had begun to overwhelm me. What had started out as a twisted, supernatural hostage scenario had changed into something more. I could now sense the rain before it started, hear noises from further away than humanly possible, and had recurring dreams about turning into a wolf that had changed from terrifying at first to strangely exhilarating in the recent ones.
All of that was disturbing enough, but what had me hiding in my room for the past couple days was the fact that I was increasingly drawn to Daniel. I craved his scent more than food, followed him with my gaze whenever he entered the room, and had to literally fight with myself not to touch him when he was near. I'd never been hooked on drugs, but this must be what addiction felt like, and it was unlike anything I'd ever experienced. The worst part was, I was pretty sure Daniel knew what I was going through.
He'd tried to talk to me for the past two days, but I refused to speak with him. The simple truth was that I didn't trust myself. I should be focusing on the fact that I was changing into a monster, and not be secretly fascinated by my new senses, or lusting after the person who held me prisoner. The night of the full moon loomed in front of me like an executioner's axe. Whatever control I had over myself now, I knew it would be gone as soon as that ghostly orb rose in the sky.
And the worst part? Some primal, burgeoning part of me was looking forward to that.
"…thought we could have a soak," the girl was saying. "That always helps me unwind when I'm upset."
"What?" I hadn't been paying attention to a word she was saying.
"The hot springs," she repeated. "We have indoor and outdoor ones. I bought you a swimsuit. Anything's got to be better than being cooped up in this room day and night."
Outside. With just her. I gave the girl a quick, cagey look. Maybe this was my chance. She was petite, looked about nineteen or twenty, and seemed nice. Let's hope she was gullible, too.
"Sure. Thanks," I added, smiling. "What's your name again? I'm sorry, I don't remember."
"Laurel," she said with an answering smile. "Here, I'll leave so you can change."
"Can we go to whichever spring has the least amount of people? I'm, ah, shy about being in a bathing suit around strangers."
Growing up spending my summers at Lake Michigan, that was a lie, but she didn't know that. She nodded.
"Sure."
I lowered my voice. "He doesn't need to come, does he?" I asked, with a nod toward the rest of the cabin, where Daniel was. "I'm so tired of him shadowing my every move."
She lowered her voice as well. "I'll talk to him."
My smile widened. Nice and gullible. Maybe, my luck was changing.
*** 
If circumstances were different, I would have been awed at how beautiful this place was. The cabins were set near the end of the mini-town and spaced well apart for privacy. The mountains loomed majestically around all of it. Forests bridged the bottom of the mountains, adding a more secluded feel, and the steam rising up from the rock-bed hot springs looked both soothing and inviting.
But, sinking into the warm mineral water, I was reminded of my tub at home in my apartment. A stab of longing went through me when I thought about my parents, who I'd meant to call before leaving on my camping trip, but I hadn't. Or my older sister, Leigh, whose birthday was next month. My little nephew, Todd, who'd just turned one last month. My coworkers, who made the long hours from nine to five pass much more quickly. My best friend, Brandy, who'd always been there for me. And her boyfriend Tom, who told me in confidence right before they left that he was finally going to pop the question to Brandy. Tears began to burn my eyes. Would I ever see any of them again?
I will, I promised myself fiercely, refusing to give up on everyone I'd ever known. I'll get away, and I'll…I'll find a doctor to cure me! There must be a way. I just have to get away from here. No matter what. 
"Feeling better?" Laurel asked. She leaned back, settling her arms around the edge of the rock lip.
"Yes." And I did. I'd committed myself to a course of action and I was determined to follow it through. No matter what.
"I don't know why you'd be embarrassed to be seen in a swimsuit, Marlee," she went on. "You're very pretty. Finn's already interested in you."
"Finn?" I asked blankly.
"My cousin. The guy with the long black hair. You met him the same night you met me."
Oh, yeah. I couldn't care less, but the more she talked, the more she might let her guard down. "He looked young," I replied neutrally.
She laughed. "He's forty-two."
My jaw dropped as I remembered the smooth-skinned, flirty Finn. "He can't be!"
Laurel gave me a slanted look. "There are advantages to being one of us, you know," she said in a casual tone. "You know how one year equals seven in a dog's life? Well, we have the reverse of that. And you already know that we heal a lot faster than normal people. Plus, when we change into a wolf, we experience the world in ways no one else can. I don't know how anyone would rather be just a human, in fact."
I gaped at her. Did she really believe all of this? Could some of what she's saying even be true? Just when I thought things couldn't get any stranger.
"How old are you?" I managed to ask.
She settled back more comfortably in the natural rock formation. "Oh, I'm only twenty, but the good news is, I'll look like this for a long time. The age slowing doesn't happen until puberty's over, thank God. Imagine being a teenager for forty years?"
I couldn't, and I didn't even want to. "And Daniel?"
"I'll let him tell you how old he is," Laurel replied with a little smirk that made me very wary.
"What?"
"Nothing."
Like hell. She was obviously itching to say more. I scooted closer, lowering my voice.
"What?" I asked insistently, but smiled as though we were sharing secrets.
Laurel's smirk widened. "Normally, when someone's exposed to us the way you were – which is very rare, I might add – Daniel is the one to bring them in, but he doesn't watch over that person the whole time. He's big on having his own privacy. He's never had someone stay at his cabin for four days straight, even a girlfriend. Add his refusal to let Finn even visit you and, well…he's acting possessive. Like a wolf with his future mate."
I was alternating between being shocked and feeling a ridiculous sense of triumph. Daniel, seeing me as a future mate? So it wasn't just me who'd been so affected by the other person these past several days!
But that presented a whole new set of problems. It was one thing when I thought that Daniel was being so attentive just because it was his job as the pack's enforcer. Knowing he might feel the same reckless emotion about me that I was feeling about him would decimate the slim hold I had on my control, and I still needed to get away. Not complicate things to a fantastic degree by giving in to those feelings.
Or, I reminded myself, ruthlessly reining in my emotions, Laurel could be wrong. Daniel could be keeping me close because he knew I hadn't really accepted this as my new life. She might be reading in hidden motivations that didn't really exist. Either way, I had to take advantage of my chance away from him, which was why I'd agreed to this hot spa outing in the first place.
I hunched a little, letting an expression of pain spasm across my face.
"What's wrong?" Laurel asked at once.
"Cramps," I said with another grimace. "I think I'm getting my period. Could you do me a huge favor? I don't want to embarrass myself by, um, springing a leak while walking back to town. Do you have any tampons you could bring me? I'll just wait here."
As I spoke, I climbed out of the hot water and sat on one of the large rocks, wrapping a towel around me. Here's hoping the universal sympathy every woman had for that time of the month would result in Laurel doing something very stupid.
She gave me such an odd look that I cursed myself for not coming up with a better reason for her to suddenly go away. Well, I didn't have much time to think up a clever ploy. But then, at last, she smiled.
"Sure. Be right back."
Laurel got up, fastened a towel around herself, and walked away. I waited, barely breathing, until she rounded a cabin that took her out of sight, then I bounded up and began running flat out of the nearest line of trees.
Chapter Seven
I didn't have shoes on, so all the rocks I ran over cut into my feet, but I ignored them. It would only take Laurel ten to fifteen minutes to return. That's all the time I had to get away, so I had to make it count.
I ran as if I was trying to outrace a wildfire, noting with a growing sense of awareness that I was moving faster than I ever had before. I was in decent shape, but I had never been an athlete… until now, it seemed. I wasn't even getting winded. Maybe the werewolf curse inside me would actually help me to get away.
Go faster, I urged myself. Head for the mountains. It'll be harder for them to track your scent over all the rock. 
Even as I ran far faster than I ever had before, I couldn't help but notice that the forest was alive with sounds. The cry of birds. The rustling of branches as they rubbed together in the wind. The thuds my feet made on the drying leaves strewn over the uneven ground. The awful feeling of the world crashing down on me began to lessen, replaced with an inexplicable joy over simply running as hard and fast as I could. I might be running away from this life, but right now, I felt strong, free, and wild, like the forest itself was spurring on my steps. That strange joy caused me to run even faster, allowing me to forget the pain in my feet, until the trees became almost a blur around me.
Giddiness bubbled up inside me. This felt so right. Like I'd been waiting my whole life to run this way.
Something hard suddenly collided with me, snatching me up. My heart was already pounding, but it kicked into another gear as I glimpsed the person who'd grabbed me. Daniel.
He whirled me around to face him, those blazing amber eyes pinning me as tightly as his grip did.
"What were you thinking?" he demanded, giving me a shake. "You're only wearing a bathing suit and a towel! I should have waited until tomorrow to go after you. Maybe spending the night in the freezing cold would have knocked some sense into you!"
My emotions were on overload from the adrenaline rush of my attempted escape, the frustration of being caught, and the residual exhilaration of the incredible run. I didn't feel like myself anymore. I felt as if something hiding inside me had finally taken over.
I grabbed Daniel's hair and yanked his head down, slanting my mouth across his. For a split second he froze – and then his mouth opened, his tongue twisting with mine. His hand tangled in my hair, jerking me closer, while his other hand molded our bodies together. The intense heat coming from him made me gasp, but I pressed against him, wanting more of it. He made a low, deep sound in his throat that could only be called a growl and kissed me deeper, harder, unleashing a flood of lust inside me that shook me to my core even as it frightened me enough to cure me of my earlier recklessness.
If you don't stop now, you'll end up having sex right here, right on the ground. Just like the animal you're turning into… 
"No!"
I wrenched away, my breath coming so fast that I was panting. Daniel let me out of his arms, but his hand tightened on my wrist, not letting me get entirely free.
"What's wrong?"
I let out a despairing bark of laughter. "You. Me. Everything."
He pushed his hair out of his face, staring at me with an intensity that made me shiver.
"None of that is wrong. It's right, even if you don't want to admit it yet."
At some point, my towel had fallen to the ground, leaving me in just the bathing suit. Daniel's eyes dipped and his gaze slid over me with the same effect as an intimate caress. Tremors ran over me and I swayed, feeling as if my body were trying to move toward him with a will of its own.
Daniel's grip on my wrist softened to a light stroke of his fingers. "You want me, Marlee." His voice was low, but it vibrated in a way that made me think of dark rooms and tangled, sweat-dampened sheets. "Why are you pushing me away?"
The effect of his voice slid over me like another sensual caress, but the words stiffened my spine. "Because I can," I said harshly. "You've stolen all my other choices from me, but this one is still mine, and I say no."
At that, he let me go, and the warm amber light in his eyes hardened to cold, dark topaz. He picked up my towel, handed it to me, and turned his back.
"I'm not the one who stole your choices," he said, the words bulleting over his shoulder. "Gabriel did. You want to run away, Marlee? Fine. If you stay out in these woods, you'll probably die of exposure. If you manage to survive, then when the full moon rises, you'll change, but you won't know how to change back. Then, trapped in your new form, you'll go insane as you become mastered by urges you can't even imagine right now. You'll end up mauling whoever you come across, be it man, woman, or child. Then, people will hunt you. They'll kill any other wolf they come across trying to get to you, but sooner or later, they'll find you. You'll get shot or caught in a trap, but either way, it will be horrible and it will end if your death."
He was breathing harder and his hands clenched into fists, but he didn't turn around, and when he spoke again, his voice was ragged.
"You want your own choices? Here they are: walk away now and people are guaranteed to die, including you. Come back with me, learn how to control what's happened to you, and no one dies. Those are your choices, Marlee. Only those."
My mind was reeling from everything he'd described, and I couldn't ignore the unmistakable ring in his tone that came from the conviction of truth. Still, I couldn't let myself believe him. That would be the same as giving up.
"With medical advances, if I get to a good doctor, I can find a cure," I replied stubbornly.
Daniel laughed, but it was harsh. "We've had doctors within the pack try to find a cure for decades. Not for ourselves, but to fix people who've been unwillingly infected, like you. There is no cure, Marlee. If there was, we'd have given it to you already."
Hopelessness crashed over me. "You're telling me I'll never see my family and friends again. You're willing to do anything for your pack, but you expect me to just forget about anyone who's ever meant anything to me in my entire life!"
He still didn't turn around. "If you wouldn't have refused to speak to me for the past couple days, I'd have told you that you only need to be quarantined for a couple months. Once you've learned control over your condition, you can see your family and friends again. They would be welcome to come here, or you can move away and live on your own near them. You'd need to live somewhere close to a wolf population, though, so that when you change, you're not running on four legs down a city street attracting unwanted attention."
My brain whirled so much with this new information that I felt faint. I didn't have to be trapped here forever! I could go home, see my parents, my sister, Brandy, even my nephew again. All I had to do was wait it out. Get control. Was it really possible? Could I actually learn to live as both a woman AND a wolf? 
Daniel started walking away, the dried leaves crunching under his feet. I stared after him, torn by indecision into staying where I was. Was he really giving me my own choice, as I asked? If I turned around and walked the other way, would he truly not try to stop me?
I tested it. Turned and walked in the other direction. There wasn't the slightest hesitation in his steps as he kept going. He's tricking you, my cynicism whispered. He'll come back. 
I kept walking. So did he. Soon, the sounds of Daniel's footsteps began to lessen as we moved further away from each other. After ten minutes, I couldn't hear him at all.
Chapter Eight 
Even with the moonlight illuminating the forest, I would have been lost without Daniel's scent. Somehow, I knew it, could follow it as though it were neon road signs, even though I hadn't consciously paid attention to it before. This was my first time doing anything solely by reliance on my sense of smell, but that's exactly what I was doing as I walked back through the woods toward what I thought was the town. Here and there in my peripheral vision, hazy flashes of maroon darted by. They had scared me the first few times I saw them, but then I realized what they were. I was seeing the heat that living creatures gave off, just as if I was looking at the creatures through an infrared camera.
My new, sharpened senses had seemed to bloom as soon as night fell. Or perhaps, they had bloomed because I'd tried to use them instead of feared and suppressed them, as I'd done for the past few days. Now, using them made me feel more alive than I ever had before. In fact, in some ways, it seemed like I'd been sleepwalking the previous twenty-five years of my life, numbed to all the brilliance of the world around me.
Of course, I knew what had caused all this, and it boiled down to one simple thing—the wolf in me, waking up and getting ready to be freed.
It was the main reason why, after sitting in the forest watching the sun fall and the moon rise, I was now walking back to the town. Whether I'd chosen to be or not, I was part wolf now. Because of that, I couldn't go back to my family, friends, or coworkers, not knowing what I was capable of, even if I did make it out of these woods. If the choice was sacrificing months of my life dealing with the strangest scenario imaginable, versus risking people I loved by hoping Daniel that was wrong and I wouldn't one day eat some or all them…well, there was no choice. Not in my opinion.
That wasn't the reason my heart started to beat faster when I recognized the man leaning against a tree just outside the limits of the town. All right, I'd had more motivation than just protecting my loved ones by returning.
With every step I'd taken away from Daniel, something burning and heavy had settled in my heart. It was as unfamiliar, frightening, and exciting as the other changes I'd experienced this week. How could I care so much for someone after such a short period of time? I'd been with my former boyfriend, Paul, for three years, but hadn't felt the crushing sense of loss at our breakup that I'd felt when I was walking away from Daniel earlier. Was it a case of supernatural hormones gone haywire? Or the wolf recognizing something in Daniel that my humanity didn't allow me to believe in yet? I didn't know. I only knew it was the most real thing I'd ever felt.
"I thought you were letting me go," I said as I approached. "Yet here you are, still in the forest instead of in your bed back at your cabin."
Daniel turned. He was still too far away for me to see his expression, but when he spoke, his voice sounded raw. "I was letting you go, Marlee, but no wolf can sleep while his mate is in danger."
Mate. Such an ancient, primitive word, and so possessive. All things considered, we barely knew each other. Why wasn't I uneasy at hearing it? Why, instead, did warmth spread all over me, even as I was shivering in the cold night air?
I swallowed. "How can you be sure that I'm your mate?"
He was at my side in the next heartbeat, enfolding me in his arms, his body heat almost searing my skin.
"I knew it as soon as I smelled your scent," he said, his voice now low and rough. "I told you, that's how it is with wolves. That day with Gabriel—I wasn't out there because I was tracking him. He and the others had masked their scents so I wouldn't be able to trace them. But I found them anyway because as soon as I caught your scent on the wind, I was out there tracking you."
What he said was incredible, impossible, overwhelming. I shuddered even as I leaned in closer to him, unable to stop myself from turning into his embrace. "Daniel, everything has happened so fast…"
He touched a finger to my lips, cutting my sentence off. Then he caressed my face. "Don't judge by that. Breathe me in. Tell me what you feel."
I inhaled near his neck, absorbing the mix of wood smoke, spice, and musk that made up his scent.
In an instant, a bone-deep contentment battled with instant, fierce lust inside me. I wanted to throw Daniel to the forest floor, rub my body all over his, claim his flesh as my own, and then hold him and never let go. I'd never felt such intense emotions before, let alone all at once, each one merging seamlessly into the other. Doubts, fears, and rational thought didn't pale by comparison. They vanished.
"I feel more than I have a right to," was what I finally said, my voice shaky from the maelstrom going on inside me.
He bent so that his lips were almost brushing mine. "I give you the right, Marlee. I want you to claim me as yours."
And I wanted to claim him and be claimed by him. That was the undeniable truth of it. Whether it was me or the wolf inside who'd made this decision, I didn't know. But I felt it through every fiber of my being, and I knew it was right.
I'd asked Daniel days ago if it was him I was talking to, or the wolf. It's both, he'd said. Always. I hadn't understood then, but I did now. The wolf didn't feel like it was a separate entity from me anymore; now it was me, but without all my fears, doubts, or hesitations. The wolf was me stripped of all my pretense, and it knew, unequivocally, that Daniel was mine.
And so did I.
"Then take me home, mate," I whispered.
It was an invitation and a promise. I wasn't giving up myself, my family or my friends, but I'd first learn to live in harmony with the wolf in me, and I'd do it here, with Daniel – my love, my lover, and mate.
Daniel swept me into his arms and strode toward his cabin, kissing me the entire way.
***The End***
Thank you for reading Pack. I hope you enjoyed it.