Hello again. Under the "Jeaniene is last to know" column, here are two releases that came out in the past week. Actually, some of my readers alerted me to these, so this isn't the first time that you guys are more knowledgeable than me :). First up is Night's Darkest Embrace in single title audio format. Here is the audio cover and description: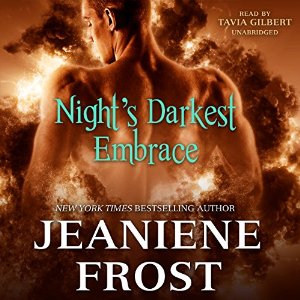 Enter the dark realm of Nocturna, where blisteringly sexy Raphael dominates the demons of a lawless dimension and tries to help a beautiful young woman avenge her cousin's disappearance.
You can read the first two chapters from Night's Darkest Embrace here. 
Some of you might remember Night's Darkest Embrace from its first appearance in the Haunted By Your Touch anthology. It's a long novella (about 130 pages in digital; 3 hours in audio) that also came out in single ebook about two years ago. Now, it's finally available in single audio with the fabulous Tavia Gilbert narrating. I'm so pleased to have this finally in audio because that is the preferred format for many of my readers, and I want everyone to get their stories in the format that makes them happiest. You can listen to a sample or order your copy at Downpour, Audible, iTunes or your favorite audio retailer.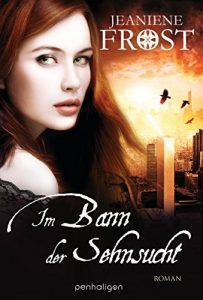 Next up is the German edition of Bound By Flames, titled Im Bann der Sehnsucht. I know my German readers have been waiting a long time for this, so I'm thrilled that it's finally available. I'm also posting the cover because I think my German covers are so pretty. This one is no exception, although a mistake was made and Leila was given red hair and green eyes instead of black hair and blue eyes. Hey, now you can see what Leila would look like with dyed hair and colored contacts ;).
Order Im Bann der Sehnsucht from Amazon.de or your favorite German retailer.
And now, a note about foreign editions. Many of my readers ask me when a foreign edition of my titles will release, or if Country X will publish more books in a series. The answer is that I don't know. See, I don't actually own my foreign rights. My publisher does, and they sell those rights to interested foreign publishers, who then publish however many books they've purchased into whatever language applies to their country. So, even though I write the stories, I am completely removed from this process. Therefore, I usually find out about a foreign title release when readers of those countries tell me, as was the case with Bound By Flames' German release a few days ago. I also have no control over whether a particular country will continue to publish my books. None of the countries ever deal with me directly because, as explained above, I don't own the rights. However, when a new foreign edition of one of my titles does come out and I'm made aware of it, I'm happy to let my readers know. I've been fortunate enough to have my stories published in twenty different countries, and no matter what country or language a book comes out in, as usual, I really hope that readers enjoy it :).