First, a happy Thanksgiving eve to all my American peeps! I love this holiday because, among other things, it's one of the few times when no one gives you strange looks for getting seconds (or thirds ;)) at dinner.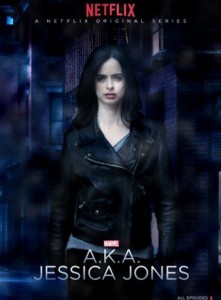 And now, to the subject line of my post. Marvel's Jessica Jones released on Netflix last week, and per Netflix's usual style, all episodes were available at once (side note: I LOVE this. If I like a show, I want to watch two or three episodes at a time at minimum.) Anyway, back to Jessica Jones. I'll admit, I wasn't particularly interested in this show when I first heard about it, even though it had a female lead, which is unusual for a Marvel superhero series. But my husband, a comic book fan, had really been looking forward to it, so I agreed to watch two episodes to see if the show could overcome my general lack of enthusiasm.
It did, in a big way.
(Warning: mild spoilers ahead)
Jessica Jones is described as a "hard drinking, short-fused mess of a woman" and right off, that's proved abundantly true. However, by the end of the episode, the story teased that there was an intriguing reason behind Jessica's very abrasive personality. I wasn't wild about the seemingly gratuitous naked shots of other characters in this episode, but since I'd agreed to give it two episodes before I formed an opinion, I watched the second that same night. Then I watched the third one right after that. I would have watched more, but my husband reminded me that it was almost midnight and we had to sleep.
I now only have four episodes left to watch in the series, and I am impatient to see them while also holding off because I am dreading the long wait until season two (still unconfirmed by Netflix, but prospects are looking good.)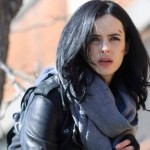 I love strong, flawed heroines, which surprises no one who's read my books, so it probably also isn't a surprise that I loved this show. It can be hard to watch at times, but those gritty, raw, uncomfortable moments only make it more unforgettable. As the story continues, the reason behind Jessica's drinking, temper and abrasiveness is revealed, and so is how she still cares deeply about people despite her often harsh attempts to shove them away. The revelation behind what changed her from an aspiring superhero whose main desire was to help the helpless into the broken, frequently drunken mess that she is, is both compelling and heartbreaking. Jessica doesn't handle the horrors of her past the way we usually want our heroines to handle such things, which is with few missteps. She handles her past trauma, resulting PTSD and deep fears the way a lot of us probably would, which is badly. Yet despite using alcohol, aggression and abrasiveness as a form of self-medication, something within her constantly strives to be the nobler version of herself that she used to be. Her character is complex, deeply layered, and very human despite her superhuman abilities. I want to high-five the writers of this show for portraying a female character in such a flawed, unflinching way. Too often, female characters are merely shoved into the Mother, Whore, Workaholic Bitch or Future Wife mold, and Jessica Jones's character shatters those molds and then stomps their remains. Well done, writers! And well done to Krysten Ritter for her superb performance as Jessica.
The side characters are great, too. Jessica's best friend, Trish, first comes off as vapid and spoiled, but as the series progresses, you see that Trish is all steel beneath her sweet, privileged exterior. Though her character doesn't have any superpowers, Trish has all the courage, loyalty and grit of a true superhero, and I hope that she returns in season two (I'm not done with this season yet, so if something happens to Trish, don't spoil me by saying anything!)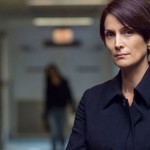 Jessica's frequent employer, a successful attorney named Jeri Hogarth, is also a force to be reckoned with.  On one hand, Jeri seems to have all of the compassion of a sociopath, but on the other hand, she puts up with a lot of Jessica's crap when she doesn't have to, and her taking on a risky client because Jessica asks her to hints at something beneath the exterior. Whether that something turns out to be a hidden softer side or a devious ulterior motive, I don't know, and wondering makes Jeri's character all the more interesting to me.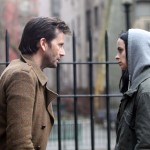 The story's villain is expertly played by David Tennant (side note: my favorite of the Dr. Who actors) and his portrayal of Kilgrave shows him to be every inch the monster that Jessica fears. Later on, Kilgrave also shows a sense of humor that is witty while also being disturbing when paired with his almost offhand savageness. I also loved Luke's character, a bartender with big secrets of his own, but I don't want to say much about him because almost everything I'd mention is a spoiler.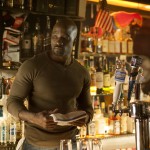 There are other great characters, but this post is too long already. In summary, I highly, highly recommend Jessica Jones, and if you time off over the Thanksgiving holiday, it's available for streaming on Netflix.
NOTE: If you've seen the show, please DON'T leave any spoilers in the comment section. I'm not done watching it and I'm sure other people who aren't done/haven't started it yet also don't want to be inadvertently spoiled. Thanks!