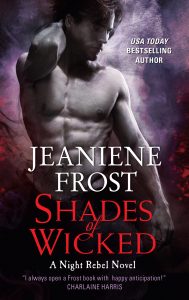 Before I get to the chapter, a reminder that readers who want to order a signed copy of SHADES OF WICKED only have about two weeks to do so. The details: Malaprops Bookstore is partnering with my publisher to ship signed books to readers between now and shortly before release. If interested, please go to this dedicated page on Malaprops website and follow the instructions. Don't miss the part where you have to specify in the comment section of your order that you want your copy SIGNED, and if you want it personalized, specify who you want it made out to. Thanks so much to Malaprops and Avon Books for setting this up!
Now, as promised, here is another excerpt from Ian and Veritas's upcoming novel, SHADES OF WICKED, Night Rebel book one. This time, I'm picking the entire third chapter to post. If you haven't already read chapters one and two, you can find them HERE, and I'm adding chapter three to that page for easy reading continuity.
If you've already read the first two chapters, then no need to click away to the other page – you can dive right in, the water's fine…as you can see from this chapter where Veritas is required to watch Ian shower to make sure he doesn't get away from her or use another spell against her. *snickers* Enjoy!
Chapter Three, SHADES OF WICKED, copyright Jeaniene Frost
Ian went to one of the second-level bedrooms as if he were very familiar with it. He probably was. Judging from what I'd seen, he'd been at this brothel for at least two days. That mock carnival in the basement certainly hadn't been set up in a mere afternoon.
He stripped off his jacket as soon as he crossed the threshold. I made sure to keep a close watch on his hands as I followed him into the bathroom. I couldn't allow him to magically fabricate another weapon. There were plenty of things in this room that a highly skilled practitioner could use.
Ian's dossier revealed that he had spent time in the company of witches and mages, but it posited that he'd done so for excitement and socializing. Wrong and wrong. Most practitioners would've needed to recite an incantation in order to get the power to transmute one type of object into another. Another way would be to draw several specific magical symbols to create the necessary power. Ian had changed a silver pebble into a knife without a single word or scribble, and he'd done it while I was beating his skull half in.
If that wasn't impressive enough, tactile magic was one of the highest forms of the craft. That's why I couldn't take my eyes off his hands. He'd need to use at least one of them to conjure up more of that kind of magic. Right now, he wasn't doing anything threatening. He stepped beneath the shower spray and closed his eyes as that first blast of water hit him. Then, he washed his hair, his movements brisk and efficient. When he picked up the body wash, however, he slowed down, working the liquid into a rich lather before running his hands over his body.
Did he think I'd never seen a man make a show out of washing himself before? I had, and even the most seductive of them had always been a little too obvious, a little too sleazy. Women were much better at this form of manipulation, but if he wanted to give me something to look at, let him.
After a few minutes, I had to give Ian credit—he was good. He didn't attempt to meet my eyes to gauge the effect of his actions. He also didn't go right for his groin as most men did. Instead, he acted as if I wasn't even there while he started with his arms, washing each with smooth, sweeping strokes that emphasized the muscled elegance of his limbs. Then he moved on to his chest, soaping it with a languid thoroughness that highlighted every ripple, hollow, and chiseled inch.
He gave the same unhurried attention to his lower body, his hands running down the tautness of his abdomen before sweeping over the hard globes of his ass. Those hands lingered over the thicker muscles in his thighs before moving down to his well-defined calves. Even his feet weren't neglected.
Somehow, the never-ending sweep of his hands started to feel hypnotic. If I were a few thousand years younger, I might even start to imagine how each muscle, hollow, and sinew would feel if I were the one touching him. Or notice how his muscles appeared even more defined when the water washed away another swath of suds, or how his skin glistened beneath the bright lights in the shower stall.
Or fixate on how the thick appendage between his legs was growing as if also longing to feel the touch of those slow, skilled hands.
When I realized I was staring, I gave myself a hard mental shake. Again, I'd underestimated him. Ian was obviously as skilled at using his body as he was at using magic. That, or I wasn't as immune to his decadent beauty as I'd assumed. Whether it was my newfound compromised emotional state or my extended bout of abstinence, I didn't know. Either way, I had to keep my focus on both his hands. Not just the one currently slicking suds over the impressive appendage between his legs.
"I say, you're looking in all the wrong places now."
His voice held the silkiness of honey along with the lure of wine, but deadly potions could also taste sweet. My careful watch on his other hand revealed his true intentions. He wasn't trying to seduce me. Like a magician, he was drawing my gaze one way while the real trick was about to take place somewhere else.
I gave a pointed look at his left hand, which was creeping behind his back. "Keep both your hands where I can see them."
His smile changed into a scowl. "You're no fun at all."
He wasn't even trying to deny that he'd been about to fling a spell at me. I'd take that roundabout honesty as progress.
"Law Guardians aren't supposed to be fun," I noted dryly. "We're supposed to be good at our jobs, and despite a few slip-ups already with you, I am. Even if I couldn't stop time, there's still no spell you could fling at me that I haven't defeated a thousand times before."
He smiled again. For the first time, it seemed genuine. "I take that as a challenge. Let's make it interesting, shall we? If I use a spell on you that you're unable to defeat, you'll drop your requirement that I follow your lead on our quest to kill Dagon. Instead, you'll follow mine."
He hadn't been following my lead as it was, but damned if I'd let him off the hook. Plus, his arrogance could be useful. Good to know I wasn't the only one letting emotion cloud my judgment.
"How long are you giving yourself to attempt this supposedly unstoppable spell?"
"Two weeks."
Perfect. If all went well, I would be done with him by the time he tried it. "Fine, if you agree to stop trying to escape or trick me until this grand attempt. And when you fail to hit me with a spell that I can't defeat, you'll follow my lead plus give me three unquestioning acts of obedience."
"Done," he said at once.
He seemed so confident. He even smiled with the kind of anticipation I'd seen only on gladiators right before they struck a killing blow. Was it possible I'd made another mistake? He'd already surprised me several times today.
But no. He couldn't best me in this.
"Done," I said after a slight pause.
His smile turned sly. "How shall we seal this new accord? A blood oath?"
As if I'd assume his shedding a few drops of blood would suddenly make him honest. "Something else. Hold out your hand."
He arched a brow but extended a still soapy hand. I closed my fingers around his, not surprised that his flesh felt far warmer than a vampire's normal temperature. His time in the shower had heated his skin, and now, that water would provide me with what I needed to ensure an oath he couldn't break.
Water was one of the main natural elements of the world. That made it powerful, if one knew how to extract that power. I did since I had a special talent with water. I hadn't wanted to use more of my hidden abilities today, but if I didn't, I'd soon be fighting off attacks from my duplicitous ally in addition to the ones that would be coming from Dagon.
A ripple of energy flashed through the room when I began to speak in an ancient language, the first one I'd learned. That energy settled on our joined hands. Ian hissed when he felt it.
"What are you doing? And why are you speaking Sumerian?"
I wasn't about to answer either of those questions. In truth, I hadn't expected him to recognize the long-dead language. Not that it mattered. These words weren't significant.
Ian tried to pull his hand away. The spell I was creating trapped him. It wrapped around me, too, feeling inside us for the promises we'd both just made. When it found them, it tightened our hands together. Then I felt its energy crest before it slid beneath my skin to dissolve inside my bones.
Once it did, I opened my eyes. "Now neither of us has a choice about keeping our latest promise. The spell found them, and if one of us were to renege on them, it would rot our bones faster than either of us could heal."
Ian's eyes were lit up with emerald, and the muscle ticking in his jaw showed how displeased he was by this turn of events. But when he spoke, his voice was light, and instead of trying to pull his hand away, his fingers now caressed mine.
"A Law Guardian who practices forbidden magic. How irresistibly hypocritical of you."
***
SHADES OF WICKED releases October 30th. You can also pre-order yours at Amazon, B&N, IndieBound, Apple Books, BooksAMillion, Kobo