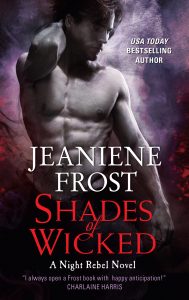 Good news for readers who want to order a signed copy of SHADES OF WICKED: Malaprops Bookstore is partnering with my publisher to make that happen. Go to this dedicated page on Malaprops website and follow the instructions. Don't miss the part where you have to specify in the comment section of your order that you want your copy SIGNED, and if you want it personalized, specify who you want it made out to. Thanks so much to Malaprops and Avon Books for setting this up!
Speaking of SHADES OF WICKED, allow me double squee because BOOKLIST and KIRKUS REVIEWS both gave it lovely reviews. I'm only allowed to share a line or two from each, so here they are:
"A flawless blend of high-stakes romance and action-packed paranormal adventure…Sexy, breathtaking, not-to-be-missed paranormal romance." KIRKUS, starred review.
"The legion of fans for Frost's super popular, darkly twisted Night Huntress titles will be thrilled by the first book in her Night Rebel series…Wild, magically enhanced sex and bloody, bone-pulverizing battles will keep readers turning the pages." BOOKLIST.
Yay and yay! That said, a note if you subscribe to Kirkus Reviews and you want to read the entire review: there are three HUGE spoilers in it. So, if you read it, be warned that you will be spoiled on three major plot points.
Finally, this Friday night is the end of my blog contest giving away 5 copies SHADES OF WICKED. If you haven't already entered for your chance to win one, go here for the details.