I keep meaning to blog more regularly, but stuff keeps happening. Example: during the past two weeks, we had a construction crew at our house for nine straight days. Why? Last summer, pipes burst and flooded our family room. We dried everything and repaired the pipes right away, but that meant holes were cut into our walls and ceiling in the family room, with other holes in the upstairs bathroom. Why didn't we fix it last year? To sum up, a bunch of stuff happened that caused us to push it off. Then, I was deep in Must Write Book mode. Since I work out of my house, I didn't want to lose almost two weeks of work because I know from past experience that I can't concentrate enough to write during an active construction site. So, with Ian's book finished and the first set of revisions completed, we finally got our house put back in order. I will NOT miss the holes in the walls & ceiling, although I joked to visitors that the plastic taped over them was very nouveau chic (no one thought that was funny.)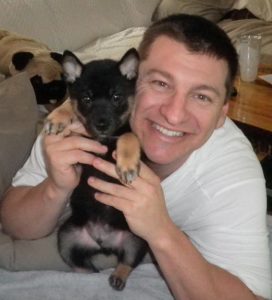 That topic covered, onto my dog, which – from the subject line – is probably why most of you are bothering to read this post ;). His name is Loki, and we got him back in 2012 when he was only 10 weeks old. On the left is a pic of Loki when we first brought him home. He's the sweetest little guy, but right off, we knew Loki had some issues. For starters, he was inordinately afraid of people. This wasn't normal puppy shyness – both my husband and I grew up with dogs, so we're very familiar with them. Plus, Loki is our second dog as a married couple. Gypsy, our first, feels that every human she meets has been put on earth solely to pet her, but I digress (although I can't resist showing you a pic of Gypsy on her last birthday. Isn't she cute?!)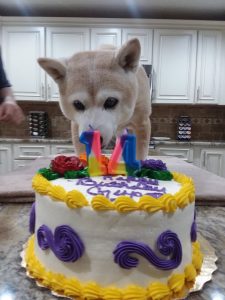 Needless to say, we were concerned about Loki's excessive fear, so at the advice of a dog trainer, we sat with him in front of public places and asked strangers to give him dog treats we provided. This resulted in more than a few awkward conversations with store managers where we had to explain that no, we weren't panhandling – we were just trying to socialize our puppy. This did help Loki, by the way. He stopped seeing new people as potential threats, but in a variety of ways, he showed that he still had anxiety issues.
I'm not going to list all the remedies we tried over the next four years because that would take too long. Suffice it to say that if you've heard of it, we probably tried it. We took him to different doctors and specialists in two different states. His final diagnosis, after ruling out LOTS of things, was that he has chronic anxiety from a probable biochemical imbalance. He's now on medication that greatly reduces his anxiety. His hair is no longer patchy (yes, his hair had been literally falling out in paces, poor guy) and he no longer jumps at every sound. He does, however, have a remaining distinctive trait – he only likes to come out at night.
Don't get me wrong; Loki loves to go on walks, and to state the obvious, there is sunshine outside. However, he has a marked dislike of being out and about in our house during the day. Seriously. He will spend most of the day in his favorite covered cubby (see pic after I've lifted the blanket up) coming out only to eat, get a quick walk, get a scratch, or briefly play. But as soon as the sun goes down, Loki comes out and STAYS out. No, he doesn't have an eye sensitivity or other optical condition (remember all the vet visits I mentioned?) He just far, far prefers the night. *grins* Maybe I should have named him Vlad instead of Loki.
Finally, I have a book rec for you. If you follow my Twitter account, you've already heard me raving about it, but I'm repeating my raves here because IRON AND MAGIC, Iron Covenant book one, releases tomorrow. In short, I loved loved loved this book. The romance is slow build, snarky and sizzling, and the action is nonstop and epic. Since this is the first book in a new series, you don't have to have read Ilona Andrews' other books to enjoy this, but I can't recommend those enough, either. From the back cover: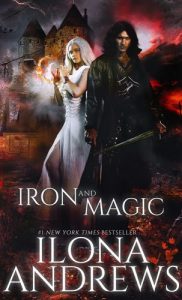 Hugh d'Ambray, Preceptor of the Iron Dogs, Warlord of the Builder of Towers, served only one man. Now his immortal, nearly omnipotent master has cast him aside. Hugh is a shadow of the warrior he was, but when he learns that the Iron Dogs, soldiers who would follow him anywhere, are being hunted down and murdered, he must make a choice: to fade away or to be the leader he was born to be. Hugh knows he must carve a new place for himself and his people, but they have no money, no shelter, and no food, and the necromancers are coming. Fast.
Elara Harper is a creature who should not exist. Her enemies call her Abomination; her people call her White Lady. Tasked with their protection, she's trapped between the magical heavyweights about to collide and plunge the state of Kentucky into a war that humans have no power to stop. Desperate to shield her people and their simple way of life, she would accept help from the devil himself—and Hugh d'Ambray might qualify.
Hugh needs a base, Elara needs soldiers. Both are infamous for betraying their allies, so how can they create a believable alliance to meet the challenge of their enemies?
As the prophet says: "It is better to marry than to burn."
Hugh and Elara may do both. Preorder link: Amazon | Amazon Paperback | BN | iTunes | Kobo