As the subject line says, THE BRIGHTEST EMBERS, the third and final novel in the Broken Destiny series, is now here!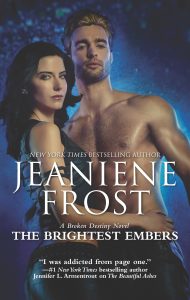 You can run from your destiny, but you can't hide…
Ivy thought that she and Adrian had conquered their fates. Yet with thousands of innocents still trapped in the demon realms, she's determined to locate the final hallowed weapon and harness its unparalleled power to free them. But the last relic nearly put Ivy in the grave—there's probably no coming back from this one.
Adrian's dark lineage has made him the most powerful of his kind, yet even his incredible abilities might not be enough now. Instead, the treacherous fate he has fought so hard to escape might be the only way he can save Ivy. Their scintillating bond has been tested before, but never with so much on the line. Now fate will come head-to-head against true love, and nothing they've endured can prepare Ivy and Adrian for the unthinkable choices they'll face…
I was so flattered to see that Goodreads chose THE BRIGHTEST EMBERS as one of the Romance Best Books of the Month for November. I don't recall any of my other novels getting this, so allow me a squee, readers :).
Romantic Times had this to say: "The conclusion to Frost's Broken Destiny trilogy is, by far, the strongest of the lot and the most fulfilling. There's been a great deal of thought and care put into the complexity of this world, and it all comes together here in an emotional burst of action, mythology and romance. It's saying something when the reader comes to care — really care — about the characters, even a monstrous gargoyle with a penchant for raw meat. The ending is unexpected, and is a fitting farewell to Ivy and Adrian." 4 Stars.
And Chelsea from Vampire Book Club said: "Nonstop adventure with fights that literally bring down the roof down and the kind of romance scenes that you'll want to bookmark for re-reads on cold nights. 5 stars." (full review here)
Once again, squee, squee, squee!
Ahem. Okay, I'll try to wrap this up in a professional way, heh. So, in closing, let me say that I'm so glad to finally be able to share Ivy and Adrian's final story you and I hope you love it. Thank you for going on this journey with them, readers.
You can pick up your copy of THE BRIGHTEST EMBERS at these places or your favorite retailer:
Amazon | B & N | Book Depository | iBooks | IndieBound | Powells
Also available in audio, read by the fabulous Tavia Gilbert:
Audible, Downpour, iTunes or your favorite audio retailer.
And if you haven't seen it before, here is the official book trailer: