Hi again! I have two appearances this week, so I want to once again remind everyone about them. The reason I post multiple updates about appearances is because without fail, I will get disappointed emails/comments from readers afterward saying "I didn't know you were in my city! Why didn't I know this? You should have advertised it more!"
*grins* Think this is is my fourth or fifth time mentioning these FL appearances, so honestly, I think more would constitute as spam. But, for a final time, here's the info:
Thursday, July 27, 2017, 7:00 PM
Book Event & Signing with Ilona Andrews and Jeaniene Frost
BARNES AND NOBLE
2418 E Colonial Drive
Orlando, FL 32803

Friday, July 28, 2017, 7:00 PM EDT
Book Event & Signing with Ilona Andrews and Jeaniene Frost
BOOKMARK
220 First ST
Neptune Beach, FL 32266
I'm so excited to be doing these events for two reasons. One, I get to see longtime friend Ilona Andrews, and that's a twofer deal since "Ilona Andrews" is the pen name for co-writers Ilona and Gordon Andrews. Two, these events kick off the release of WILDFIRE, book three in the Hidden Legacy series. I've made no secret of the fact that I love the Hidden Legacy series even more than I love the Kate Daniels books, so I can't wait to get my grabby little hands on my own copy of WILDFIRE. Back cover copy below: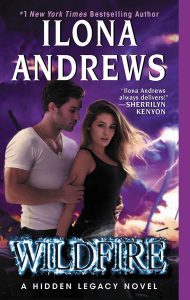 From Ilona Andrews, #1 New York Times bestselling author, the thrilling conclusion to her Hidden Legacy series, as Nevada and Rogan grapple with a power beyond even their imagination…
Nevada Baylor can't decide which is more frustrating—harnessing her truthseeker abilities or dealing with Connor "Mad" Rogan and their evolving relationship. Yes, the billionaire Prime is helping her navigate the complex magical world in which she's become a crucial player—and sometimes a pawn—but she also has to deal with his ex-fiancée, whose husband has disappeared, and whose damsel-in-distress act is wearing very, very thin.
Rogan faces his own challenges, too, as Nevada's magical rank has made her a desirable match for other Primes. Controlling his immense powers is child's play next to controlling his conflicting emotions. And now he and Nevada are confronted by a new threat within her own family. Can they face this together? Or is their world about to go up in smoke?
Amazon | B & N | Harpercollins | iBooks | IndieBound | Powells
So, hope to see some of you soon! 🙂