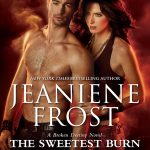 Tomorrow is the day! The Sweetest Burn, book two in the Broken Destiny series, will finally be here! As promised, I have been posting a chapter a week leading up to its release. Here is chapter four. If you missed the others, the first chapter is HERE , the second one is HERE, and the third one is HERE.
USUAL SPOILER WARNING: While The Sweetest Burn can be read as a stand-alone, if you prefer to read in series order and/or you hate spoilers, you might not want to read these new chapters unless you've read book one, The Beautiful Ashes, which is on sale in ebook for only $1.99 from now until June 30th! Get yours here or at your favorite retailer.
And now, happy reading!
CHAPTER FOUR
Costa's house was a former church, hence the hallowed ground it rested on that demons were unable to cross. The sight of its tall, slanted roof with the cross that Costa hadn't bothered to take down filled me with a mixture of relief and sadness. I couldn't say that I'd been happy here, but I'd felt safe, and that counted for a lot in this world. Now, it was time to leave, and I didn't know if I'd ever see this place again.
Adrian was right; more people were at the house than when I'd left it an hour ago. My sister, Jasmine, seemed startled to see Adrian, but it didn't escape my notice that Costa didn't look surprised. I stifled my snort as we came into the kitchen. Had Adrian been in contact with Costa this whole time, too? Was I literally the only person he'd avoided these past couple months?
As I approached the table, Adrian pulled a chair out for me, but I ignored that. "I'll stand."
"Are you two fighting again?" Costa cast a knowing glance between us. "Situation normal, then."
The other person I hadn't seen in the past two months was Zach, but as Adrian had predicated, the Archon now sat at the kitchen table as casually as if he'd dropped by for breakfast. As with minions and demons, at first glance, you wouldn't know there was anything unusual about Zach. His jeans and faded-blue hoodie matched his college-age appearance, and his dark brows, closely cropped hair and mocha-colored skin were a great frame for his deep, walnut-brown eyes.
One look into those eyes, however, and I couldn't imagine anyone not realizing that there was something otherworldly about Zach. His gaze seemed to reach right into your soul, and if he chose to reveal his true nature, the room would be filled with exploding light and deafeningly beautiful voices. The one time Zach had dropped his human disguise to show me that, I'd unwittingly fallen to my knees with tears streaming down my face. You never realized how insignificant you were until confronted with a creature filled with the power and glories of eternity.
Archons—angels—were such creatures, so you'd think I'd be glad to see Zach. Instead, I felt a mildly growing sense of dread. Unlike their Hallmark Chan­nel representations, Archons weren't cuddly beings who spent their time sprinkling happy dust onto humanity. Instead, they were fearsome warriors who'd been rel­egated to the sidelines during the most important battle of the ages, so they were ready to fight no matter how that turned out for mankind. They were also our only allies against demons, so that made them indispensable to us regardless of their seeming indifference toward the fate of my race.
"I'm out of time, aren't I?" I said in lieu of a hello.
Zach didn't take offense. He'd probably invented the custom of not saying hello. "Yes. As the realm walls continue to weaken, new fissures are formed, allowing greater access between the dark worlds and this one. It is only a matter of time until those fissures rupture and parts of the demon world spills out into your realm."
"I found that out the hard way," I said with a sigh. "Three minions and a demon tried to nab me on the beach."
Jasmine's face paled and she ran over to me. "Are you okay? How did you get away? Did they know who you were?"
I gave my younger sister a reassuring squeeze, a pang hitting me as I looked at her. She'd always had my adoptive mother's blond hair, but sometime during her hellish captivity, she'd grown a long white streak down the center of her head. Her pale blue eyes were the same color as my adoptive father's, and seeing them reminded me of him so much, I had to blink back a sud­den surge of tears.
Oh, how I missed my parents! They hadn't deserved to die at the hands of minions and demons just be­cause they'd been investigating Jasmine's disappear­ance. Then again, no one deserved to die at the hands of demons and minions for any reason.
"I'm fine," I reassured Jaz. "I got the first one, Adrian and Brutus took care of the rest. And they didn't know who I was, at first. They were just looking for new slaves."
Zach inclined his head in agreement. "The demons grow bolder as they gain more access to this world."
Maybe it was the fresh wave of grief I'd felt over my parents' death, maybe it was my fear over what I knew I had to do. Either way, I couldn't hold back my brusque reply.
"Remind me again why Archons would allow ter­rible things to happen to innocent people when they have the power to stop it?"
The gaze Zach turned on me was hard. "A better rea­son than why your race would rather assign blame to others than work on looking for solutions yourselves."
Yes, humanity had its flaws, but that didn't mean we weren't worth saving, dammit! And I still couldn't figure out if Zach even wanted us to be saved. Some days, he acted as if he did, yet other days, the Archon seemed just as happy to let humanity burn if it meant finally ending the war between Archons and demons.
"If you truly believe your race is worth saving, then you'll be eager to get started," Zach replied, using his mind-reading abilities. How could I forget about those?
I glowered at him. It sucked being reminded that in this case, "somebody" doing something really meant "me."
"I'm ready," I said, which was the biggest lie in the world, but what else could I say? We're all gonna die! seemed too defeatist, even if it was probably true.
Zach rose with his usual grace, then cast a sideways glance at Brutus, who was in the darkest corner of the kitchen. He'd be in his room, if he wasn't waiting for his breakfast of raw meat.
"Would someone explain why that gargoyle is wear­ing the stone of Solomon around his wrist?" Zach asked.
"The what of who?" Jasmine said.
I wondered the same thing, but Adrian replied to Jasmine before I could ask. "Ivy didn't like her birth­day present, so she gave it to Brutus," he told my sister.
"Birthday? Oh crap, Ivy, I forgot your birthday!" Jasmine said with a gasp. Costa seemed shocked for a different reason.
"You gave a three-thousand-year-old diamond with famed mystic qualities to Brutus?" he asked me.
Zach also gave me a look that seemed to question my sanity. I shifted defensively even as this news rocked me. "I just thought it was a normal diamond," I mumbled.
"It isn't," Adrian said, his arched brow implying that I should have given him a chance to say this earlier. "King Solomon stole this diamond from Asmodeus, a demon king, because it was said to shield its wearer from harm. After Solomon's death, Asmodeus stole it back, and when I was a child, it was given to me because demons wanted to protect the last Judian."
I was openmouthed discovering the diamond's his­tory, not to mention its protective qualities. Adrian hadn't just been trying to buy my forgiveness with an expensive trinket. He'd given me the same talisman he'd had since he was a child. Damn him for making it harder to stay angry with him, I thought, my emotions wrestling anew at this.
"Very well," Zach replied, although he would have overheard my inner battle. "Ivy, you will leave at once. Adrian and Costa will accompany you on your search for the staff of Moses."
"Not Adrian," I burst out.
"Yes, Adrian," Zach said in his best don't-argue-with-an-angelic-being tone. "Without him, you won't discover the map."
"There's a map that leads to the staff?" That was a surprise. "One of those would've been helpful when we were trying to find the first hallowed weapon."
Zach shrugged. "It's a map of sorts, and perhaps if you would have looked closer, you would have discov­ered it when you were searching for the slingshot, too."
Archons and their cryptic-speak, not to mention their lack of initiative that bordered on apathy. Figures there had been a map back then and Zach hadn't told me. For all I knew, he had another map in his pocket now, yet couldn't be bothered to mention that, either. "Or, why don't you just tell me where the staff is, if you know?" I said to cut through all the crap.
"Because this is your task to succeed or fail at, Da­vidian," was Zach's inexorable reply.
Don't hit the Archon, I reminded myself while clenching my fists. We still needed him.
Zach's mouth twitched, as if he found my impotent rage amusing. "Adrian is coming with you, Ivy. Don't bother to list all the reasons why you don't want him to. The fact remains that he must or you will not only fail, you won't survive. That's why I rescinded his ban from seeing you earlier today."
My gaze swung to Adrian. "What do you mean, he rescinded your ban from seeing me?"
A low, almost growling sound left Adrian. "Zach put a supernatural restraining order on me. I couldn't get within a mile of you without suddenly becoming para­lyzed, Costa supernaturally forgot every message I tried to send you through him, and if I attempted to call, text or email you, my phone would blow up."
"Really?" Costa looked bewildered. "You and I have talked several times since then, and I don't remember that."
Adrian grunted. "Exactly."
"Cock-blocked by an angel," Costa muttered. "That's new."
I ignored Costa's comment in favor of giving Zach a disbelieving look. "First you supernaturally prevent Adrian from so much as texting me, then you insist that he come along on the search for the staff. What kind of game are you playing?"
Zach's dark brown eyes gave nothing away. "No game. Only fate."
Fate. My teeth ground. I really hated that word. "Why didn't you tell me about this on the beach?" I asked Adrian, giving up on getting a more definitive answer out of Zach.
Adrian's coloring was darker than normal, and when I caught the look he flashed Zach's way, I realized why. Pride. He'd rather let me think that he was a total jerk than admit that Zach had shut him down so effectively, he'd been helpless. Yes, for longer than I cared to re­member, Adrian had had both minions and demons scurrying to do his bidding. Plus, with his incredible strength, speed and fighting skills, almost no one had been able to stop Adrian from doing something he'd set his mind to. In that light, his bruised-ego silence about the way Zach had shut him down was almost understandable.
Almost. Adrian should have told me why he'd aban­doned me when I needed him the most. The fact that he hadn't only highlighted that he was thinking more about himself than me. Plus, if he couldn't admit something so small to me, how could I trust him with the really big things, like our fates?
And Zach. He got the other end of my stink eye. He could have said something before now, too. Men. They were the same whether they were Archons, hu­mans or Judians.
Something else occurred to me. "Zach lifted his restraining order on you the same day I came across the first minions and demon I've seen in months?" It couldn't be a coincidence…
"It isn't," Zach said, using his intrusive skills again.
My irritation died away. His inconsideration paled next to making sure that I was still alive.
"Thank you," I said, hoping for the hundredth time that Archons were more invested in the fate of humanity than they let on. Aside from my bloodline, I wasn't anyone special, yet Zach had saved me more than a few times. I just wished I understood why so many other people had to suffer and die.
Zach inclined his head, which was his version of "you're welcome." "Preparations have been made. You are to start your search for the staff at once."
"You're forgetting one thing," I pointed out. "We have no idea where Moses's staff might be. This is a big world, and that's not even counting all the demon realms in it, too."
Zach glanced at Adrian, and when they exchanged a meaningful look, my hackles rose. "If either of you even think of hiding something from me again—" I began furiously.
"We're not," Adrian interrupted, his gaze piercing as it landed on me. "I told you, Ivy, no secrets and no holding back this time. Moses's staff controls nature, which is why we need it to repair the realm walls and the demons also want it so they can use it to send those same walls crashing down. So, our best bet is to start with places that have natural anomalies. Even while dormant, the staff will affect what's around it."
That made sense, but, "I doubt it'll be as simple as googling places that are known for large congregations of locusts, frogs, lightning bolts or partings of seas," I said tartly. "If so, demons would've found it centu­ries ago."
Adrian raised a brow. "They've spent a lot of time scouring places with unusual natural phenomena, but they can't sense hallowed objects. Only you can. That's why we're going to find the staff and they're not."
He sounded completely confident. Then again, he was overlooking the most dangerous part of this mission. It wasn't whether or not we could find the staff. It's what could very likely happen if I tried to use it.
"I'm going with you, too," Jasmine said, her words distracting me from a topic I didn't want to dwell on.
I turned to my sister. "You've been through enough. We'll find you another place to stay at on hallowed ground, so you'll be safe—"
"You think I'll ever feel safe again?" Her voice filled with more pain than any eighteen-year-old should ever have. "I'm barely holding it together with you and Costa around me 24/7. If you leave me by myself, I'll lose it for sure. And I spent months trapped in a demon realm, so I know what we're up against."
"Jasmine," I tried again.
"I'm going." She cut me off with a flash of her old stubbornness. "Either help me pack or get out of my way, Ives."
She hadn't called me her pet name from our child­hood since we'd rescued her. That, plus the glimpse of her former spunk, melted my resistance away. Who was I to lecture her? She was right. In some ways, she'd been through a lot more than me.
"Fine, then you can help me pack," I said, trying not to think about how I was going to find the staff while not getting myself killed, my sister hurt or my heart broken again.
"I'll pull our ride around," Adrian stated.
I gave him a doubtful look. "You think we can fit four adults and a winged gargoyle into your vintage metal baby?"
His smile was threatening and promising, like a lion licking its prey while deciding whether to eat it now or later. "We're bringing my Challenger, but we're not riding in it."
Huh? "What's that supposed to mean?"
His smile widened into a grin. "Get packed and you'll find out."
***
Hope you enjoyed! You can pre-order your copy of The Sweetest Burn here or at your favorite retailer.