Vlad and Leila fans, today is the day you've been waiting for! Into The Fire, the fourth and final Night Prince novel, is finally here.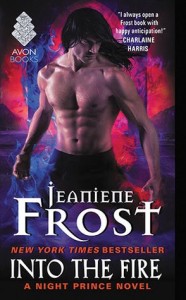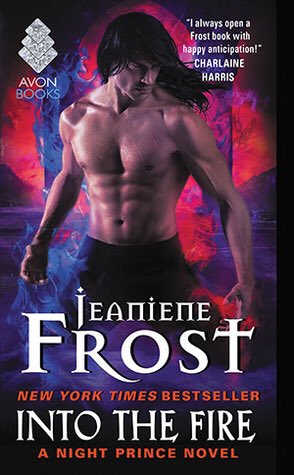 In the wrong hands, love can be a deadly weapon.
For nearly six hundred years, Vlad Tepesh cared for nothing, so he had nothing to lose. His brutal reputation ensured that all but the most foolhardy stayed away. Now falling in love with Leila has put him at the mercy of his passions. And one adversary has found a devastating way to use Vlad's new bride against him.
A powerful spell links Leila to the necromancer Mircea. If he suffers or dies, so does she. Magic is forbidden to vampires, so Vlad and Leila enlist an unlikely guide as they search for a way to break the spell. But an ancient enemy lies in wait, capable of turning Vlad and Leila's closest friends against them…and finally tearing the lovers apart forever.
Order
your copy in ebook, print, or audio here or at your favorite retailer:
Into the Fire (Night Prince)
Now, since my opinion is understandably biased, here is what Romantic Times had to say about it: "
The always-amazing Frost serves up the final installment in her sizzling Night Prince series. Fans of this author and this series will not be disappointed, so hang on and enjoy this emotionally powerful ride!" 4.5 stars, rated a Top Pick!
Heroes and Hearbreakers said: "
Into the Fire
is sure to be a hit with longtime fans of both Night Prince and Night Huntress. And if you've been waiting for your Ian book, consider
Into the Fire
the appetizer."
I'm so exited to finally share this story with you, and while I'll miss Vlad and Leila, this isn't goodbye forever. It's more of a "so long for now." Just like with Cat and Bones after the Night Huntress series concluded, you will still see Vlad and Leila again as side characters in future spin-off novels. Speaking of future vampire books, Ian is the next character to get his own books, and you'll get a tease as to what in store for him – and who Ian's heroine will be – in Into The Fire, where Ian is a significant side character.
I absolutely loved bringing Vlad and Leila's story to life, and I want to thank all the readers who went on this journey with me. I've said before that this is for all the people who wanted Dracula to get a happily-ever-after. In fact, I can remember being scolded by my parents as a child for rooting for Dracula instead of Van Helsing. So, Dracula lovers, unlike all the movies that showed him losing in the end, with Into The Fire, we win this one :). Happy reading!
Oh, and I have to give a shout-out to my dear friend Melissa Marr, who also has a release today for One Blood Ruby. If you're not familiar with Melissa's books, they're fabulous, so check them out!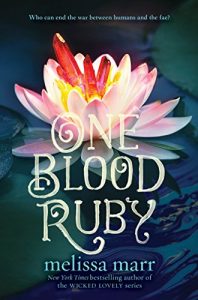 Now that Lily Abernathy is the heir to the Hidden Lands, everything is about to change…
The Queen of Blood and Rage wants Lily to help broker peace with the human world, but Lily knows that harmony won't come easily. After decades of waging war on the humans, who cost the queen her firstborn daughter, the fae are struggling to accept Lily, a half-human monarch.
Lily wants to be a fair ruler but fears having to abandon the life she's known. Now that she and Creed are more than just fellow Black Diamonds—operatives for the queen—her priorities have shifted. But her worries about assuming the throne are derailed when it becomes clear that someone—or some fae—is masterminding violent attacks to discourage peace. Who can end the war between humans and fae?
Order One Blood Ruby here or at your favorite retailer.