Hi everyone, good news: The ebook price for the first book in the upcoming Broken Destiny series has just dropped! Now you can preorder THE BEAUTIFUL ASHES in ebook for only $7.99. If you prefer paper, the book is coming out in Trade, which, if you're unfamiliar, is larger than my usual books, but smaller than your average hardback. If this intersts you, here are some order links:  Amazon, BAM, Powells, B&N, iTunes, Indiebound
Haven't heard me talk about this book and you want more information? Got that and an extended excerpt here: http://jeanienefrost.com/2014/04/the-beautiful-ashes-excerpt-and-audio-news/
Now, to the swag part of the subject line. If you've been to any of my signings or seen me at a previous convention, you know that in addition to book marks, I give away character-themed bracelets. Here are some that I've done in the past:
For the aforementioned Broken Destiny series, I had some new swag bracelets made, plus engraved coconut-shell necklaces. I forced my niece, Lauren, to model the necklace because I'm an evil aunt ;). See a close-up of the shell next to her picture.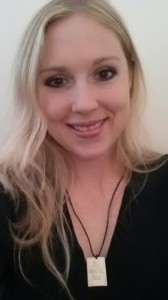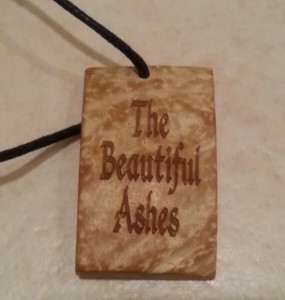 I'm giving away 300 of these in swag bags at the Never Have I Ever party, plus handing out more individually at my other appearances, so if you're going to the Romantic Times convention (https://www.rtconvention.com/  ) next week in New Orleans, come and see me! I'll make sure you don't leave empty-handed :).
Here is where you can find me at RT:
Tuesday, May 13: 8:00pm to 10:00pm
Party: Never Have I Ever…New Adult Pajama Party
Join over a dozen New Adult authors for college themed games, fortune telling, plus enter to win raffled off gift cards and more. Dress in your best and most interesting pajamas to win a grand prize– a $200 gift card! All participants will receive a goody bag. Location: 2nd Floor Room: Gallery 4. Hosts:Jennifer L. Armentrout (aka J. Lynn), Sophia Bleu (aka Genn Albin), Chelsea Cameron, Cora Carmack, Nichole Chase, Chanel Cleeton, Jay Crownover , Lisa Desrochers , Jeaniene Frost, Abbi Glines, Melody Grace , Rachel Harris, Sophie Jordan , Tiffany King , Lauren Layne , Roni Loren , Jamie McGuire , Jen McLaughlin (aka Diane Alberts) , Lyla Payne , Veronica Rossi (aka Noelle August), Andrew Shaffer  and Tracy Wolff.
**Note: I'm hosting the Truth or Dare table. In addition to all the normal fun with "dares," if you have a burning question you think I'd normally deflect, now's your chance! *wink*
Wednesday, May 14: 1:15pm to 2:15pm
Panel: Strange Worlds, Strong Wills 
A place filled with vampires, shapeshifters, demons and magic is exciting, but are the characters living in there up for challenge? Join bestselling authors as they discuss how to craft characters – human or otherwise – that are ready, willing and able to take on the fantastic worlds they live in. Moderator: Jeaniene FrostPanelist(s): Ilona Andrews, Charlaine Harris Marjorie M. Liu. Location: 2nd Floor Room: Studio 2, Preservation Hall.
Wednesday, May 14: 3:45pm to 4:45pm
Panel: Fantasy Lovers 
What makes urban fantasy and paranormal romance characters so enticing? Why do our dragons and vampires and weres have so much sex appeal for our readers? Join urban fantasy and paranormal romance authors in exploring the realm of supernatural lovers and otherworldly passion. Panelists: Lara Adrian Alyssa Day Jeaniene Frost Yasmine Galenorn Chloe Neill. Location: 2nd Floor Room: Studio 9. Preservation Hall.
Thursday, May 15: 11:15am to 12:15pm
Panel: HEA The Paranormal Way 
Boy Meets Girl has transformed into Creature Meets Girl. Or Boy Meets Creature. From that first look all the way to the final kiss, supernatural couples are lighting up the page. Acclaimed authors discuss the challenges – and perks – of getting to that Happily Ever After when relationships navigate fangs, fur, angel wings or dirigibles along the way.Moderator: Jeaniene FrostPanelists: Meljean Brook, Kresley Cole, Nalini Singh. Location: 2nd Floor Room: Studio 2
Thursday, May 15: 4:00pm to 5:00pm
Panel: What's Next in New Adult? 
Is NA more than just angst romance? What's next in New Adult? Romantic suspense? Thriller? Paranormal? Dystopian? Find out by agents, editors, and authors who are branching out in New Adult. Moderator: Jennifer L. Armentrout (aka J. Lynn)Panelist(s): Amanda Bergeron (Harper Collins, Editor) Jeaniene Frost Angela James (Carina Press, Editorial Director) Kevan Lyon (Marsal Lyon Literary Agency, Agent) Tessa Woodward (Avon Books/HarperCollins, Editor). Location: 2nd Floor Room: Studio 2
Thursday, May 15: 6:30pm to 7:00pm
Giveaway: Avon pub crawl.
Join Avon books and dozens of authors as they give away books, beads and more! Location: Saints and Sinners. (http://saintsandsinnersnola.com/ ) 627 Bourbon Street; New Orleans, LA
Friday, May 16: 4:00 – 6:00pm
Awards ceremony
Cheer on your favorites as RT Book Reviews presents the 2013 Reviewers Choice Awards and the Career Achievement Awards. The Awards Ceremony ticket is included in the general convention registration and anyone with a badge will be allowed into the ballroom. Location:Third floor in the Grand Ballroom (Quarter Tower).
Friday, May 16: 6:00pm to 7:45pm
Party: Avon's Krewe of Muses
In the Krewe of Muses, Avon Books celebrates Erato, the muse of love and poetry, with a fabulous fête featuring more than 50 Avon, Avon Impulse, William Morrow and Harper Voyager authors, who will sign complimentary books and e-books for RT Booklovers Convention attendees! Tasty bites of ambrosia will be served to attendees during the event; and all who come can also enjoy libations fit for goddesses and muses alike. Location: 3rd Floor. Room: Acadia. (Grand Ballroom)
Saturday, May 17: 11:00 – 2:00pm
Book signing
Giant Book Fair. Included in conference attendee fee, plus open to the public. You can purchase a ticket at the door the day of the event. Meet more than 700 authors who will autograph books, poster, e-readers and bookmarks. Bring your "keepers" and have them signed! Location: Third Floor. Grand Ballroom and Mardi Gras ballroom.
Saturday, May 17: 7:00 – 7:45 pm
FAN-tastic Day Party.
Meet a revolving door of hundreds of authors as they make appearances every 30 minutes in this high-energy event. Be one of the first 500 attendees and you'll receive a goody bag filled with free books and promotional items. Dreamspinner Press is providing refreshments and sweet treats for all to enjoy along with lots of free books and giveaways. Among the authors you'll meet are: Lara Adrian, Ilona Andrews (aka Ilona and Gordon Andrews), Jennifer L. Armentrout (aka J. Lynn), Jaci Burton, Lee Child, Sylvia Day, Jeaniene Frost, Abbi Glines, E.L. James, Eloisa James, Laura Kaye, Lisa Kleypas, Mary Robinette Kowal, Christina Lauren, Jamie McGuire, Jennifer Probst, Tiffany Reisz, Jill Shalvis, Nalini Singh, and Julie Ann Walker! Location: Second Floor. Preservation Hall.
Hope to see some of you at RT!