Hi all. First, thanks for your many congrats on my list news last week! It's wonderful to be able to celebrate Twice Tempted's warm reception with you. Second, I'm busy writing Up from the Grave (Cat and Bones #7) but this Friday the 12th, I'm taking time out to chat with whoever's feeling sociable :). So between 7pm and 9pm EST, you can find me over on the Goodreads group Gotta Have Paranormal With A Kick. Click the image below to be linked to the exact page for the chat: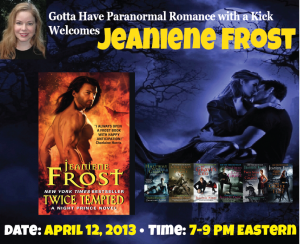 Just in case the image didn't work, the full web page is here: http://www.goodreads.com/topic/show/1260503-author-q-a-jeaniene-frost-april-12-7-9-pm-est .
Hope to see some of you there!