Hi everyone! Since these are questions that I'm getting asked more and more, I wanted to address them here.
Q: Will there be another Vlad and Leila book after Twice Tempted?
A: Yes, the Night Prince series will be a trilogy. Expect the third and final Vlad and Leila novel out next year.
Q: Are you finished writing about Cat and Bones, then?
A: No. I'm writing Up from the Grave, Cat and Bones #7, right now. Tentative release date is the very end of this year. Cat and Bones's storyline will end at book eight, however. I'll be sad to say goodbye, but each book moves them toward their well-earned reprieve from the evils of my keyboard ;).
Q: Will Ian get a book?
A: Maybe. After the events in Home for the Holidays (my novella in The Bite Before Christmas anthology) Ian is starting to move in a direction where he could grow into hero material – or anti-hero, anyway. However, he's not there yet, so nothing definite about a book unless/until he is. Ian as a hero/anti-hero would still be Ian, though, just as Vlad is still Vlad although now he and Leila are involved. It would take a very strong woman to handle Ian. Fortunately, I do have someone in mind, though I'm not saying who aside from assuring people that it is not Justina.
Q: Why don't you travel to more places for signings and events?
A: My publisher sets my signing schedules, so I go where they point me. In addition to that, I also try to attend at least two conventions a year so that I can meet readers in person there, too.
Q: Why don't you travel less so you can write more books?
A: Meeting readers, authors and bloggers in person, plus traveling to new places, has only enriched my productivity as a writer. If I'm shut up in my office all of the time, that doesn't give me many chances to experience things that inspire creativity. I do limit my travel because of deadlines, however, which is why I will never get to meet most of my readers in person. That's unfortunate, but until someone invents a teleportation device, it's how it is :).
Q: How do I find out where you'll be in the future?
A: The best way is to sign up for my newsletter. I promise I don't share or sell your information and I only send out a newsletter if there's a new release, a big promotional price drop on one of my titles, or an upcoming appearance. So, about six a year, I'd guess.
Hope that clears up some of what you've been wondering about! Now, to my recent signings.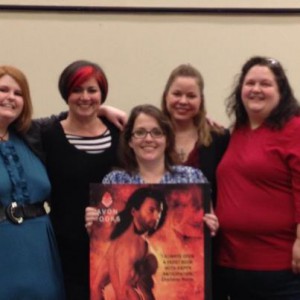 On Thursday I was in Cary, NC, which wrapped up my "in person" scheduled events for Twice Tempted's release. I still have some online appearances such as my upcoming Goodreads chat,and of course you'll see me around the blog, but it's nice to know I'll be home for a while. I'm terrible about remembering to take pictures at events, but here's one from the Cary signing. CPB73, one of my fabulous fansite moderators, is the lady holding Vlad close to her heart, heh. I'm amazed the book store was able to keep that poster with her there! *wink*. Thanks to everyone who came out. I made it memorable by putting my coffee on the podium in front of me and then flinging it to the side when I began to talk – as usual – while gesturing wildly. My apologies again to everyone for that! When I say that I'm a klutz, I really, really mean it.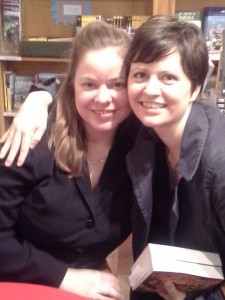 Thanks to Rebecca from Bending the Spine, here is a picture from the Malaprops signing on Tuesday. I was also speaking behind a podium at that event, but I didn't have a coffee cup up there, so no caffeine shower for the carpet, thankfully. What I did have was a great time chatting with everyone who came out, so thanks to all of you for making me feel so welcome!
If you weren't able to make any of my recent events, I promised that I'd make a complete list of the stores that had signed copies of Twice Tempted available to order from, so here they are. For all of the below, please specify that you want a SIGNED copy as these stores also have unsigned stock:
Malaprops, 0rder page here .
Fountain Books, order page here.
Barnes & Noble in Cary, NC. Order by phone at 919-467-3866.
If I wasn't able to make a personal appearance in your area, sorry. I'll still be at the Romantic Times convention in Kansas City, MO in May and the Southern Magic Readers Luncheon in Birmingham, AL in November, so hope to see some of you there.
Now, back to writing Up from the Grave!