My friend and critique partner, Melissa Marr, has a new book out today, so I'm popping up from writing the end of mine to tell you about it.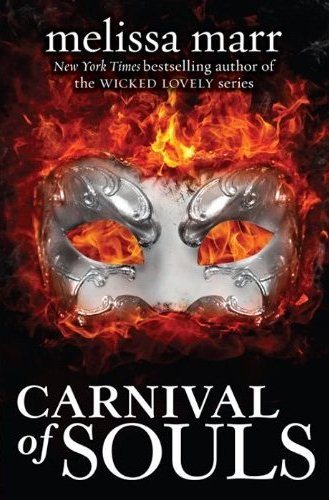 CARNIVAL OF SOULS
In a city of daimons, rigid class lines separate the powerful from the power-hungry. And at the heart of The City is the Carnival of Souls, where both murder and pleasure are offered up for sale. Once in a generation, the carnival hosts a deadly competition that allows every daimon a chance to join the ruling elite. Without the competition, Aya and Kaleb would both face bleak futures—if for different reasons. For each of them, fighting to the death is the only way to try to live.
All Mallory knows of The City is that her father—and every other witch there—fled it for a life in exile in the human world. Instead of a typical teenage life full of friends and maybe even a little romance, Mallory scans quiet streets for threats, hides herself away, and trains to be lethal. She knows it's only a matter of time until a daimon finds her and her father, so she readies herself for the inevitable.While Mallory possesses little knowledge of The City, every inhabitant of The City knows of her. There are plans for Mallory, and soon she, too, will be drawn into the decadence and danger that is the Carnival of Souls.
From Melissa Marr, international bestselling author of the Wicked Lovely series and Graveminder, comes a brand-new tale of lush secrets, dark love, and the struggle to forge one's own destiny.
Watch the book trailer with song from Five Finger Death Punch: http://youtu.be/QE7ET52Zs2g

Because Melissa and I swap books for critique purposes, I already read Carnival of Souls and I highly, highly recommend it. In usual but-I'm-her-friend-so-I-may-be-biased disclaimer, here's what others have to say about it:
"This is one novel that will be at the top of everyone's to-read list." – Voice of Youth Advocates (VOYA). Starred Review.
"The fast pace, feisty female warriors, and themes of social justice bear more than a small resemblance to Suzanne Collins' Hunger Games, but Marr's many fans from the Wicked Lovely series won't be disappointed." — Booklist
"Marr showcases her impressive talent by crafting an incredible, fantastical, complex world. This book is worth reading for the amazing fight scenes alone. Immerse yourself in the CARNIVAL OF SOULS, you won't regret it." Romantic Times, Top Pick.
"Marr's trademark blend of dark romance, fantasy, and action is on full display." — Publishers Weekly
"A novel so dangerous and decadent it's impossible to put down." — Kami Garcia, New York Times bestselling author of Beautiful Creatures.
Order from: Amazon, Barnes & Noble, BooksAMillion, Powells, Indiebound, or your favorite book store.
If you're into audiobooks, the one and only James Marsters (a.k.a. Spike) narrated Carnival of Souls: Audible.com, iTunes
Now, back to finishing my own book :).