Ah, my birthday. Another year older and hopefully another year wiser, but the jury's still out on that. Anyway, I'm in a celebratory mood so here's a giveaway contest. Of course, I'm not Oprah so these won't be OMG-a-new-car! prizes, but I have my last Arcs of Once Burned plus some character-themed bracelets, if you're interested.
Four

Birthday winners will receive an Arc (advance reading copy) of Once Burned.
Twenty-Five

Birthday winners will receive five bracelets (one of each character or no more than two of the same character, winner's choice which).

Front of bracelet (click to enlarge)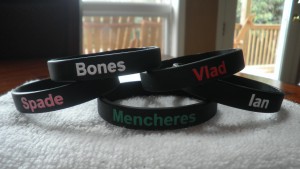 Back of bracelet (Click to enlarge)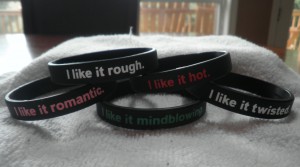 The Rules:
Send an email to JeanieneFprizes AT yahoo.com . The contest is open to international entries. Due to the sexual/violent content in Once Burned and the risqué messages on the bracelets, you must be 18 to enter or have permission from your parent/guardian. Void where prohibited.
Starts: Now.
Ends: June 14th at 11:59pm Eastern Standard Time.
Good luck!